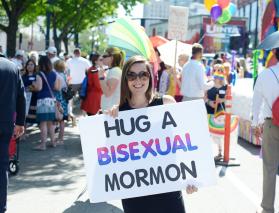 I love Blaire Ostler and how she represents/advocates for herself and others. YES! It's okay to be a bisexual Mormon. You can listen to a great interview Blaire gave at Mormon Sex Info: Episode 88: Personal Experiences as Bisexual Mormons.
Today's guest post is written by Blaire Ostler. Opinions shared on guest posts may not completely reflect the positions of the blog's author.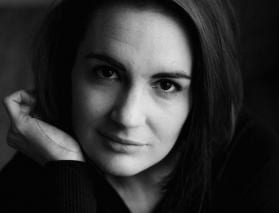 Blaire Ostler is a philosopher and leading voice at the intersection of queer, Mormon, and transhumanist thought. She is a board member and former CEO of the Mormon Transhumanist Association, the world's largest advocacy network for the ethical use of technology and religion to expand human abilities. She presents and writes on many forums, and speaks at conferences promoting authentic Mormonism. Blaire holds a degree in design from the International Academy of Design and Technology-Seattle. She is currently pursuing a second degree in philosophy with an emphasis in gender studies. She is also an artist, and spends her spare time hiking, painting, writing, and bickering with her friends about almost any topic imaginable. Blaire and husband Drew reside in Utah with their three children.
Sometimes people ask me why I feel the need to advertise my sexuality and my religion.

Do I really need to put it on a sign and parade my labels in the streets?

The answer is yes. Yes, I do.

When I was a teenager, I didn't know it was okay to be bisexual and Mormon. I didn't know if there were others like me. I didn't know if there would ever be a place for me at church or at Pride. I didn't know being bisexual is just as legitimate as being straight or gay. I didn't know if my religious community understood how many queer folks were quietly sitting in the pews. I didn't know I could belong.
I put my labels on a sign because it would have made a difference to me to see a grown woman confidently wearing the label "Bisexual Mormon." It would have made a difference to know I was legitimate.

Whenever I get a hug from a fellow bisexual Mormon, especially the young girls, I'm confident I'm doing the right thing by parading my labels in the streets.
---
Natasha Helfer Parker, LCMFT, CST can be reached at natashaparker.org and runs an online practice, Symmetry Solutions, which focuses on helping families and individuals with faith concerns, sexuality and mental health. She hosts the Mormon Mental Health and Mormon Sex Info Podcasts, is the current past president of the Mormon Mental Health Association and runs a sex education program, Sex Talk with Natasha. She has over 20 years of experience working with primarily an LDS/Mormon clientele.