Written by Hosai Mojaddidi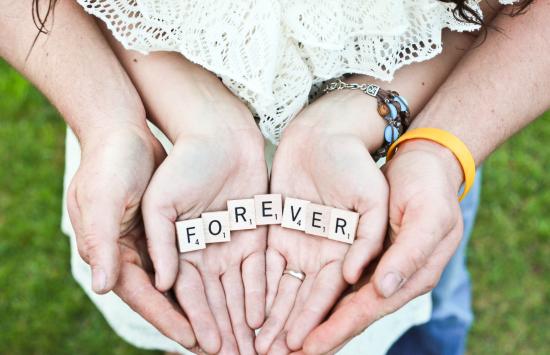 Marriage has its ups and downs, regardless of the religion or ethnicity of the spouses. Here are the basic "ABC's" of a happy Muslim marriage:
A) Allah: Make the pleasure of Allah ﷻ the central focus as well as purpose of your marriage.
B) Blame: Be fair and honest when assigning blame and always start with yourself first.
C) Compromise: If you're not willing to compromise then you're being selfish. Selfish people don't have happy marriages.
D) Divorce: Divorce is the death of a marriage. Don't be careless with the word and never threaten with it unless you're actually considering it for good reason.
E) Ego: The success of your marriage depends entirely on your ability to control your ego. Work on it constantly.
F) Fitna: Be vigilant and pay attention to your heart. If you ever feel distance, resentment, distrust, anger, or any such negative feeling for your partner then fitna is on the horizon. Purge it. Do NOT avoid it or bury it. It will surface and spread.
G) Gratitude: Express gratitude daily for your partner. You are not entitled to anything in this life so don't act like you are. Be an appreciative person and vocalize your gratitude through loving words, gifts, reciprocity, etc.
H) Hug: Make it a point to hug each other frequently. A warm embrace can expunge the heart of negative feelings and restore love and intimacy.
I) Intention: Make the intention to pleasing your spouse every day in one way or another. Think about their needs and wants and find a way to make them happy.
J) Jugular: Allah ﷻis closer to us than our jugular vein. Remember this always so that you feel connected to Him when you embrace one another.
K) Kiss: Kisses are acts that relay different messages. They can be healing, loving, and stimulating. Don't limit them to one intention but use them to communicate a variety of feelings.
L) Listen: Learn to listen actively, which requires humility, patience, and a true desire to understand your partner. Nodding along while planning your response is NOT listening actively.
M) Miserliness: Being a miser is one of the most detestable things. Don't be miserly in your love, in your compliments, with your wealth, with your time, etc. A marriage of misers is doomed to be miserable.
N) Nurture: Treat your marriage like a living thing that needs constant sustenance and nurturing. It cannot grow without attention from both you and your partner. If either of you neglect it, growth will be stunted or completely destroyed!
O) Offer: Remember to offer your help regularly and sincerely. Ask your partner if they need something from you or if you can somehow lighten their load, and do not take advantage of their generosity so that you are not taken advantage of either.
P) Prioritize: Your marriage should come before every other relationship. Make sure to never neglect it to take care of someone or something else. Remember, only a foolish person lets his/her own crops die while planting seeds for someone else.
Q) Qur'an: Read, recite, and listen to Qur'an together. Share your reflections and learn from one another.
R) Respect: People who command respect are not the same as those who demand it. If you speak and act respectfully, then you are deserving of respect, but if you speak rudely and crudely then you deserve the same.
S) Salat: Pray together as often as possible. It will help you stay mindful that before anything and anyone else, God is the sole purpose of your marriage.
T) Talk: Check in with each other daily whether through text, email, phone or face-to-face conversation. Don't get accustomed to too much silence or else that is all you will ever experience.
U) Ultimatums: If you rely on ultimatums to get your way then you're a bully. Fair people negotiate and compromise until a mutual benefit is reached. They don't threaten no matter how noble their intentions may be.
V) Vessel: According to the hadith, people are like vessels and they only pour out what they contain. Hold yourself accountable every day by asking yourself, "What kind of vessel was I today? What did I pour out into my marriage and into the world? Was it pure or toxic?"
W) Weekends: Cherish your time off from work, school, and other obligations and make sure to save some ALONE time with one other. Weekends are opportunities to reconnect, so don't squander them on petty things, fruitless events, or negative people.
X) Xenial: Be gracious and xenial with one another's family and loved ones for it will automatically increase the love in your heart for one another.
Y) Yardstick: Measure one another fairly and only by the standards set forth by God, and NOT the standards of any particular culture, family, group, or individual.
Z) Zeal: It's good to be passionate in life but when you're married your decisions are no longer just your own. Zeal unchecked can send you too far into murky waters so tether it and temper it through your partner.
---
Hosai Mojaddidi is the co-Founder of www.MentalHealth4Muslims.com, a site dedicated to providing mental health related content tailored for the Muslim community. She has served the American-Muslim community for over 20 years as a spiritual advisor, mental health advocate, writer/editor, mediator, interfaith organizer, and public speaker, covering a variety of topics including women's issues, marriage/family, youth/teen issues, education, self development, interfaith bridge building, spirituality, etc. She currently offers monthly self-development and spiritual wellness classes for Muslim women at Ta'leef Collective, and offers regular educational workshops for students and teachers at local Islamic schools in the area. She also offers periodic talks throughout California and nationally for the Muslim community at large on a variety of topics. In her spare time she enjoys reading, writing, blogging via social media (Facebook and Twitter), doing arts and crafts, visiting gourmet coffee shops, and exploring the countless beautiful beaches and state parks throughout California where she lives with her husband, two sons, and fish named Max! You can learn more about Hosai and her work at www.HosaiMojaddidi.com.
---
Follow Mostly Muslim on Facebook HERE.
Want your voice to be heard? Send your submission to MostlyMuslim@gmail.com! Visit the "Contribute to MM" page for more details.