I always knew that I wanted to be an artist, ever since I was very young. It all started with competition with my brother. My relatives would give him children's paint supplies for Christmas, and I would be envious. I wanted to have my own art supplies.
I actually started drawing and writing when I was seven years old. My great-grandmother took care of my brother and I when my grandmother went to work. She lived in an apartment building with a big parking lot, and somehow wanted to keep me inside. She did not want me to go out to play because she was afraid of me getting hurt. So she would give me letter paper that she had, and she would sharpen pencils with a knife, and I would spend hours just occupying myself. Even at that age, I would tear out pictures and stories from magazines and try to copy them.  I did my first attempts at figure drawing at this age.
At around this time, I entered my first art contest. I drew Santa Claus for a local children's television show. I won first prize, which was a free trip to an amusement park close by. I was afraid to ask anyone to take me, though. I hung on two those tickets for years, as proof that I won the contest and that I was an artist. My early drawings were very immature. The usual childhood drawings of dogs and cats, and sketches for homework assignments.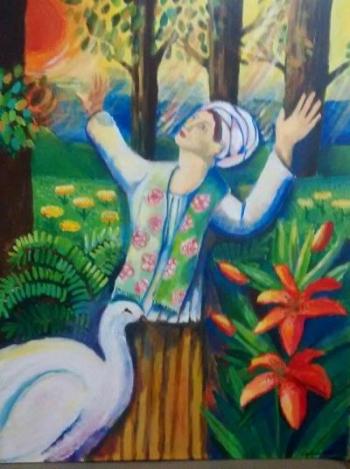 My family supplied me with paint by numbers. Also, my grandmother had a collection of embroidery books, which I would draw out the designs from and make placards using markers. Both my grandmother and great-grandmother were skilled knitters and skilled at crochet. My grandmother would knit these complicated sweaters for me and sew my dresses. My great-grandmother would crochet these very eloquent beds spreads, individual squares with roses in the center, which would take six months to make. My grandmother could not afford new furniture, so she refinished our furniture herself, sewing the covers for the cushions with piping. My grandmother didn't hang photos or art on the wall; our walls were paneled and plain.
I did not inherit my grandmother and great-grandmother's skills, although they did try to teach me. I could knit a basic sweater with changing colors and design, but I could never sew or crochet. These are truly the way they created their own art. My grandmother was also an excellent cook and could make croissants, and very elaborate deserts and foods. My aunt could cook elaborate gourmet food. My grandmother did not let me cook in the kitchen for fear that I would make a mess, but as I got older, I learned how to cook elaborate meals like her. I am writing all this because these are forms of art.
Being an artist, one looks around, not only at the cycle of nature, but at the intrinsic beauty of what it means to be a human being.
As I grew up, I saw the world differently than those around me. My companions were nature and light. I could tell what time of day it was and the season, by the slant and color of the light. Being here in California, the light is very different than it is in New England. The way that light hit an object and its shadows had a very spiritual significance to me. I reveled in the world around me, in its different shades of colors: like how the light shone through the leaves, especially in the early morning; how it danced through a sheer curtain; and how shadows and light danced on the floor as light shined through the window. Each dust molecule had significance for me, each dark corner I imagined had saints who meditated and had cloisters there.
I saw something nostalgic and magical about the woods behind my house, especially around the evening time, within the light of a full moon. For me, the angels existed there, and another place where saints had visions, and lovers met there.
I felt that I did not fit into the world of people, but into the world of nature. Since a very young age, I struggled with mathematics. If I could have accomplished mathematics, I would be telling a different story. I would have been a scientist; I loved astronomy and could tell the different constellations at night, and where the planets were. I was very interested in how the universe worked. I also loved physics and meteorology. I liked cracking open rocks so I could see the mica within them, and the beauty of white quartz.
As I got older, spirituality became a central part of my life. My grandfather instilled his faith into me as a child. I would pray the Our Father and Hail Mary every night before him. I was so touched by going to church, seeing the golden alter with multi-winged angels who folded their wings around Christ in the center. The gold in the alter had swirling white clouds, and the ceiling of the church had an azure sky with silver stars. I never listened to the sermon as a girl of age six; instead, I reveled in the beauty around me, especially at the brilliant stain glass. This, besides nature, also made me an artist.
Through the arts, we have a great duty to point out the injustices around us.
As I became older, my work took on a spiritual meaning and I became interested in dreams images through reading Carl Jung and books on mysticism. Soon, my poetry and art wove images and became very symbolic. Many times, what was going on beneath my subconscious came out in the paintings.
I used art and poetry as a way to heal myself, as a way of survival, when I was at the most desperate and loneliest times of my life. My expression gave me the validity to live and survive the traumas that I had been through. It was comforting to me to be able to create. As I became older, it became extremely healing. I worked out my train of thoughts through my art and poetry, and it helped me deal with grief through every brush stroke and every mark of the pen.
For many years, I did art for myself. I became very attached to my paintings, as if I had given birth to more children. Art saved my life. Music was very important to me as well. Even though I was not a musician, I drew much inspiration from classical, sitar, and baroque music.
Art is very solitary work. Many times I had to give up time with my friends to do it.  There is a great impulse in me to create art, as if like eating and sleeping. Many times there is not recognition or monetary gain. One does it because of the satisfaction for the soul. I also do it for the sense of legacy, what I will leave behind after I am gone to leave an imprint on this earth, and to my family so that I will not be forgotten.
I knew as a Muslim influenced by Sufism and Transcendentalism, that I wanted to celebrate the intrinsic beauty of what I visualized around me and what had spiritually influenced me. One reason that the Qur'an influences me is how scientifically it describes the laws of nature, and with such beauty. There is a Oneness of God through the laws of nature that is written in the Qur'an.
Being an artist, one looks around, not only at the cycle of nature, but at the intrinsic beauty of what it means to be a human being. That as humans, we are all beautiful in the sight of God. He made us so beautiful and perfect in how our bodies are shaped, and how our bodies work. There is also perfections in the beauty of emotions and thoughts that we have in ourselves, and for those around this.
I used art and poetry as a way to heal myself, as a way of survival, when I was at the most desperate and loneliest times of my life.
Through the arts, we have a great duty to point out the injustices around us. I know as a writer, many times I have defended Islam and its misunderstanding. I stood up against how members of my own family were mistreated, and others around me. I cannot bear injustice. Each human being is so beautiful, and should be given the same chances at life as anyone else. There is much evil in the world, and it is our duty to condemn it. We should condemn man's inhumanity to man, as someone said to me, and make our corner bright.
Many artists commit their lives to the arts out of dedication. Like a vocation in life, this is how they need at times to earn their livelihood. Recognition for one's work is an essential part of it. It is validation at times for what we do. We do not want our work to be sitting in a closet, unnoticed. This is our life work. We put so much of our time into it. Many times, we are so different in the way that we look at life. Sometimes we are on the outskirts of society. We need validation in our lives for what we are doing and what we accomplish as artists. We work alone, and are sometimes very isolated. But the arts are very spiritual type of work, and a form of worship. It makes everything we go through worth it.
The arts are a form of prayer. Each brush stroke we make, each letter we write, even some music and other forms of art, is meditation. Even our everyday chores are an art and a form of meditation, when we truly take the time to pay attention to what we are doing. When we live each second throughout our day, we are truly living.
---
Stephenie Bushra Khan is a converted Muslim, a poet, and local artist in Temecula, California. She is originally from Winchendon, Massachusetts.
---
Follow Mostly Muslim on Facebook HERE.
Want your voice to be heard? JOIN OUR TEAM or send your guest submission to MostlyMuslim@gmail.com! Visit the "Contribute to MM" page for more details.