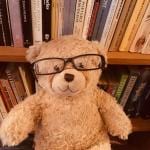 Being the Thouhts Thowgths Thauts Thinking of a Spectacold Bear
[Readers will please forgive this interlude, of which a more eloquent version may be found here. I own a rather assertive and temperamental bear, Aloysius, and I can only face so many arguments with him. He will insist on contributing—according to his own idiosyncratic, not to say inaccurate, understanding of both theology and current events. His spelling also leaves something to be desired, but we have made great strides in the last year. —Ed.]
There's a great hulabaloo (I just learned that word!) online because of somthing Cardinal Burke said (and Mr Gabriel said I must be very careful not to mispell his name so I looked it up to double check). Well I looked it up and he does not seem rite right.
The Pope is the head of the Church so what he says goes, unless its just him thinking about stuff and notreally saying it so every buddy has to listen up. I think it says that in Mulieris Consortio but Mr Gabriel said no its somewhere else so maybe not. Anyway, The Pope put a change in the Catachism where it says that we used to do Capitol Punishment, and he said that we shoudn't do it anymore even tho. we useto. And Cardinal Burke did not want the change to be there and told peaple (that word looks wrong but I dont know why) that he did not really say it (The Pope I mean) so that peaple had to listen up.
I was confused at first because I
tho
was thinking Cardinal Burke had to do what The Pope says. and because if the Church useto do Capitol Punishment and now we don't, then was that a
contour
counterdiction.
So I went on line and read alot of stuff. And it turns out The Pope was extra careful and did not say we were wrong before, just that we have to stop because it makes us think more and more about human dingity. (But he didnt say anything about bears so maybe we still get to do Capitol Punishmnt.) And he made sure and put it in the Catachism so every buddy would listen up and he wasn't just thinking about stuff because thats why there's a Catachism. So I think Cardinal Burke shoud listen because he promised because they make you promise when they cardinal you. But Cristians are supposeto anyway but to be a Cardinal they make you promise extra hard.