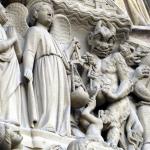 Archbishop Charles Chaput's recent column about Fr James Martin, and the latter's reply, have been swirling through the online Catholisphere. Unlike their partisans, both are courteous—His Excellency goes out of his way to point out that the personal attacks many people have made against Fr Martin are not only ugly, but fundamentally unchristian, and the latter's reply receives the former's criticism with good grace.
I had heard some infuriating things about the Archbishop's column; for instance, I'd been told he said (in substance) that the Church has been not only well-meaning but effective in making gay people welcome, and that those who don't feel welcomed are simply prejudiced against her teaching. His column turned out, mercifully, to be a good deal more reasonable than that. I'm not completely happy about it, but, in order to contextualize what I dislike about it, I should discuss my feelings about Fr Martin a little bit first.
In fairness, I must first admit to something of a grudge against him because he is a Jesuit. I haven't had bad experiences with Jesuits, understand, but I've never liked the ethos of contemporary American Jesuits (despite how much I share with it): maybe it's because I grew up evangelical, and Reformed at that, but the atmosphere of conciliation and pastoral gentleness and soft-pedaling doctrine is something I strongly dislike. And it's something Fr Martin has a lot of. I'm much more in line with Edmund Pevensie's bad-news-first outlook from Voyage of the Dawn Treader: "If there's a wasp in the room I like to be able to see it." And I do actually enjoy and get a lot out of doctrine, so soft-pedaling it not only makes no appeal to me, it actively repels me. But none of these things entails false doctrine, nor true doctrine being insincerely espoused; and not everyone is me. So while I am free to dislike this style, and while I'm prepared to criticize it when that seems called for (every spiritual style is open to criticism, after all, since we're imperfect beings), I won't say that it's illicit in itself.
But while I'm here criticking, I do have mixed feelings about Fr Martin's LGBTQ+ ministry.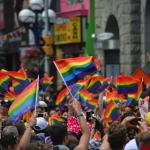 On the one hand, while he points out that he has said, several times and in plain English, that he doesn't challenge the Church's teaching about homosexuality, that phrase is the proverbial wax nose that can be pushed into any posture you like. The chadtrad who wants to believe that Fr Martin is a closet heretic can brush it aside as either another lie or a sneaky way of saying "Well, I'm not going to challenge the Church, but I don't really subscribe to what she says here—I just put up with her saying it." That reading isn't fair, but it's understandable.
What bothers me more than uncharitable readings from people who wouldn't trust him anyway, though, is the prospect of a fellow gay person (for quite different reasons) reading such statements in almost the same way. Hoping this is something Fr Martin is saying because, after all, he
has
to to protect his job, but he doesn't really believe it, and we don't have to either. That person is in for a nasty, possibly faith-damaging, shock, if and when that intellectual question comes to a point. And in my experience, intellectual questions have a way of coming to a point. That's one of the ways in which not being clear and forthright about doctrine can be unkind to people. (1)
Fr Martin's habitual and (to my knowledge) uncriticizing association with groups like New Ways Ministries—which promotes doctrinal dissent on this very issue, and has a track record of disobedience to boot—only strengthens the impression that, whatever he says, he doesn't really believe the Church's teaching. And while no one should be judged solely on the impression they give, it seems either naïve or disingenuous to expect anything else. It's difficult, for someone like me, to trust someone like that.
The reason my feelings about him are mixed, rather than merely negative, is that what he is trying do in a flawed way, most Catholics are not trying to do at all. His attempt to reach out to LGBTQ+ people isn't perfect, but frankly, he's about the only Catholic clergyman I can think of who not only talks about treating us with respect, but has actually bothered to find out what we consider respectful and made any effort at all to meet those considerations. Listening to someone is one of the first and most basic parts of respecting them, and priests generally don't listen to us. They are too busy telling us what a great job they're doing respecting us.
---
(1) Not that kindness can be satisfied merely by being clear and forthright about doctrine, however badly a lot of traddies want to pretend it can.
Images via Pixabay