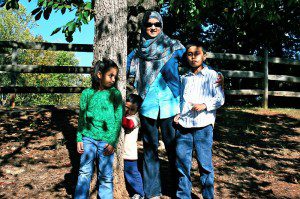 Bismillah-nir-rahman-nir-raheem and Salaamualaikum!
More than 15 years working as a journalist, 10 years working in web/online journalism, and the past five years getting on the blog/social networking bandwagon, and I've managed to avoid writing/editing my own blog – until now. I don't know why I held out so long, when so many colleagues and friends encouraged me to keep a blog. I think it was the commitment (though I've got no problem being committed to marriage or my kids!) – and the worry about the floodgate it would open up.
I've never had a problem sharing stuff about my life as an American Muslim, a journalist/editor, a mom (to three great kids, the eldest of who is quite autistic), a wife, a daughter, a sister, a daughter-in-law, and a friend. Indeed, I'm sure those in my circle of friends, family, colleagues, and readers of my content are probably a little sick of my thoughts and opinions. But I avoided the blog route for a longtime, because I knew if I had one, I'd probably run to it all the time to share whatever was on my mind and respond back to whatever was happening in the world – so I hope to find and maintain the right mix of openness and discretion.
Patheos – the great multifaith website where I am now working as the managing editor of the Islam portal encouraged me to start a blog. (Check out the content on the Muslim Portal – lots of great stuff there.) Really encouraged me. So, here we go.
Here's more than likely what you'll read here – stuff about faith and family, about the difficulties and joys of raising special needs and N/T (what we autism moms call neuro-typical, or "normal"– whatever "normal" means these days) kids, and about American Muslims and Islam (more so Islam in America – since that has been the "beat" I've been covering for 10 years).
The title of this blog is a nod to Sumbul Al-Karamali, a lawyer and writer who wrote a very interesting book a couple years back called The Muslim Next Door: The Qur'an, The Media, and that Veil Thing. Check it out sometime if you can. I never thought, growing up, that I would wear my religion on my sleeve (or that I would ever don a headscarf – but I did that six years ago). Sure, I was Muslim, but that wasn't what I chose to shout to the rafters growing up.
But times are different now, and I am a mom raising kids, and I want them to practice their religion, be the best Muslims and Americans they can be, and be good friends and neighbors. Solid relationships are built, and changes in thoughts, perceptions, and ideas occur through our smallest interactions, starting with our family, our neighbors, our friends, our community, and the world at large.
So, I figure if I am live my life and my faith with peace and pride, then I am happy to be that "Muslimah Next Door" – trying to figure it all out just like everyone else.
Thanks for reading this. I hope you'll come back for more.