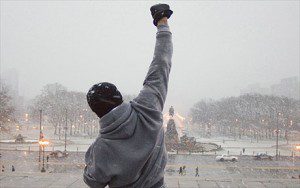 I prayed two rakat shukrani – that's a short, extra prayer Muslims do when they are thankful for something. And thankful I am.
Henrico County police called last night. They recovered Lil D's iPad.
Let's pause for a celebration before we get into the story! Channel that feeling of Rocky Balboa, jumping over the stairs outside his home, throwing air punches, and beginning to jog down his neighborhood streets. He's gathering energy, he's pumped, and as he jogs, people on the street call to him – Hey Rocky! Hey Rocky! It spurs him on to keep running harder.
Then the kids come running behind him, and he beckons them – Come on, come on! The crowd grows behind him, running and encouraging him, and he feeds off the support — building up his strength to just keep pushing, until with a burst of speed, he breaks away from the pack. He's just booking it now, pushing with full steam, heart pumping, breath streaming, legs pushing hard until he hits the steps of the Philadelphia Museum of Arts.
He sprints up the steps, reaching the top in a final burst of glory and energy. Jumping up and down, fists raised in the air, on top of the world!
One glorious moment!
That's me in this moment! Lil D's iPad is back in our hands!
Am I overusing the exclamation point? I can't help it! What was supposed to happen, what I prayed to happen, what I worked to have happen what we all worked to have happen – well, it happened!!!!!! There's good and bad in this story, but I'm grateful and excited for the good.
What More Could be Done?
Yesterday I had reached the end of my proverbial rope. Starting with my first post about the loss/theft of Lil D's iPad last week, to the police report I filed, to the message I put up on Target's Facebook page asking them to put pressure on our local Target (where the iPad went missing) to reviewing the security tapes, to my discovery that those who had Lil D's iPad had taken pictures of themselves that had appeared on my photo stream, to calling up a local television station, which did a story and aired those pictures on TV, to the final interview I gave the Richmond Times Dispatch — I didn't know what else to do. (Here's the article)
You all spurred me on. Keep fighting, keep trying, keep pushing. You shared the posts, the pictures of those in possession of the iPad, and it spread like wildfire. One friend put up a post on Richmond Craigslist, warning people not to buy an iPad that matched the specs of Lil D's iPad (which had his name engraved on it). Another one posted our story to lifehacker.com, while another posted it on Reddit. I downloaded an app suggested by a blog commenter and checked the exif file on the photos, but couldn't pinpoint a location. And, we constantly were trying our "Find iPad" app, but since the iPad wasn't on our network, or perhaps because the people had disabled that app, it wasn't showing up.
At the suggestions of other friends, I put a message in our photo stream asking for the return of the iPad, no questions asked. We have calendar alerts that pop up on the iPad and all our phones for the times when Lil D needs his medicines/supplements. I changed those to messages to say, please return the iPad, no questions asked. I was hoping the people who had the iPad would see the photo or the calendar alert and do the right thing – on the off chance the settings hadn't been changed on the iPad yet.
And, two friends, one who is a former colleague and one who is a friend of a friend, took some of those photos I had posted, where a man had his face all squeezed and swirled, and applied Photoshop tricks to them, providing me with good approximations of what the guy looked like. That photo was posted on the social networks and sent to the media and the police.
Which led me to last night. What next? What else could be done? Through your kindness and interest and sense of justice, you had spread the photos far and wide, you had shared the posts thousands of times, you sent Lil D your prayers and grace. I had done everything I could think of. Friends of friends had called in favor with the media and the police, and a Henrico County detective contacted me to say she would be handling the case.
That's it, I told my husband at the end of a very, very long day, after he had returned home from a late meeting to a quiet house with the kids all asleep in bed. I don't know what else to do. If the iPad is going to come back to Lil D now, it's in God's hands.
And God Blessed Us
And then the call came. The people in the photos, the people who have Lil D's iPad saw their faces on the news, and they called the police.
I'm waiting for the story to unfold more, but right now the police are telling me that the people in the photo said they didn't take the iPad. The people from the photos are saying that a man sold the iPad to them at a flea market the weekend it went missing. Maybe that story is true, maybe it isn't. The police are telling me right now that they don't suspect those who returned Lil D's iPad of theft. I hope to hear more about this as time passes. I never cared to press charges anyway (well, mostly I didn't).
But here's what my husband and I are thinking – even if these people didn't take the iPad from our cart at Target last week, even if they did buy it from a guy at a flea market, they took photos with it while our information was still on it. Because that's how those photos showed up in my photo stream. They "bought" the iPad still in its blue grip case. And, the iPad has my son's name engraved on it. That didn't ring any alarm bells?
If the story is true, and they bought the iPad from someone else thinking it wasn't stolen property, well, I do feel a bit bad about spreading their photos far and wide – but I'm not beating myself up over it. (I'm naive, but not that naive.) The whole thing sounds shakey, and anyone with some sense would've seen that the iPad they "bought" belonged to someone else, someone with special needs. I mean, if one was selling an iPad, wouldn't all personal affects be removed before doing so? And I know our stuff, at least our photos, were still on the iPad when these people "bought" it. Regardless, I did what I had to do to get it back.
At any rate, the iPad is back, in its blue grip case, where it belongs – in our house on the desk in the kitchen – where Lil D knows to find it. That is the greatest news ever.
Here's the bad news – the iPad has been restored to factory settings. Everything we had on it is gone, including the Sounding Board app with all the boards that had been programmed for our son over the past 1.5 years.
Where Do We Go From Here?
Best case scenario would've been for the iPad to come back with everything on it. I had my eye on that prize. What we got was our iPad in its blue grip case, but it had been restored to factory settings, and a few new personalizations had been made to it. When the iPad went missing, my pain was over the fact that in losing the iPad with its customized apps and communication boards, Lil D had lost his voice.
Many have asked me how Lil D has been affected by the loss of his customized iPad. It's tough to explain the fall out. On one hand, his school and I did a mad scramble to supply him with temporary iPads with the Sounding Board app at school and home. We quickly took pictures and programmed a few key boards that he needs every day – with reinforcers, favorite foods, chores/programs he is working on, a picture of a toilet, and pictures of family members and teachers. So he was able to keep working with it at school.
At home, well, the last week he hadn't been using the iPad that much. The temporary iPad we had just wasn't familiar enough to him for him to use it spontaneously – which is our end goal (spontaneous, unprompted use of the iPad). As his family, we all know Lil D and can anticipate his wants and needs so well that he doesn't have to make much of a communication effort if we don't make him. That's the problem we've been trying to eliminate by having him use the iPad as his communication device.
The world is large, and Lil D needs to survive in it. I am not always around him to know what he wants, and even I can't figure it out at times. We have spent the past 1.5 years teaching him to tell us via the iPad what he wants, who he wants, what he is feeling, showing him what tasks he will be working on and what he needs to accomplish his work. The point of all this is that if he gets into the routine of using the iPad to ask us, he will use it to communicate with everyone.
And, if you know a little about Autism Spectrum Disorder (ASD), you'll understand that routines and familiarity can be very important to people with autism. His original iPad was customized with apps, all of which can and will be replaced. The Sounding Board app will be replaced, and all his communication boards will be rebuilt. But, his therapists, teachers and I will have to make our best guesses at recreating it as close to it originally was. Before the iPad was wiped clean, the communication boards were set up in a particular manner, and the photos on it were ones that had become very familiar to Lil D.
We'll try to take the same photos, but it won't be exactly the same. I don't know how this will affect Lil D, or how long he'll take to readjust. That's my fear. The thing with Lil D is that he takes a long time to learn anything new, and if he loses a skill or regresses in some way, it takes months to crawl back. I pray this doesn't happen now.
Throughout this ordeal, many friends, acquaintances, Facebook friends offered to get Lil D a new iPad. One extremely sweet Facebook friend (whom I've never met in real life), who also has a son with ASD, pulled her own strings to get an extra iPad she owned refurbished and shipped to Lil D. I asked her, what if I get Lil D's original one back? She told me, keep it and donate it to his school.
I had refu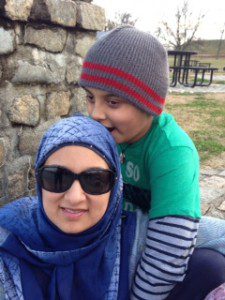 sed all other offers for new iPads because I knew that we could get him ourselves. But that wasn't the point. I wanted his original one back, with the hope that it would be returned with everything still on it. And, I felt strongly that this story needed to be shared and told.
It takes a hell of a lot of trust to send our special needs children out into the world. You can't even begin to imagine what it's like, but I've written about it here. And for someone to take advantage of a special needs child, to take something from him that is so important to him? Well, there was no way I was going to let that go. No. Way.
When I first wrote about this, I was upset and bitter at the lack of help from Target, Apple, the police, the world. I felt like all I have been doing to raise autism awareness and to share our journey, well it hadn't reached enough people. My feelings have been soundly refuted. You all have surrounded us with love, righteous anger, prayers, good vibes, understanding and support.
At the center of this is all is a 12-year-old boy who most likely had no idea of all that happened this week other than his familiar iPad being missing.
But I know my son. And I know that he says Thank You. I thank you, too.