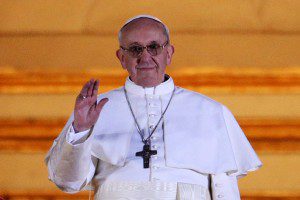 3.14159265359 and so on and so on.
Pi, in its infinite glory, on Pi day – March 14 – 3-14.
On this day the new Pope Francis is already making his mark on the Catholic world and the world at large, proving, as my friend and fellow Patheos Catholic Channel blogger Joanne K. McPortland says, that this is a "good day to think about all that is infinitely unrepeatable."
As I said in my post in February when Pope Benedict XVI announced his resignation, my area of expertise is Islam and Muslims in America and so commenting on the election of the new Pope Francis (formerly known as Cardinal Jorge Mario Bergoglio of Buenos Aires, Argentina) is also beyond my realm of expertise. But, the more I read what our fellow Catholic bloggers are writing and learn more about Pope Francis, the more impressed I am with his humility and  how in his first days in office, he is already creating his own Pope style.
Journalist John Thavis writes in his blog, "Decoding the Vatican,"
"That was clear from the moment he put on his papal robes, donning the simple white cassock but declining to wear the ermine-trimmed red cape known as the mozzetta, which was left hanging on the wardrobe in the Room of Tears.

"To Vatican officials who offered him an elaborate gold pectoral cross to wear around the neck, he said he'd prefer to keep his very simple cross that he's worn as a bishop. He accepted the congratulations of cardinals not seated on a traditional throne-like chair, but standing up and greeting them one by one."
Indeed, Pope Francis' austere ways are already being heralded as a sign of his humility, dating back to his time as a Cardinal in Argentina. Writes John L. Allen Jr. in National Catholic Reporter:
"His leading role during the Argentine economic crisis burnished his reputation as a voice of conscience, and made him a potent symbol on the costs globalization can impose on the world's poor.

"Bergoglio's reputation for personal simplicity also exercised an undeniable appeal – a Prince of the Church who chose to live in a simple apartment rather than the archbishop's palace, who gave up his chauffeured limousine in favor of taking the bus to work, and who cooked his own meals."
Fellow Patheos Catholic blogger Father Dwight Logenecker offers these words of hope about the new Pope:
"The other day I was standing on the hillside on our church campus where we plan to build a new church, and I prayed that the new church would be built, but I also looked across the street to the old motel that was built in the 70s along highway 85. It, and the other hotels around us are flophouses, dens of iniquity where drug deals are done and prostitutes come and go.

I wondered what we could do to witness in the community and realized that building a church was one thing, but working with and for the poor was really the main witness in our world today. Why? Because our words of witness have been too often compromised by our lives. We say we are followers of Christ, but our neat suburban lives are no different than anyone else's. We say we are followers of Christ, but our church is scandalized by liberal worldlings, abusive priests, hypocritical leaders and lukewarm laity.

The world will not listen to our words until our works match up. Therefore, the best thing we can do is the best thing we have always done: become again the church of the poor, the slaves, the downtrodden and the needy. This is our main witness now, and only when we have begun to live up to our words will they again be taken seriously.

This is why I am totally blown away today by the election of Pope Francis. To see him standing there in total simplicity looking at the crowd and then praying with them in honesty and open ness immediately set the stage for what is to come. With his leadership perhaps more of us will also adopt the name "Francis." Perhaps more of us will seek to re-build the church. Perhaps more of us will become more joyful and live out again the spirit of poverty and simplicity in our lives."
Patheos' Catholic Channel is all over the election of the new Pope. Please click here to peruse all the different angles and insights to this story.
When the white smoke was seen at the Vatican and so many of us from all different faith traditions began to share the news, my friend Max Lindenman, who blogs at Diary of a Wimpy Catholic, left this message on my Facebook wall:
"Hey Dilshad. One of the three saints our new pope named himself after entered into fairly friendly relations with the Muslim world, including a dialogue with Saladin Sultan nephew (whose name escapes me just now). Since this example was probably on the pope-elect's mind when he chose the name, I want to get out in front of the guy by wishing you a really awesome day."
This. This is what I love about all of this — about the hope and breath of fresh air that comes with Pope Francis. About working at a site like Patheos where we have these across-faith discussions, where we learn from each other and ask each other questions and come together as brothers and sisters in faith.
Max later added a caveat for myself and fellow Patheos Muslim Channel columnist Rabia Chaudry about the former Pope Benedict, saying that although it was true that he held aloof from the crowds in the traditional way of popes and that he was a "bit of a dandy," that his basic character was "sober and self-effacing. In short, Benedict was your classic introvert. He preferred to keep people at a distance not because he ranked himself above them but because they made him nervous."
I keep coming back to Father Dwight, who wrote: "I am a Benedictine oblate and will always love St. Benedict and love Benedict XVI for his amazing papacy, but I'm ready now for a Franciscan spirit in the church. …"
Indeed, the whole world seems to be excited for what lies ahead.
And on today, Pope Francis's first day on the job, I say let's celebrate Pi. Any way you slice it, in its glorious unrepeatability, its infinite wonder, and its endless possibilities. A brave new world for Catholics, and Insha'Allah the start of many new connecting bridges.