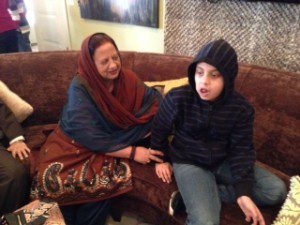 What would a parent do for their child? Anything. How far do we go for them? As far as it takes. What do we give up? Whatever we need to. What do we change about ourselves? Everything. When you add special needs into the picture, then your ability to go the distance for your child becomes the stuff legends are made of. And, there are no thanks necessary – it's just what you do.
I have quit jobs, stayed up nights on end well beyond the baby and toddler years. I've driven thousands of miles to and fro from therapies, spent countless hours in meetings with schools hammering out the best IEP and school situation for him and have driven to his school three times daily to administer medicine.
I've cooked daily for him, adhering to special diets. I've held his hands and pinned his arms down to stop him from hitting himself, placed myself between him and walls to absorb his blows. I have endured bites, bruise-inducing pinches, head butts and kicks to my stomach and neck leaving me gasping for breath during the worst of his meltdowns and self-injurious behavior.
I've stayed up into the wee hours of the night doing research, trying to find out what are the best treatments and therapies to pursue, what testing needs to be done, what locks I can crack open only to be faced with new and different autism locks. I raised heaven and earth to get Lil D's iPad back when it was stolen from him. This is what mothers do – we raise our children, in every definition of the word.
But last week my in-laws did something for the love of their grandson, something so profound and permanent that it has left me humbled and eternally grateful. Let me tell you the story:
Joint Family Living
About 14 years ago, my husband and I were married. Me, an American-born and raised Muslim, he, an Indian-born and raised Muslim. As new brides are wont to be, I was nervous. He had moved to the U.S. to do his medical residency and start a practice, telling me that his plan was to settle in America permanently. His parents lived in India, and he was their eldest child and only son.
I was familiar with the concept of joint-family living. It is fairly common in India, especially with our parents' generation. But, I figured with my in-laws settled in India and us living in the U.S., we would have lengthy visits from them, but we wouldn't be living together. Starting with the birth of Lil D, my in-laws began visiting (in the beginning, just my mother-in-law since my father-in-law was still working) for months at a time especially when a new grandchild was born. The length of the visits grew after my father-in-law retired. And by the time Amal was 18 months, they spent a year with us, during which we performed our Hajj pilgrimage while they looked after our kids.
When I tell my friends how much time my in-laws spent us while we were living in one and two-bedroom apartments in New York City (with two children), they are taken aback. How, they wonder. Yes, it wasn't easy. But what made it work, especially when we were faced with Lil D's devastating autism diagnosis when he turned three, was four adults who were committed to living together with respect, love, kindness, care, mutual support, faith and forgiveness.
We learned to live together, and we tried to make it easy on each other. This wasn't just in-laws living with their son and daughter-in-law and their kids. This was a family coming together. This was me learning to understand how my in-laws wanted to be treated and appreciating all they did for us and our kids. This was them learning to accept my child-rearing methods, my American-Muslim-Indian ways and my obsessive tunnel vision when it came to Lil D and his autism.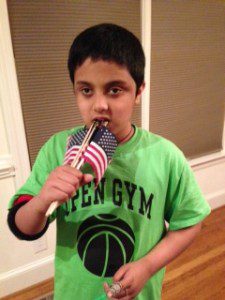 I always knew I hit the jackpot when it came to family support and love (from my own parents and my in-laws). With autism thrown into our family mix, there were so many ways this could've played out. Raising a child with special needs, whatever those needs are, reveals in people what their truth is. There is no politeness you can hide behind. The best and worst of you are on display all the time within your family.
And over the years, we have clashed and shed tears. We have hid behind uncomfortable silence, and I'm sure we have held each other accountable for Lil D's autism in different ways over the years. We wouldn't be human if we didn't do so. But we always come back together, and my in-laws have given us their unconditional support and reserved judgment as much as possible. Whatever they are capable of doing for us and their grandchildren, they do it – mind, body and soul. And we try to do the same for them.
Within my circle of autism friends (though I hate to label them as that, but it is autism that brought us together), we commiserate over family and friends who just don't get it. Many families who have children with special needs get the short end of the stick with grandparents. I have my moments of frustration as well, but at the end of the day, I know how blessed we are.
A Dream Changed
My mother-in-law's dream was for her son and his family to eventually move back to India to their family home. That dream ended when her son, my husband, came to the U.S. to continue his medical studies and decided to settle here permanently. The dream then evolved into having us visit frequently – that one year we would go to India and the next year they would come here.
But I gave birth to Lil D. And he was diagnosed with autism, which we came to learn was quite severe. Given all that, twice I traveled to India with Lil D, the last time being five years back when we took all of our kids, including  two-month old Hamza. It was after that trip that my husband and I decided never again. Unless there was a truly extenuating and compelling reason, we would not put Lil D through the difficulties of international travel to India as well as putting him in a situation that was so far removed from his routine for a long length of time. It wasn't worth our sanity, his peace of mind, the money or anything.
And bless my in-laws – they never asked us to come to them in India as well. Instead, they came to us, enduring painful travel and the difficulties of packing up their home in India and opening it up again whenever they went back. They maintained two lives for us. For my mother-in-law especially, her heart was never completely at peace here or there.
We knew this traveling situation wouldn't last as they aged. My father-in-law, with full love for his homeland and little love or connection with the United States beyond the fact that his children lived here, often stated in the early years of our marriage that he didn't want to permanently reside in America. He would always be an Indian citizen. My mother-in-law refrained from making such declarations, but we knew her heart was torn between her children and grandchildren in the U.S. and her life and family in India.
The years passed, and we grew closer and more dependent upon each other, — to raise all our children, to help Lil D manage his autism. It became clear that they needed us as much as we needed them. They needed to be with us, to be close to us as they grew older and their health grew a little more fragile. And though they cannot physically care as much for Lil D as he grows bigger as they did when he was younger, their mental and emotional support as well as the attention they give to Amal and Hamza is immeasurable. And so we applied for their green card so they could be a legal immigrant here, which they got. And then, upon our urging and for the love of the eldest son of their only son, they took the plunge.
They applied to become citizens of the United States of America.
For parents to turn their world upside down for their children, well there's nothing extraordinary about that. For grandparents to do so for the sake of their children and their grandchildren, well the magnitude of this is not lost on me.
Two months ago my father-in-law, mother-in-law and I stood in a Richmond, Virginia courthouse as he took the oath of citizenship. My father-in-law became an American citizen. I never thought this day would come. And last week my mother-in-law did the same. With her dupatta wrapped around her head, dressed in a traditional shalwar-kameez, left hand gripping the bench in front of her, she raised her right hand and took the oath of citizenship. When she walked up to shake hands with the judge who administered the oath, I stood with her and also shook the judge's hand. "This is my mother-in-law," I told her. "And my father-in-law became a citizen two months back. Now our family is complete."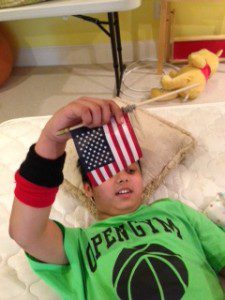 The judge smiled back at us. "Indeed it is. Congratulations." I asked the women handing out flags if I could have three for our kids. And when we left the courthouse, my mother-in-law and I embraced, knowing full well what they had done for us, for Lil D, for themselves and for our whole family.
When the kids came home from school that day, I gave my mother-in-law the flags, and she put one in each child's hand. She drew Lil D close to her: O meri jaan, o mera heera, dil ka mera tukra, heera mera moti. I love you Daanishu. (Oh my sweetheart, oh my diamond, piece of my heart, my diamond, my pearl.)
Lil D endured her embrace and pushed her away. He took the flag from her hand and wound his beads around the handle.
Turned that little American flag into a bead spinner.
And in that moment, all was exactly as it should be.