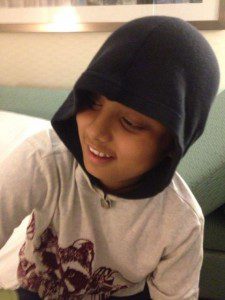 I picture it happening like this:
He walks in the door, weary after traveling thousands of miles and sitting for hours on a plane, then driving nearly three hours more – across time zones and battling jet lag – and drops his bags and calls out to his son. The edges of the picture fade into a blur and the room goes silent as the focus turns with a sharp clarity onto Lil D, spinning his beads and pacing the length of the family room. It's time for the big moment, the story-book reunion between father and son.

Lil D! It's Baba! I'm home! Come here Jaanu (darling) and give me a hug! And Lil D bum rushes his father with the biggest grin and wraps his arms around him, nearly knocking him over in his joy at seeing his Baba after three weeks. He buries his sharp chin in his father's chest keeps looking up with a goofy grin. You're back, he's thinking. Don't ever go away that long again.
And it is a picture-perfect moment just like we had envisioned it.
But what really happens is this. After leaving India and flying for nearly 17 hours and driving three more, fighting awful and typical Washington D.C./Northern Virginia traffic to get home, Lil D's Baba realized he would be reaching home just as Lil D's school day was coming to an end. So he drove straight to school to pick him up.
And, like I had pictured it, received the biggest grin and beariest of bear hugs ever.
Then, like I knew it would be, in the next instant Lil D pushed him away. We knew what he was thinking, as this has been his classic reaction to our return from any trip, be it one day away or three weeks:
I'm so happy you're back. And I now realize that you left me and went away. Why did you leave me?
These thoughts are revealed as plain as day to us in the look on his face, in his instant reaction (and unfolding reactions over the next few days) and in all his nonverbal body cues.
Whenever any of us have gone away in the past without Lil D — be it for work, a family event or respite – this is the reaction we get upon returning home: Happiness to see us back followed immediately by his question – why did you leave me? He asks it as clearly as if he had the verbal speech we long for.
And it's just not right. No matter how I explain it or justify it or reason it away, no matter how many people agree with the idea that caregivers and siblings of special needs children/teens/adults need to get a break and have some respite – it's just not right. And what I mean by that is this: Parenting should not necessitate the need for breaks. I mean, ok, yes, we all need the night off or a weekend away from our kids. But let's get real folks. There's the need to have some fun sans kids or just spend some time with alone or with your spouse, and then there's needing respite because the daily mental and physical care for your child is all-consuming, never-ending and life-altering – way beyond how life-altering "normal" parenting is.
I appreciate that I am getting this break, that we are all getting this wonderful opportunity to travel and focus on Hamza and Amal. I appreciate that Lil D is not being dragged around pillar to post in this sensory-overload of a city, subjected to the noise pollution, lack of routine, having to be confined in a terribly small space for hours on end in an airplane to get here and back — and a million other things that would've driven him bonkers.
Oh, I appreciate it. This has been the trip of a lifetime. A gift from my parents, who facilitated all this happening. A gift from God.
And I am so looking forward to that big grin and hug from him when I return.
But not what comes next. Not his question: Why did you leave me?