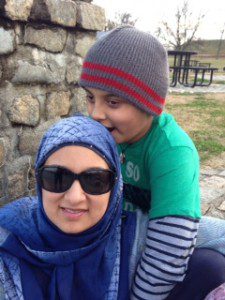 My friend tagged me in a post on Facebook – a beautiful video made of moms being asked how they would describe themselves as mothers. And in the snippets aired, the moms all talked about things they didn't like about themselves as parents, or wanted to improve:
Be more patience.
Think before speaking.
Be more confident as a mother.
Then, the moms were brought back to watch videos of their children describing them. And here, the way the children viewed their mothers conveyed what was so sweet, simple, honest and beautiful:
My mom is my hero.
My mom is beautiful.
I love to snuggle with her.
She cooks me lots of food.
She is my best friend.
She does everything for me.
She's like my heart … because she's that close to me.
She's the best.
You watch it yourself and try not to cry. See if you can.
But it's at times like these — when I'm full of thanks that I get to mother my amazing kids, when they spontaneously hug me or thank me for helping them with a tough math problem, printing out homework for them after they've gone to bed, cooking their favorite thing for dinner, standing and shivering in the cold night air as I cheer for them on the soccer field, reminding them to pray or them reminding me to slow down and just listen to what they have to say — that I always come back to Lil D.
And I think of parents of special needs children — especially those of us parenting nonverbal kids. What would our kids, who cannot talk, who struggle even to communicate on their assisted communication devices or with sign language — what would they say to us?
I can't tell you how often I've wondered what Lil D will say to me when we stand as equals in front of God when the world has ended, and he can say everything he's ever wanted to. And we will really understand everything he's saying. What will he say to me?
Because as parents we make mistakes. We all do. But the mistakes I have made by Lil D along the way matter more because so often I am deciding for him. I am making judgment calls for him every minute of every day he is with me. I am struggling to figure out what he wants, needs, desires, what is best for him, when he should be pushed and when he shouldn't. I am making educated guesses as to how he is physically and emotionally feeling, and I am constantly trying to figure out how to help him learn, how to keep him safe and protected, how to help him gain peace and happiness.
Because he can tell me in certain ways when he wants a cookie or water, when he needs help pulling up his pants or wants to eat dinner. When he's "aw dun" or wants "mo." But the million and one things that go beyond that in the life of a child — he can't tell me. So I try to figure it all out on his behalf.
What will he say when God gives him the ability to say? What will he say about what he thinks of me as a Mamma?
Honestly?
Just hearing "Mamma" would be the greatest affirmation of all.