By Saman Qureshi
This is a guest post by Saman Qureshi, a colleague and friend of mine who blogs at Biscuits and Banarsi. Saman attended the Islamic Relief USA Day of Dignity Eid Festival two weeks back, where she and her children happened to wander over to the Special Needs Eids celebration, hosted by MAS-DC (Muslim American Society, DC Chapter). I had planned to attend the event with Lil D and our family and has traveled to the Northern Virginia/DC/Maryland area that weekend to my mother's. But Lil D got sick the day of the celebration, so we missed out on something we had waited for the whole year to attend.
Well, God is the best of planners, and though we couldn't partake in this wonderful event organized for special needs children, we chilled at my mother's and relaxed together as a family. So I'm thankful to Saman, who did check out the Special Needs Eid celebration. Here she provides a unique perspective of an outsider looking in — lessons in inclusion, in gratitude, in strength and love.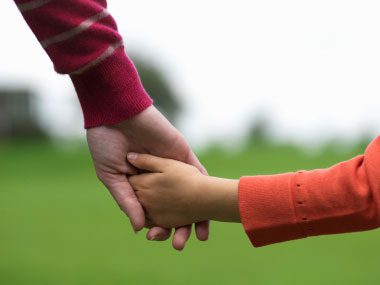 When you have  healthy kids sometimes you take for granted well, everything.
Over the weekend I attended the Islamic Relief Day of Dignity event at the Adams center in Sterling , VA. There was a fair in the front of the mosque, food donations inside the mosque and a special needs eid festival organized by the MAS-Youth towards the side of the mosque.
In typical fashion, I put on my backpack, armed myself with boxed juices and granola bars and set out to fight my way through the traffic, stand up in long lines and play referee for my kids countless fights.
After I accomplished to get my two boys on most of the rides I started wandering towards the side of the mosque where the special needs Eid festival was going on. I had not  paid attention to where or what the special needs program was. All I saw was a petting zoo set-up and pony rides. I maneuvered my two year old and four year old  through multiple yellow caution tapes that were clearly marking of the area.
That was when things started getting complicated.
"This area is for special needs kids only," a volunteer kindly said to me.
"Ah that explains the yellow caution tape," I replied nonchalantly.
"You came through all those with the kids?" she asked.
I laughed it off, feeling a sense of accomplishment  but at the same time feeling kind of dumb about ignoring the very obvious tape which was there for a reason.
"Yea I just saw the animals and thought my kids would enjoy seeing them," I replied.
She paused looked at me and said with a smile that the area will open after 2 p.m. for the rest of the kids.
I looked at my watch and saw that there were at least two more hours until my kids could access this area with the cool farm animals and the ponies. Part of me was sympathetic and understanding. Of course it made sense to have an area for special needs kids.  But a part of me also felt like questioning why my kids had to wait for two more hours to access the part of the festival that was taped off. What was the big deal?
Since I was already in the special needs area, I decided to hang around. This is when I first saw Freba Ali. She was tenderly  watching her 9-year-old son jumping gleefully in the moon bounce. Unlike most parents who were on the other side of the festival, she didn't have her phone to her ear, wasn't updating her status on Facebook and didn't even seem distracted by a wailing girl nearby, who wanted to stay longer on the pony ride.
Ali told me about the first time they had come to this event and how since that particular Eid festival, her son now looks forward to Eid and counts down the months until the Special Needs Eid Celebration occurs. When I asked her what she enjoyed most about the event she said, " I love watching him enjoy. This event is very special for both the parent and kid. You see and meet other parents [of special needs children]; we share stories and that makes it easier on the parents."
She went on to describe how great the event is and how the volunteers do such a fabulous job. Then she said the following, which broke my heart:
"I just wish they had more than one event."
She gazed wistfully at her son.
It was in that very moment  I was reminded about what it means to celebrate Eid and how we as a community are failing a segment of our ummah  by not including them in the basic functions of fellowship and prayer. I thought back to 15 minutes ago when my primary goal was to get the best seat on the ride for my kids, get the best spot in line and ensure that my kids were  enjoying the festival to the fullest. It all seemed so superficial now.
Here was a mother of a child who does not have the ability of going to any of the hundreds of fairs that occur throughout the year, because these fairs and events don't have accommodations for him and other special needs families. They only have one Muslim-organized event made special for them, and for a minute even I had felt annoyed about being excluded.
She told me about the other events that were occurring inside mosque, including sensory work stations with clay, art crafts and an Eid gift table.
With a new-found humility I entered into the mosque just in time for the special needs prayer.
Inside I saw one of the organizer's son exiting the room when he was called upon to recite the adhan (call to prayer). He paced back and forth, thought about it, and then with a determined look reached for the mic and chanted in a melodic voice his version of the Athaan. Another hand shot up, and it was Freba's son, who also wanted to recite the adhan. The organizer reminded the group that the kids may not understand all parts of the prayer or perform the prayer correctly, but it is still  important for them to have that communal bond.
Tears were flowing  down my cheek, but I didn't wipe them off because I was happy.
Happy for the these kids, who are so loving, kind, strong and courageous. Happy for the parents, who didn't  seem to be caught up in a rat race, but instead were connected with their kids.
And I was happy that I had been blessed to realize how many things I take for granted.