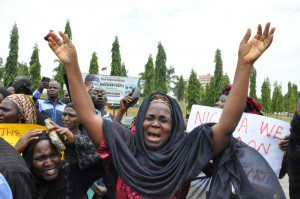 We had a lot to say and rail about when Mipsterz releases its "Somewhere in America" video with hip hijab-wearing ladies. We talked about slut-shaming and music being haram (or not) and everything in between. Then on International Women's Day when Sheikh Abu Eesa Niamatullah made extremely inappropriate jokes towards women, the global Muslim community rose to fire opinions back and forth on that too.
And when the Honesty Policy released its "British Muslim" video for "Happy," we had a lot to say then, too.
And yes, those issues are important in their own rights. There is growth to be had, stereotypes to be unpacked wrongs to be righted.
But can we be fired up as well over the April 15 kidnapping of hundreds of Nigerian school girls by the terrorist group Boko Haram – 276 of whom still remain in captivity? Girls whom the leader of Boko Haram is threatening to sell into slavery? ("I abducted your girls. I will sell them in the market, by Allah," a man claiming to be Boko Haram leader Abubakar Shekau said in a video first obtained by Agence France-Presse.")
Maybe hashtag activism is all we have right now. Maybe that's a crock. But maybe that's where it starts. And international pressure builds, and then pressure will be put on the Nigerian government, and then someone will do something to help those girls. Staying quiet isn't getting us nowhere, and it certainly isn't doing squat to help 276 girls held by a terrorist group.
As friend and colleague Professor Omid Safi says in his blog , "What Would Muhammad Do," to the leader of Boko Haram:
The time comes to put aside intellectual exchange:

You repulsive vomitous excuse of a man. Human beings are not for sale. The girls belong to their own selves, belong to their own families and communities. You are nothing short of a thief.

This is a bastardization of Islam, of decency, of liberation, of all that is good and beautiful.

We are dealing with people's children here. If we were dealing with property, it would be akin to someone breaking into another person's home, stealing their property, and then stating that they are willing to sell the stolen material.

Except that we are not dealing with property. We are talking about human beings.

Boko Haram stands for "Western Education is haram (forbidden)." You know what's haram? Stealing people's children…Trying to sell human beings. You, Boko Haram, you are haram. You are vile and repulsive, the very antithesis of all that is beautiful and merciful. Your action have made the lives of 276 school girls a living hell, and brought untold anguish to thousands of their family members.
And there is this – my friend Sarah Cochran's (of Oneblue.org) status update:
Wake up "Muslim" World. Jog yourself out of Jahilliya. Boko Haram's ideology is akin to the Taliban's – girls and women should not be educated at all/especially get a Western education?? Really?? Well FYI- the Quran demands we be educated, the prophet (saw) said to travel as far as China to gain knowledge, the religion itself encourages critical thinking . Yet Boko and its equivalent encourage mindless rote learning and limit the beauty of a woman to her sexuality, which she must be fixated on by obsessive covering, so she isn't even noticed. Well, a woman's beauty is her mind, her talent, her desire to make the world a better place, to be a smart mother, a strong partner to a man. Where is the outrage from Muslim countries, why aren't they addressing this as a global pandemic? Too threatening to the patriarchies? Too disruptive to the fatwas of the ignorant mullahs who've never ventured beyond their little villages and cities yet who are in charge of interpreting religious texts to serve their narrow minded agendas? Well getting an education is our Islamic right as females. And the pillar of any good society is to have strong and educated women to be good leaders in and out of the home, to be equal partners to men and live in dignity and enlightenment.

Boko Haram is a politically motivated terror group that uses a distorted and ignorant view of Islam for its own propaganda. It can kidnap all the women it wants for now, but it will never win in advancing its fear mongering agenda. Wake up "Muslim" World!
So what do we do next to help those girls? Social media campaigns have been extremely effective to bring injustices to light, to rally people to protest (Tahrir Square) and to affect change. But how do we help these girls? We condemn the action of Boko Haram. We condemn them in the name of Islam – because what they are doing is so far from Islam.
But how do we get the girls back? As Omid says, "I call on every Muslim, every father, every mother, every African, every decent human being left on this Earth to call for immediate action and intervention to free these precious children."
We start there. And then? Someone please tell me how we can help.
UPDATE:
Muslim organizations have issued statements of condemnations against Boko Haram and their kidnapping of hundreds of Nigerian school girls. The Muslim Public Affairs Council (MPAC) today condemned the repugnant actions of Boko Haram, which claimed responsibility for kidnapping over 300 teenage schoolgirls from a school in Nigeria three weeks ago. The Islamic Society of North America (ISNA), the oldest and largest American Muslim organization, also issued a statement condemning the actions of Boko Haram. ISNA Vice PResident Azhar Azeez said, "We condemn wholeheartedly, the disgusting and un-Islamic actions that the terrorist group known as Boko Haram has committed. Kidnapping and threatening to sell the over 200 Nigerian school girls has no validation in the religious tradition of Islam and we urge the Nigerian authorities to find the missing school girls and bring their captors to justice. Also, the Council on American-Islamic Relations (CAIR), the largest Muslim civil rights and advocacy organization in the U.S., condemned the kidnapping and threat to sell the schoolgirls as "un-Islamic and obscene."
Finally, ABC News, Time magazine and other media outlets are reporting that the White House has said Nigeria is accepting an offer from the U.S. to assist in recovering the kidnapped Nigerian schoolgirls:
Secretary of State John Kerry spoke with Nigerian President Goodluck Jonathan on Tuesday morning to discuss the plan to send a "coordination cell" to Abuja to assist in locating the girls, who were taken by the Boko Haram militant group in April. The group's leader recently boasted in a video that "I will sell them in the market."

State Department spokeswoman Jen Psaki said the team "could provide expertise on intelligence, investigations and hostage negotiations, help facilitate information sharing and provide victim assistance. It would include U.S. military personnel, law enforcement officials with expertise in investigations and hostage negotiations, as well as officials with expertise in other areas that may be helpful to the Nigerian government in its response."

Psaki didn't say how large the team will be, nor would she confirm if the Nigerian government has explicitly accepted the U.S. offer to help.

"I think [Kerry] came away from the call with an understanding that this is something we'd work with the Nigerians to implement," she said.
Alhumdullilah, it's a start. More pressure, everyone. More pressure. Again, if anyone knows of anything, please comment below on how we can all help. As always, please keep these young girls in your du'as (prayers).