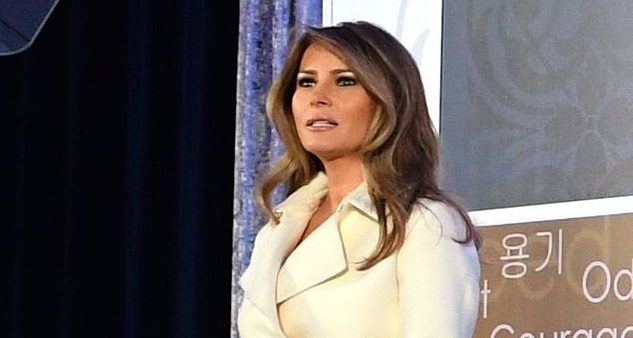 Why is this a new story? A headline? Something we want people to care about?
I'm talking about today's article I'm seeing in various news outlets about how First Lady Melania Trump will not have to wear a headscarf when she accompanies President Trump on his official visit to Saudi Arabia. Or, let me quote to get it right: "Saudi Arabia's Foreign Minister Adel bin Ahmed Al-Jubeir was quoted as telling media Thursday that America's First Lady won't be required to dress conservatively or tone down her usual high-fashion look, which often includes bold colors, stiletto heels and the occasional low neckline," according to The Mercury News.
I feel so much better and relieved knowing that.
The article goes on to say in a breathless update:
Update: Ivanka Trump is also accompanying her father to Saudi Arabia as his White House assistant. She and husband Jared Kushner, a White House adviser, are both practicing Orthodox Jews and had to receive a rabbinical dispensation to travel on Friday, the Jewish Sabbath, a White House official told Politico. Ivanka will presumably be giving the same pass in terms of dress as her stepmother.
Well, whew.
I understand that how and what First Ladies wear in various official and unofficial capacities continues to be of interest to the general public. Fashion, style, designers are newsworthy.  But this continued (un)debate over what female heads of states, government officials  and First Ladies wear when visiting Muslim countries is getting to be a bit too much. Will they be "allowed" to go uncovered? Will they show bare shoulders (gasp!)? Will they refuse to cover their head? If they dress modestly, are they kowtowing to religious politics?
I know many things (justifiably) continue to be criticized in Saudi Arabia with regards to the country's laws against women, with change crawling at a snail's pace. Just recently the country made headlines by finally declaring that women could travel, study or make police complaints. without having to seek permission from a male guardianship, which is inaccurately reported in the Mercury News article (other things, however, are factually reported):
Saudi Arabia faces international criticism for its oppressive laws against women. These laws include its system of male guardianship, in which girls and women are forbidden from traveling, conducting official business, or even undergoing certain medical procedures without permission from their male "guardians" — their fathers, husbands, brothers or uncles. They also can't drive or participate freely in sports.

To critics, this oppression extends to dress, where women are required to hide any outward displays of beauty.

Women in Saudi Arabia, including most foreign visitors, are expected to wear floor-length black dresses — not pants — that cover their entire bodies, including their legs and arms. They should also wear a head scarf that covers their head and even hides their hair. More conservative women wear veils that also cover their faces, save for a slit that makes their eyes visible.
Last April, British Prime Minister Theresa May made headlines by refusing to wear a head scarf during a visit in early April in order to "be an inspiration to oppressed women in Saudi Arabia by showing people there 'what women can achieve.'"
These political optics seem just that — optics. I think the Kingdom of Saud well knows what women can achieve, but that doesn't influence their laws. There are women in Saudi Arabia making great strides in all areas of life. There are headscarf-wearing Muslim women (and non-headscarf-wearing Muslim women) kicking butt all over the world. Whether Theresa May wore a headscarf or not was not going to change anything — just another way to grab some headlines.
Let's put the attention back where it belongs — on what this visit actually means in terms of geopolitical and economic relationships between the two countries, in terms of arms deals and the U.S.'s support of Saudi's wretched campaign in Yemen, in terms of what possible things Trump could have to say to Muslims and Muslim dignitaries and heads of states regarding Islam when his campaign and now administration has perpetually elevated anti-Muslim rhetoric and pursued Muslim-targeted executed orders.
Let's examine Saudi Arabia's own twisted relationship with the U.S. and in the Middle East, where it is failing to lead the charge against violence and terrorism and its own agendas in terms of powers, women's rights, human rights, oil reserves and so much more.
Enough with the Melania/headscarf headlines. I appreciate heads of states and government officials who respect the customs and traditions of other countries on official visits (while remaining true to themselves and their own countries) in manners of decorum, dress and speech. I appreciate it when countries accommodate the personal, religious and cultural traditions and preferences of their visitors.
But let's put the attention back where it belongs.