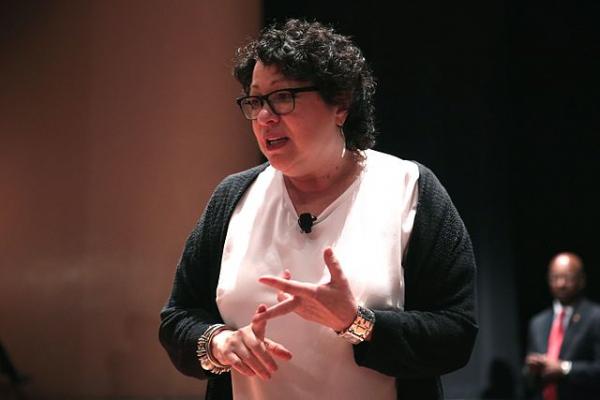 Chief Justice John Roberts declared that the majority of the Supreme Court saw no anti-Muslim bias in President Trump's Muslim Ban (aka the travel ban) and thus the executive order was not violating religious freedom and would be upheld. He is wrong. Justice Sonia Sotomayor, in her written dissent explained why with painstaking details
The following is a gathered account of what Sotomayor detailed in her dissent opinion. My friend Cullen Seltzer (a lawyer), took what Sotomayor wrote and compiled this detailed list from her dissent, which I am sharing with his permission. There is no denial of the facts at hand.
Thirty-one times, in public, out loud, in front of people, the President and his aides made clear that the Muslim Ban orders were motivated by the President's hatred for Muslims. Five Justices in the Supreme Court majority thought these 31 instances — and the list is not exhaustive — were irrelevant. Justice Sotomayor, who understands that even though justice is blind, Justices aren't supposed to be, understood that the President's hatred and religious bigotry should have no place in the laws of our country.
But they do. Let's not forget these 31 insults, lies and slanders. Let's not forget what they were deployed to do. Let's not forget the shame of our Supreme Court in letting them go unsanctioned.
The examples, below, of the President's hateful motivation are excerpted from Justice Sotomayor's dissent.
During his presidential campaign, then-candidate Donald Trump pledged that, if elected, he would ban Muslims from entering the United States. Specifically, on December 7, 2015, he issued a formal statement "calling for a total and complete shutdown of Muslims entering the United States."
That statement, which remained on his campaign website until May 2017 (several months into his Presidency), read in full: "Donald J. Trump is calling for a total and complete shutdown of Muslims entering the United States until our country's representatives can figure out what is going on. According to Pew Research, among others, there is great hatred towards Americans by large segments of the Muslim population. Most recently, a poll from the Center for Security Policy released data showing '25% of those polled agreed that violence against Americans here in the United States is justified as a part of the global jihad' and 51% of those polled 'agreed that Muslims in America should have the choice of being governed according to Shariah.' Shariah authorizes such atrocities as murder against nonbelievers who won't convert, beheadings and more unthinkable acts that pose great harm to Americans, especially women. "

Mr. Trum[p] stated, "'Without looking at the various polling data, it is obvious to anybody the hatred is beyond comprehension. Where this hatred comes from and why we will have to determine. Until we are able to determine and understand this problem and the dangerous threat it poses, our country cannot be the victims of the horrendous attacks by people that believe only in Jihad and have no sense of reason or respect of human life. If I win the election for president, we are going to Make America Great Again.'— Donald J. Trump."
On December 8, 2015, Trump justified his proposal during a television interview by noting that President Franklin D. Roosevelt "did the same thing" with respect to the internment of Japanese Americans during World War II.
In January 2016, during a Republican primary debate, Trump was asked whether he wanted to "rethink [his] position" on "banning Muslims from entering the country." He answered, "No."
A month later, at a rally in South Carolina, Trump told an apocryphal story about United States General John J. Pershing killing a large group of Muslim insurgents in the Philippines with bullets dipped in pigs' blood in the early 1900's. (It was false.)

In March 2016, he expressed his belief that "Islam hates us … . [W]e can't allow people coming into this country who have this hatred of the United States . . . [a]nd of people that are not Muslim."
That same month, Trump asserted that "[w]e're having problems with the Muslims, and we're having problems with Muslims coming into the country." Id., at 121. He therefore called for surveillance of mosques in the United States, blaming terrorist attacks on Muslims' lack of "assimilation" and their commitment to "sharia law." Ibid.; id., at 164.
A day later, he opined that Muslims "do not respect us at all" and "don't respect a lot of the things that are happening throughout not only our country, but they don't respect other things."
As Trump's presidential campaign progressed, he began to describe his policy proposal in slightly different terms. In June 2016, for instance, he characterized the policy proposal as a suspension of immigration from countries "where there's a proven history of terrorism." He also described the proposal as rooted in the need to stop "importing radical Islamic terrorism to the West through a failed immigration system."

Asked in July 2016 whether he was "pull[ing] back from" his pledged Muslim ban, Trump responded, "I actually don't think it's a rollback. In fact, you could say it's an expansion." then explained that he used different terminology because "[p]eople were so upset when [he] used the word Muslim."
A month before the 2016 election, Trump reiterated that his proposed "Muslim ban" had "morphed into a[n] extreme vetting from certain areas of the world."
Then, on December 21, 2016, President-elect Trump was asked whether he would "rethink" his previous "plans to create a Muslim registry or ban Muslim immigration." He replied: "You know my plans. All along, I've proven to be right."
On January 27, 2017, one week after taking office, President Trump signed Executive Order No. 13769, entitled "Protecting the Nation From Foreign Terrorist Entry Into the United States." As he signed it, President Trump read the title, looked up, and said "We all know what that means."
That same day, President Trump explained to the media that, under EO–1, Christians would be given priority for entry as refugees into the United States. In particular, he bemoaned the fact that in the past, "[i]f you were a Muslim [refugee from Syria] you could come in, but if you were a Christian, it was almost impossible." Considering that past policy "very unfair," President Trump explained that EO–1 was designed "to help" the Christians in Syria.

The following day, one of President Trump's key advisers candidly drew the connection between EO–1 and the "Muslim ban" that the President had pledged to implement if elected. Ibid. According to that adviser, "[W]hen [Donald Trump] first announced it, he said, 'Muslim ban.' He called me up. He said, 'Put a commission together. Show me the right way to do it legally.'"
On February 3, 2017, the United States District Court for the Western District of Washington enjoined the enforcement of EO–1. The Ninth Circuit denied the Government's request to stay that injunction. Washington v. Trump, 847 F. 3d 1151, 1169 (2017) (per curiam). Rather than appeal the Ninth Circuit's decision, the Government declined to continue defending EO–1 in court and instead announced that the President intended to issue a new executive order to replace EO–1.
On March 6, 2017, President Trump issued that new executive order, which, like its predecessor, imposed temporary entry and refugee bans. See Exec. Order No. 13,780, 82 Fed. Reg. 13209 (EO–2). One of the President's senior advisers publicly explained that EO–2 would "have the same basic policy outcome" as EO–1, and that any changes would address "very technical issues that were brought up by the court."

After EO–2 was issued, the White House Press Secretary told reporters that, by issuing EO–2, President Trump "continue[d] to deliver on . . . his most significant campaign promises."
That statement was consistent with President Trump's own declaration that "I keep my campaign promises, and our citizens will be very happy when they see the result."
While litigation over EO–2 was ongoing, President Trump repeatedly made statements alluding to a desire to keep Muslims out of the country. For instance, he said at a rally of his supporters that EO–2 was just a "watered down version of the first one" and had been "tailor[ed]" at the behest of "the lawyers."
He further added that he would prefer "to go back to the first [executive order] and go all the way" and reiterated his belief that it was "very hard" for Muslims to assimilate into Western culture.
During a rally in April 2017, President Trump recited the lyrics to a song called "The Snake," a song about a woman who nurses a sick snake back to health but then is attacked by the snake, as a warning about Syrian refugees entering the country.

And in June 2017, the President stated on Twitter that the Justice Department had submitted a "watered down, politically correct version" of the "original Travel Ban" "to S[upreme] C[ourt]."
The President went on to tweet: "People, the lawyers and the courts can call it whatever they want, but I am calling it what we need and what it is, a TRAVEL BAN!"
He added: "That's right, we need a TRAVEL BAN for certain DANGEROUS countries, not some politically correct term that won't help us protect our people!"
Then, on August 17, 2017, President Trump issued yet another tweet about Islam, once more referencing the story about General Pershing's massacre of Muslims in the Philippines: "Study what General Pershing . . . did to terrorists when caught. There was no more Radical Islamic Terror for 35 years!"
In September 2017, President Trump tweeted that "[t]he travel ban into the United States should be far larger, tougher and more specific—but stupidly, that would not be politically correct!"
Later that month, on September 24, 2017, President Trump issued Presidential Proclamation No. 9645, 82 Fed. Reg. 45161 (2017) (Proclamation), which restricts entry of certain nationals from six Muslim-majority countries.

On November 29, 2017, President Trump "retweeted" three anti-Muslim videos, entitled "Muslim Destroys a Statue of Virgin Mary!", "Islamist mob pushes teenage boy off roof and beats him to death!", and "Muslim migrant beats up Dutch boy on —————— . According to the White House, President Trump's statements on Twitter are "official statements."
Those videos were initially tweeted by a British political party whose mission is to oppose "all alien and destructive politic[al] or religious doctrines, including . . . Islam." Ibid. When asked about these videos, the White House Deputy Press Secretary connected them to the Proclamation, responding that the "President has been talking about these security issues for years now, from the campaign trail to the White House" and "has addressed these issues with the travel order that he issued earlier this year and the companion proclamation."
Chief Justice John Roberts, what's that you say again about no anti-Muslim bias in the lead up to and purpose of the Muslim, er, Travel Ban?