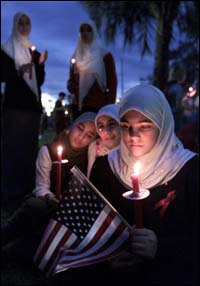 Editor's note – this post is a guest post by Tahera Rahman.
By Tahera Rahman 
Thirteen years ago, I was in P.E class playing tag when one of my classmates told me that two airplanes had just crashed into the twin towers. All I could say was, "What?" My 10-year-old mind couldn't comprehend the who/what/why/how of it all. And, for the rest of the day, no matter how many explanations I got from my teachers, my parents and the news, I couldn't understand.
Today, I still don't understand. I don't understand the hate, the wars and the fear mongering; all being carried in the name of 9/11, under the mask of patriotism, under the guise of counter-terrorism. I don't understand how many of my fellow Americans still feel that I should apologize for that day. It is not my apology to give, just as it isn't yours. Muslims, after all, were hit twice on September 11, 2001; once by terrorists, and once by many of our American brothers and sisters.
Here's what I do apologize for, though: My elected government's wars, which have caused immeasurable loss on both sides. I'm sorry we invaded your country based on fabricated evidence. I'm sorry we destroyed your homes, bombed your hospitals and broke your families. I'm sorry for this nation's families, who didn't know how long their loved ones were going to be at war or if they'd ever return home.
I'm sorry for the Guantanamo prisoners who have yet to see due process. I'm sorry if you've ever been beaten, harassed or threatened in a post-9/11 America because you are, or look like, a Muslim.
For those who died in the attacks, those who died, and are still dying, in its subsequent wars (Americans, Afghans, Iraqis), for their grieving families, for a tremendously less peaceful world. For that I will #NeverForget.
Tahera Shireen Rahman is a journalist, producer and host at Radio Islam, the nation's first daily, Muslim talk show produced for the mainstream market. She has spoken nationally and internationally on the importance of Muslim women in the media. Tahera also blogs on her website, tsrahman.com, and runs a project called "Jummah Faces," (https://www.facebook.com/JummahFaces) where she spotlights a different Muslim American every week, in an effort to paint a more nuanced portrait of Muslims in America.