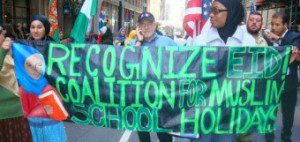 The verdict is in.
Neither shall there be Christmas, Easter, Rosh Hashanah or Yom Kippur – written on the public school calendar in Montgomery County, Maryland, that is.
Muslims in Montgomery County have been petitioning the school board for years to add Eid (Eid-al-Adha in this case, since Eid-al-Fitr, which comes at the end of Ramadan, is currently in the summertime) to the school calendar. Finally, the school board voted 7-1 Tuesday not make Eid-al-Adha a student holiday but rather … wait for it … eliminate references to all religious holidays on the 2015-2016 school calendar.
According to the Washington Post, "In practical terms, Montgomery schools will still be closed for the Christian and Jewish holidays, as in previous years, and students will still get the same days off, as planned."
So let me get this straight: Instead of adding Eid-al-Adha as a holiday to the school calendar, Montgomery County (where I graduated from high school) decided to remove references to the major Christian and Jewish holidays from its school calendar, but still give those days off to students. Because that will make everything Even Stevens.
What kind of a solution is that? Said the Post:
Board members said Tuesday that the new calendar will reflect days the state requires the system to be closed and that it will close on other days that have shown a high level of student and staff absenteeism. Though those days happen to coincide with major Christian and Jewish holidays, board members made clear that the days off are not meant to observe those religious holidays, which they say is not legally permitted.
Look, I know there is division even with the Muslim community on whether we should push for the Eid holidays to be included as a day off in school districts around the country where there is a high volume of Muslim students. The whole "how can we determine what day to take off when we can't decide between moon sighting and scientific calculation" thing. But that isn't the issue at stake here.
I don't understand how taking the name of Christian and Jewish holidays off the school calendar (while still having those days off, because let's be real – if those days off were taken away, we'd have a huge uproar on our hands) levels the playing field. More from the Post:
Students who miss classes on religious holidays are given excused absences. But Muslim families have argued that students should not have to choose between their faith and their schoolwork and that missing even a day leaves many students behind. They say the day off is a matter of equity, with Christian and Jewish students getting days off for their holidays.

But Tuesday's outcome was not at all what Muslim leaders intended. They called the decision a surprise — and a glaring mistake.

"By stripping the names Christmas, Easter, Rosh Hashanah and Yom Kippur, they have alienated other communities now, and we are no closer to equality," said Saqib Ali, a former Maryland state delegate and co-chair of the Equality for Eid Coalition. "It's a pretty drastic step, and they did it without any public notification."

Zainab Chaudry, also a co-chair of the coalition, expressed dismay, too, contending the school board's members were willing to "go so far as to paint themselves as the Grinch who stole Christmas" to avoid granting equal treatment for the Muslim holiday.

"They would remove the Christian holidays and they would remove the Jewish holidays from the calendar before they would consider adding the Muslim holiday to the calendar," she said.
School board officials said they were taking their cue from Fairfax County in Virginia (the largest school district in Virginia), which also doesn't call out religious holidays by name while giving those days off, saying that the reason school is closed on those days are for "operational impacts — such as high absenteeism among students and staff on those days" and not because the school system is observing a religious holiday.
The fact is that school officials have a lot to consider when making the school calendar, and in making the decision, the article reported that Board members talked at length about not wanting to disrespect the Muslim community or other religious groups. But one lone Board dissenter, Mike Durso, said that no matter how well-intentioned the school board is, "it comes off as insensitive" to Muslim families.
So was this the best solution? Is being politically correct and stripping all references to religion out of the school system the best way to make things equal? Even tonight, I got an automated phone call from my son's elementary school with the principal urging us to donate hats and gloves to the school to be donated to the "Christmas Mother" organization. She said the hats and gloves would be hung from a tree in the lobby – but please, we should all note that the tree is not a Christmas tree — just a tree for decoration.
I guess that's one way around it. Separation of church and state, right?
I remember going to school in Montgomery County. I remember thinking many times about whether or not I should skip school for Eid, because to even miss one day meant I would fall behind in school work and homework that never seemed to end. I remember taking off an hour in the morning to go to Eid prayers and then heading back to school. I remember wishing I didn't have to make that choice, that I could have the time off to celebrate my holiday like so many other students did to celebrate theirs.
I don't know what the solution is here. Do you?