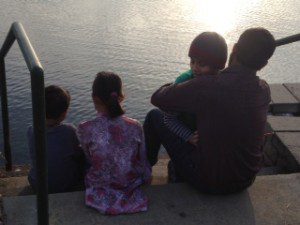 We sat and played scrabble on the futon in our "cozy" New York City apartment. She was a new bride, as was I. I was even more newly pregnant with our first child – just a few weeks and on bed rest. My husband was in his first year of residency and hers was interviewing for a residency position in the city, which was why she was spending the day with me. (Her husband's parents and mine were friends.) We had that in common, and so between new marriage talk and other chit-chat, we passed the day pleasantly.
And, like me, she also soon became pregnant. Sometime after I gave birth to D, she had her son. I went on to have two more kids. She had three more. All very pleasant. All very nice.
Yesterday, while in town visiting my parents, my dad suggested we attend a party with him hosted by old family friends – those same friends whose daughter-in-law spent that day playing scrabble with me 15 years ago. It was a party celebrating that their eldest grandson, barely younger than D, had become a hafiz, one who had memorized the entire Quran.
I declined attending, knowing that a large party in busy restaurant harbored too many unknowns, too many hurdles for me to clear with D and our other two kids in tow. So my dad and husband attended with our younger two.
I stayed at my mom's and looked after her, my Nanima (maternal grandmother) and D.
Two young brides. Two sons born to grateful mothers. Two handsome, teenaged boys — one profoundly autistic, unable to speak, prone to self-injurious behavior. The other a hafiz.
……….
If raising and caring for an autistic loved one means striving for a life lived hopefully, joyfully, strongly, determinedly, proudly, lovingly and faithfully, then it also means trying to live with no regrets. And that, my friends, is one of the hardest things to do. Regret is an awful thing. It will throw a shadow over the good memories and joyful moments, stripping you of the peace and life acceptance you've fought so hard for – acceptance that doesn't mean you have the dial set on cruise control (instead of continuously fighting to help make things better for your autistic kid), but rather acceptance of what your life is.
No regrets means backing away from the comparisons, from the what ifs, from the why me and why my son. It doesn't mean treading water. It doesn't mean not doing whatever it takes, whatever you can do to help your child live the most healthful, peaceful, best life possible.
No regrets means facing forward while remembering the past – not so that you beat yourself over mistakes made along the way, but to learn from those mistakes. No regrets means not begrudging the joy and progress and triumphs made by others around you, even when your child continues to struggle mightily and continues to just have a difficult time of more often than not.
And that is hard. It just is. It really, really is.
……….
My brother, sister-in-law and their children are in Makkah performing umrah this week, which is when Muslims perform a truncated version of the Hajj rituals during a non-Hajj time. They performed one umrah as a whole family, and then my brother and his wife left their children with some close relatives in Makkah and performed a second umrah – just the two of them. It was during that umrah that they made tawwaf (circling the Ka'ba) on behalf of D, praying for all good things to happen to him and for him, praying for all difficulties and challenges to melt away.
And on the two-hour drive home, in which my husband drove with our three children by himself while I stayed behind at my mother's one extra day, D had an epic meltdown in the last ten minutes of the drive.
It just took ten minutes, and everything fell apart, for him, for his brother and sister who got caught up in the storm, for everyone.
Sometimes I wonder why. As much as I tell myself not to, that it will get me nowhere, I wonder why. Why God does what He does. What His grand plan is in all of this. Why one mother's son becomes a hafiz and one mother's son has to endure so much, who at times hurts so badly, who struggles so much.
Why one child, in becoming a hafiz, secures (as a hadith says) a clear path to Jannat (paradise) for himself and his parents, while another autistic child, through his utter innocence, through his unbearable pain and unquestionable goodness, secures the same path. They both will get Jannat I believe, but how they get there is so vastly different. For a person of faith, if Jannat is the ultimate destination — if Jaanat is eternity and this life is temporary — I wonder why I continue to be so pained and heartbroken sometimes for what D endures.
……….
A dear friend of mine who last year found such solace, love and hope in the Catholic Church, posed this status update on the first day of 2015:
One of the best parts of the new year's day (sic) mass today was the suggestion that one allow God into the darkest parts of yourself. God isn't afraid of your darkness and that is exactly where He wants to come in.
In the dark and in the light, in the hope and in the sorry, in the regret and in the unapologetic – that's where I want Him to find me. That's where I want Him to lift up D, to encircle A and H, to bring ease with the hardship. To clear the path, make it all easy, squelch the why's and bring forth contentment.  To fulfill whatever prayers can be fulfilled in the here, in the now.
Here. Now.