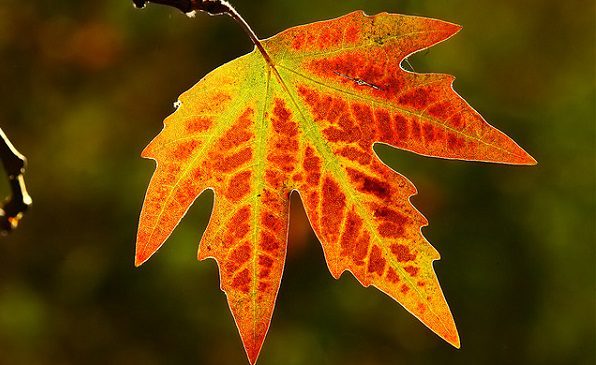 This post is part of a short series of disability narratives shared by the speakers and moderator (me!), who will be part of a panel discussion on "Finding Our Voice: Sharing our Disability Experiences to Seek Empowerment and Affect Change" this Saturday at the Islamic Society of North America convention. We're hoping to show how sharing our stories is a way to build community and change perceptions.
By Sara Minkara
Red. Yellow. Green. Orange—all the colors of fall that many of us look forward to every year. Some might even argue that fall is the most beautiful of the four seasons. Recently, there was an article posted on Buzzfeed, "The 14 Best Places to See Fall Foliage in the U.S." where they took their cue from The Farmers' Almanac's list of top foliage destinations in the U.S.
According to the Almanac, "Experts say this season's fall foliage show will quite possibly be one of the most colorful on record. Whether you are looking to take great photos or just take in great vistas, from coast to coast, and everywhere in between, there are so many great places to see Mother Nature's color show."
This leads me to wonder – seeing the fall colors is something many people love doing. Diversity is seen as beautiful in nature. So why do we find it difficult to appreciate that same type of diversity and miracle in people?
Diversity is a miracle from God. The Quran states, "Had God willed, he would have made you all as one nation. (Quran 16:93)." He could have created us all the same, but he did not — there is a purpose for those differences. We should reflect on that fact in order to appreciate why he created us all different.
However, at the same time, He does not focus on those differences in the ways in which He treats us. In His eyes, we are all equal — He does not look down on us. So why do we as a people look down upon each other and focus all too often on the differences in God's creations?
As with many issues, the lack of appreciation in diversity is a societal construct. There is a definite disconnect between what is taught in theory and what is actually carried out in practice. We often preach ideas of recognizing and seeing the good in others and not judging the book by its cover. However, we do just the opposite by focusing on the outward – by this standard, beauty and ability are based on the cover, the outside.
There is also the contradiction of political correctness. The political correctness construct is one that stays intact until the topic of marriage, jobs, and situations that truly require appreciation of diversity arise and preconceived notions are revealed. Especially with disabilities, society has a negative perception of the blind and disabled in that it focuses on what they cannot do negatively rather than recognizing how those differences and various skill sets can contribute to the community. The disabled population is immediately categorized by their disabilities and what that means for their inabilities, not their abilities.
For me, I have no idea neither how people perceive me on first glance, nor do I base a person's beauty based on what I see. To some degree, I am both thankful for and comforted by this ability to not focus on the physical beauty of people based on the superficiality of their outward appearance.
That is not to say that I do not judge others because, as humans, we do judge others based on a variety of characteristics from outward appearance to behaviors. Everyone should be proud of who they are and their particular form of diversity without dwelling on how society might interpret their differences.
It is really all about the attitude and the approach. People's perceptions fade away, and our actions are not dependent on what they think about us. There's a purpose to why God created you as you are, and you should be confident in and aware of what you have to offer.
Sara Minkara, founder and chief executive officer of Empowerment through Integration (ETI), has focused her life's work on disability rights and integration of the disabled. In 2015, Sara was a Visiting Fellow at the Carr Center for Human Rights at Harvard University and the Operations Manager at the Disability Rights Fund. At age seven, she lost her vision; however, despite that deeply frightening experience, Sara knew that all of life's opportunities could still be afforded to her. The U.S. public education system paired with the love and tenacity of her family enabled her to attend Wellesley College and Harvard University. Sara has also received the Clinton Foundation, Outstanding Commitment Award, Davis Peace Project Award, Emily Bultch Peace and Justice Award, MIT IDEAS Award, and a finalist for the Harvard President's Challenge Award.
Sara is one of the panelists speaking at the Islamic Society of North America's 52nd annual conference on Saturday, September 5. She will be speaking on a panel titled "Finding Our Voice: Sharing our Disability Experiences to Seek Empowerment and Affect Change" at 4:45 p.m. in Room 9-1 at the Donald E. Stephens Convention Center in Rosemont, Il.