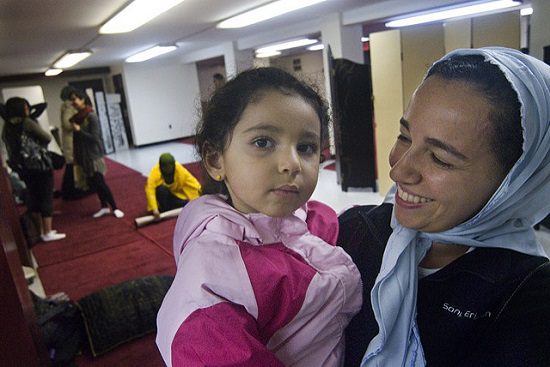 It's a debate I've watched from the sidelines for several years within the American Muslim community.
When organizations (or the government agencies or administrations) are making missteps, deliberately harming or are simply and woefully behind the times when it comes to positive engagement and necessary progress, is better to disengage (even boycott), or is it better to constructively criticize and work from within the system – and thereby risk being lumped with some of those missteps – to affect change?
Do we refuse to work within government agencies of the Obama administration (some of us viscerally calling out others who do work on the inside on the slow process of trying to change things for the better), or do we engage?
Do we attend White House Iftaars and other government Iftaars/Eid celebrations to show our goodwill and to use those opportunities to try and get our thoughts across to Washington insiders, or do we boycott because of some of the horrible things done by the administration (targeted killing of Muslims by drones, the non-closing of Guantanamo Bay, the passage of the NDAA, National Defense Authorization Act, etc.)?
Do we boycott or disengage with ISNA (Islamic Society of North America) over their oh-so-slow progress or lack of progress to address the important issues American Muslims are struggling with, their leaders' poor treatment at times of Shi'a Muslims as well as some of the bad decisions they've made along the way (like their statement after protests in Baltimore), or do we continue to attend their conferences and work with them from the inside to help make the organization more modern, inclusive, sensitive and meaningful?
Disengage or engage?
Reject those institutions, groups, agencies or people who have their priorities in the wrong place, who have mucked things up in the past, who don't seem to get it? Or doggedly work with them, hoping to make things better?
Is there a compromise between the two?
I will be at ISNA 2015, as I have been for the past three years as an invited speaker (in the past) and now moderator of a disability inclusion and disability narrative panel. So let's start with that admission.
I've taken nearly every opportunity afforded to me by whatever agency or group who has invited to me to speak on autism and disability issues – because I've wanted to make use of every platform available to bring attention to the issues and struggles the autism and disability community have faced without widespread support.
And, it's because I've been lucky to not yet been in a situation of deciding if I should not accept an invitation because I fundamentally disagree with the policies and practices of said organization/group.
In thinking about (and reporting on) this debate in the past several years, it's heartening to see ISNA recently make some strides towards recognizing the needs of American Muslims and the ways in which we are seeking change and inclusion. To be sure, gross missteps, like the statement issued after the uprisings in Baltimore, had many of us wondering if it was time to walk away.
But a few things this year being promoted ahead of the conference have me (and many others) hopeful, even excited that change is happening, relevancy is coming back and the forward thinking we all so crave is starting to emerge.
Yesterday ISNA released this statement calling for inclusion and a rethinking of how mosques are structured, organized and run. Coming two years after the "Women and the American Mosque" study, where approximately 63 percent of surveyed mosques scored "poor" or "fair" on a scale measuring friendliness towards women congregants, the statement and initiative lays out a number of ways that mosques need to change, including:
Masjids Should be Welcoming to Women
Women Should Have Prayer Space in the Main Musalla without Barriers
Women Should Participate in the Masjid Decision-Making Process
Hind Makki, who blogs at "Hindtrospectives" on Patheos Muslim, served on the ISNA Task Force for the Inclusion of Women and worked on this initiative and statement, which was endorsed by the Fiqh Council of North America and other North American Islamic scholars. Says Makki in this post,
It is critical to note that our recommendations are not innovations; we are calling for the return to the Prophetic example. We are calling on communities to build and sustain mosques that include women and girls. … This fall, and over the next year, we will host forums across the country, working with mosques and communities, to help facilitate the full inclusion of women in American mosques.
I've also watched how MUHSEN (Muslims Understand and Helping Special Education Needs) has worked hard with ISNA's disability inclusion committee to make the conference more accessible for those with special needs and their families. It's so heartening.
Sure, there are still many steps to travel, and there will be mistakes, struggles and problems that will come up. ISNA is a large organization that has been run in a particular way for a long time. Change takes time. The same can be said for numerous other organizations, government agencies, social and political groups and the like.
There will be times when a group or agency takes a stand or does something so broad-mindedly against American Muslims that our only choice will be to disengage.
Disengage or engage? It's an ongoing debate. In this case though, I have all the admiration in the world for Hind and others like her who are working hard from the inside to move the organization forward in real and meaningful ways.
I am thrilled to see panels like "Muslim Americans and The New Jim Crow" addressing issues pertaining to the #BlackLivesMatter movement. I am honored that myself and others have platforms to push for recognition, change and inclusion of Muslims living with special needs by the community as a whole. And, in wake of the sexual abuse case that has rocked the Muslim community in Elgin (and greater Chicago), Illinois, I'm so glad that a panel on "Preventing Sexual Violence" is happening.
These panels/discussions may be viewed as token, or not enough, or even too little, too late, but it's a well-needed start. It's an example when engaging and working from the inside has planted the seeds of change.