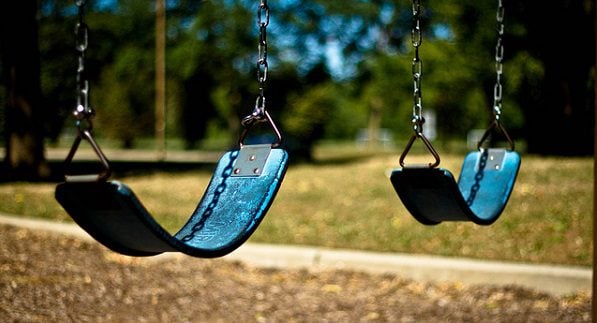 Why I chose to share our story:
I want to tell our community that we have a religious obligation to stand up for the truth, to bring justice to the victims, to get our facts straight before we pass judgments. I want every parent who is questioning this to look at their child's innocent face and ask themselves the question: if they would have reacted in the same way if it was their child. I want them to remember that while you carry on with your life, some victim somewhere is struggling to enjoy just the basic moments of his/her life. –mother of a sexual abuse survivor.
I've sat on this a long time; chewed on this until the taste of what has unfolded passed from an awful, bitter flavor to a heavy lump stuck in my throat, traveling neither up or down – perpetually stuck. Because how does one move forward from something like this? Something that blows the tightly packed lid off of things that have been kept dangerously silent and hidden for so long?
How does one move past as the stories keep unfolding, the repercussions keep reverberating, and the community raucous grows louder and more divisive?
How are we, as a far-reaching, non-monolithic Muslim community to respond to charges of sexual abuse in our Islamic schools or places of worship? Do we suppress victims' stories behind a purdah (curtain) of silence, a notion that we must keep our sins quiet and fix these problems without exposure? Or, do we stand up for victims – shield them, protect them and let their voices be heard? Let the charges be aired out in whatever manner the victims choose, whether in private talks with the accused or publically in a court of law?
What would you tell your loved one, if they said they were being abused? Shhhhh, keep it quiet. You must've been mistaken. These things happen. Better to move on.
Or, I will stand with you, and we will seek justice?
When it becomes personal to you, only then will you know.
I've watched from afar as the Chicago community and beyond have grappled with the sexual abuse case against former president of the Institute for Islamic Education in Elgin, Ill, Mohammad Abdullah Saleem. He was charged with criminal sexual abuse for an incident involving a 23-year-old woman, which occurred in April 2014. After being taken into custody, Saleem, 75, was released on bail.
The school, founded in 1989, is a full-time residential and day educational institute aiming to provide (according to its website) "an education in the sacred and intellectual foundation of Islamic heritage." Four women and one man are part of a civil lawsuit filed against Saleem. (The man is accusing a different staff member at IIE of perpetrating the abuse and Saleem is accused of covering it up along with the perpetrator.) Several other victims, both women and men, have come forth alleging sexual abuse against Saleem (spanning more than four decades) and possibly other members of staff, but have not (yet) joined in the lawsuit.
I've watched this story unfold for more than 10 months, from the time when the story first broke (and then went hush again) in Chicago after Loyola chaplain Br. Omer Mozaffar tried to mediate an admission and apology from Saleem to the 23-year-old victim, (click here and here to learn the timeline of what happened and how it all happened) to the coming forth of victim after victim, most of whom turned for help to the advocates at HEART Women & Girls, a Chicago-based organization founded by Nadiah Mohajir dedicated to promoting sexual and reproductive health in faith-based communities.
I've come to know some of the victims and their families, victims whose painful memories and awful experiences at IIE have left them scarred and broken in ways that they themselves have struggled to understand. I sat on their stories, wondering when the right time to write was, knowing I wouldn't be able to objectively report on this.
Because I believe those whom I've spoken with. The courts will decide who is true, who is at fault and who should be punished. This is the system we have in place in this country – innocent until proven guilty. But I believe the victims and the families who have shared their experiences with me. I have heard the victims' stories of devastation and troubles spanning years – years when they bore the awfulness of what happened to them silently, acting out in ways that left their families troubled and desperate for answers.
And, I've watched the in-fighting, bickering, lines in the sand being drawn between Saleem's supporters, including those who believe these accusations are best solved in private and by in large by suppressing (or even disbelieving) the victims. Jenan Mohajir, who works with HEART, said what so many of us are feeling with depth in her Ramadan essay for the Altmuslim #30Days30Writers project:
I reflect on what it means for us to bear witness as a community. What does it look like for us to hold perpetrators accountable alongside an on-going criminal process? With the reality that so many sexual crimes go unreported, what does it look like to have a community response plan that is a holistic, victim-centered approach to justice, support and accountability?

How do we shift the conversation from one centered in fiqh (jurisprudence) and move it towards enacting the values of mercy and compassion towards those who have been harmed? How do we collectively work toward a mentality that the existence of even one victim is too much?
This week at a status update hearing on the case, the courtroom was packed with Saleem supporters as well as those who were standing up for the victims. Eman Hassaballa Aly, another victim's rights advocate with HEART, wrote this status update on Facebook:
So proud to be a part of community that stands with the oppressed. I wasn't sure what to expect when I went to Saleem's hearing. Nothing significant happened, they'll be back in court in October, InshaAllah. But what was the significant was the outpouring of support that was shown by people who wanted to stand in solidarity with the victims. We all were given red X to wear to show the court and the world that we say no to sexual violence. And because the two sides are homogenous, to distinguish us from the Saleem supporters. These men, women and even an elderly couple, both wheelchair bound, wanted to make a statement that they stand with the victims. People were pouring into the courtroom wearing red x's, including me. …

The men leading this effort are amazing and dedicated to doing what it takes to support the victims and to make sure this doesn't happen again. Much dua goes out to them and their families and to the brave women who have taken a step towards justice for themselves and to protect others from this happening again.
As many have noted before me, I find it so telling that many Muslims (myself included) shared the recent New York Times article about ISIS using religion to justify rape and other forms of sexual violence, citing how abhorrent it is.
But as versions of this play out right here in our own backyards, like with the Saleem case in Chicago, we argue about dirty laundry, the preservation of family and honor and why we were publically calling out/shaming religious figures who have done so many so-called great things for their communities.
But one thing has really stood out to me in contemplating this debate. One parent offered this thought in regards to the arguments over hiding sins/crimes like these instead of publically battling them in court and in the media:
Hiding your sin is recommended if it is your own personal sin, not when your sin involves victims. So if you intentionally broke your fast – a major sin – but Allah has hidden it from the world, it is recommended you keep it hidden and make amends and seek forgiveness from Allah. But such is not the case with sins that involve harming and hurting others. You wouldn't hide a murderer, would you? These sexual abusers kill too, in their own way. They kill the innocence and clarity [of their victims] that was there before.
Thus, I am wondering why we can't start and end with standing up for the victims. I am left wondering why all those who are putting forth heated arguments in person, online, on Facebook, in message boards and in Whatsapp groups, can't simply stand up for the victims and survivors.
I'm left contemplating this statement – told to me by that same mother of an IIE sexual abuse survivor:
What survivors need more than anything is to be supported, whether they choose to pursue a criminal investigation or to rebuild their world on their own terms. You can help by never defining a survivor by what has been taken from them and giving the control back in their hands. You can help by saying I believe you. They are exposing their deepest secrets only in the hope of getting justice and to save others from suffering a similar fate.
Editor's Note – Obviously this blog post is my opinion and not objective reporting on this story. The courts will make the final decision. But the facts cited and the victims and their families whom I have spoken with and have quoted here are real and accurate. To learn more about ways you can support survivors of sexual abuse, please click here. To learn more about ways we can implement community prevention of sexual abuse, click here.