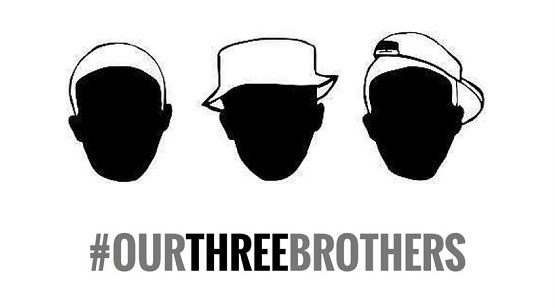 Say their names: 23-year-old Mohamedtaha Omar, 20-year-old Adam Mekki and 17-year-old Muhannad Tairab.
Shot, execution style, last week in Fort Wayne, Indiana. Is this another horrible by-product of the growing anti-Muslim hate and rhetoric being pumped by presidential candidate Donald Trump and others? Is it a hate crime? Are Muslims being targeted? (Omar and Tairab were Muslim. Mekki was Christian, according to news reports.) Is it random, but tragic, violence? Or, is this another example of the rampant gun violence in a week when:
A gunman shot six people to death in Kalamazoo Michigan, randomly selecting his victims as they went about their lives, according to police.
A gunman killed a 37-year-old mother in Hazelwood, MO as she rode in her car.
Three are dead in Hesston, Kansas, when an employee went on a shooting rampage, injuring 12 more.
Is it yet another example of young black men being target and killed simply because they are black? Does this have to do with their families coming here as refugees from Sudan?
Is it a combination of some of this, all of this? None of this? The intersectionality of too much hate affecting too many people?
(The Fort Wayne Police Department is saying today that this is not a hate crime, "with all certainty. Spokesperson Michael Joyner told Vice News: "We know that it's not a hate crime." But they have yet to pinpoint a motive for the murders.)
We don't know what this is. But we know one thing: It is utterly, utterly tragic.
In the coming days, as the investigation unfolds and the families are given time to mourn, process and say what they want to say, we'll all come to know more. But for now, the time is for mourning, for condolences, for prayers, for thoughts for the victims and their families. Now is the time to respect what the parents of these murdered young men need – time to themselves, to live in their grief and mourn.
Now is the time to let our hearts mourn and stand with the families of these innocent victims, to push for a thorough investigation and to say their names. Remember their names. Remember and honor their humanity. Now is the time to recognize that as the narratives unfold, change, are reinterpreted and twisted, that family members are feeling the need to clarify that the victims were good boys.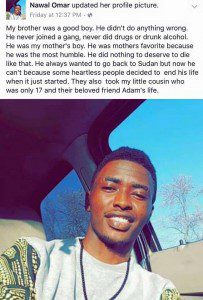 Wrote Afaq Mahmoud, a cousin of two of the victims:
This week, two of my cousins and a friend were murdered execution style in Fort Wayne Indiana. Since then, I've read comments saying they deserved to die because they were muslim, because they were black, because they were probably in a gang, because they were probably on drugs, etc.

They were murdered execution style, with multiple shots fired. They were murdered execution style in this country. We don't know why. There's no possible reason why. But even if they weren't killed because of their faith or skin or nationality, the reaction to their deaths is a direct result of these factors.

Do you know what it takes to run from war? Do you know what it means to flee from one war zone only to land in another? Do you know what it means to flee to "safety" and have it swallow you whole? Do you know what it means to feel unsafe in your own country in your own city in your own skin?

They were good boys. They were Sudanese Americans. They were citizens of this country. They were good boys.

I should not have to state that for you to see them as human. I should not have to state that at all.

Their faces are trending on social media. Do you know how triggering it is to see strangers drag your blood through the mud? They were murdered on Wednesday and again every day since then. They were killed on Wednesday and those who try to tarnish their names are killing us too.

They were good boys and people are saying their skin makes them thugs and their faith makes their deaths worth celebrating.

They were good boys, but what the hell kind of people only mourn deaths if lives were lived according to their standard? What the hell kind of people only mourn people if they look and live and pray like them?

This whole thing has taught me a few things.

Although their funerals were on Saturday, they'll be buried every day since.

Apparently lives are only worth mourning when they look a certain way. Apparently lives are only worth mourning when they live a certain way. Apparently lives are only worth mourning when they pray a certain direction. Apparently some lives aren't worth mourning at all.

I won't sit silently and watch this happen.
If you have somethings to say about these boys, say them to me.
If you have questions, ask me.
Please let them rest.
Please look at how their family mourns them, and tell me again how they're not human.

They were good boys.

Rest in peace Taha, Muhannad, and Adam.
إِنَّا لِلّهِ وَإِنَّـا إِلَيْهِ رَاجِعونَ

-Afaq Mahmoud
The Muslim Anti-Racism Collaborative had this to offer:
The loss of these bright and promising Black Sudanese Muslim youth have come as a great shock to us all. Their deaths mark the first triple homicide in Fort Wayne in more than a decade. It is a loss for their city, their state, and to the entire American Muslim community, as shown by the presence of hundreds of individuals who came from over 30 states to attend Taha and Muhannad's funeral prayers.

As we await further information from the families and local community, we hold them in our prayers. We pray for justice for our three brothers, and that the police investigations warrant results. We join nearly 8,000 others who are calling for as full and comprehensive an investigation as possible to ensure that this case does not go unsolved.

We pray for healing and strength for the families. We ask Allah (SWT) to envelop them in His mercy during this difficult time. We call on the community to refrain from idle, hurtful speculation, and to join us in making dua for answers and for justice. May Taha, Muhannad, and Adam be admitted into the highest paradise.
Amen. Ameen.
Stay in touch! Like Muslimah Next Door on Facebook: