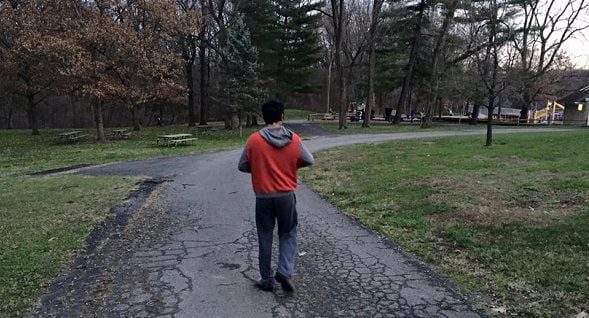 Nearly five years ago, we sat in a room – myself, my husband, D's teacher and principal at the time plus representatives from our county's exceptional education department. We were at the tail end of a long, difficult, heart-breaking fifth-grade year for D, trying to come to an agreement regarding his future schooling and education.
By this point, D had spent five years in our public-school system in two different self-contained autism classrooms under the tutelage of two capable teachers and a team of aides. And, although I had my frustrations with his schooling due to lack of progress in achieving his IEP (individualized education goals) and slowness to integrate new programs and ideas we mutually came up with, there were positives to his years there too:
He was in a "regular" public elementary school with nearly 700 other students, and while he didn't spend time with his peers in academic settings, he did join them — as best he could — depending on a variety of factors, for physical education, music, art and recess time. There was a "lunch buddy" system where his peers came in and joined him for lunch in the classroom (because the noise of the cafeteria was a sensory overload for D), and that D was an integrated part of the school community was a gain in his education.
But that fateful day, we sat in a room together – team D at the time – and his father and I made our case for taking D out of public school and putting him in a private autism school.
We spread print outs of pictures of D's face, swollen and bruised from ongoing self-injury that had overtaken his life that year. Numerous times I had been called by his teacher after he had engaged in self injury for hours, asking me to come in and help, or pick D up.
And so, I laid those pictures out on the table, pushing them in front of the county administrators while his principal and teacher sat quietly.
And though I cannot now remember my exact words that day, I remember the gist:
D's father and I have just a few issues with his teacher, the aides or the school. While the lack of IEP progress over the past five years is an important and necessary part of this conversation, the bigger issue today is D's safety.
Please look at these photos and tell me what more will it take for you to realize that his school cannot help D manage his behaviors. What more will it take for you to realize that D is not safe in school? He is hurting himself immensely. No one else is being harmed but himself. One time D bit an aide, and we were called that day and told to get certain blood tests. He received an in-school half-day suspension, though he had no discernable idea what he was being punished for.
But his self-injury has been going on for months. He is making no progress on IEP goals whatsoever and he isn't safe.
Isn't D's health and safety important? Would you be taking different steps if he was doing this to someone else in the classroom?
Doesn't D matter?
What's it going to take?
**********
D's in tenth grade now, still at the private autism school that our county placed him in after that fateful meeting. The past five years have been fraught with highs and lows as well, including stressful annual IEP meetings where we gather as a team to debate, among many things, the best ongoing school placement for D. The fact that we are managing this without entering a courtroom is a God-given miracle.
Emergency IEP meetings, mediation, due process hearings, court battles are all par for the course for far too many friends and people I know in this ongoing give-and-take to ensure their children  with disabilities receive the best and most appropriate free and public education (FAPE). We've also sat through mediation before, picked the brains of special education consultants and friends and met with lawyers to map out our options.
Who knows what is best for a child? Parents? Educators? Teachers? Administrators? Courts? Legislators? How do parents and teachers/administrators come to an agreement?
The question of what kind of education that children with special needs and disabilities deserve is not even a question to me – they deserve the best our school system can provide and give them. And, if a school system cannot meet the needs of a student, then it is incumbent upon the team to find the best placement, the best set up where the child can learn and achieve.
The fact that President-elect Donald J. Trump's pick for Secretary of Education, Betsy DeVos, is "confused" on what IDEA (Individuals with Disabilities Education Act) and FAPE are, are some of the many monumental fears I have about her as well as other administration picks and steps being taken to dismantle many programs that are key to D's future.
While innovation and forward-thinking in education is crucial and necessary, while we need to reform and improve our public-school systems, possibly explore charter school options and do a bevy of other things to improve our educational standards, including reevaluating our model of standardized testing and other things – we cannot be entertaining the leadership of someone who may defund public education.
Who doesn't seem to know what IDEA is. Who seems to think special education students don't deserve and equal and best education possible.
The Supreme Court is recently heard a case about a boy with autism and what level of public education that he and other students with disabilities deserve.  Because while the IDEA act is a federal law that requires "public schools to provide children with disabilities a 'free appropriate education,'" what that appropriate education is has been debated by lower courts in the states for decades:
"Some have required a substantial – or "meaningful" educational benefit – while others require only a de minimas – or anything above trivial – educational benefit."
Or in other words, as aptly stated in this Washington Post article:
Now the Supreme Court … is being asked to decide on a standard, which is essentially the same as deciding whether the United States really cares about providing all students a free and appropriate public education, and whether it is wholly committed to helping families that have children with disabilities.
So, while this is being argued and discussed at the Supreme Court, blocks away DeVos is being grilled on her competency to be the highest educational administrator of our country. And, she's failing miserably.
These are my concerns as we head into 2017. As I continue to work on autism advocacy at a state level and lobby for bills that will lift the age cap on autism health insurance legislation in the state of Virginia, among other things, these are the things we all should be worrying about.
You may see me, and see my headscarf, and put me in a category. Pigeonhole me based on how I look, my Islam and my faith. But, by God we need to see the common concerns among us, the common fears and worries, the common goals: Health, a good education and the happiness of our children. The thing is, I have an autistic son. And, I love him dearly. I have two other children, and I love them dearly too. Shuttering the Affordable Care Act, gutting Medicaid, confirming DeVos (we'll know on January 24), the outcome of this Supreme Court Case – these are my concerns.
I've written it before and I'll write it again – these are the front lines I stand on. I wish you would join me.
Click here to voice your (hopefully dissenting) opinion to your senator about the confirmation of Betsy DeVos as the Secretary of Education.