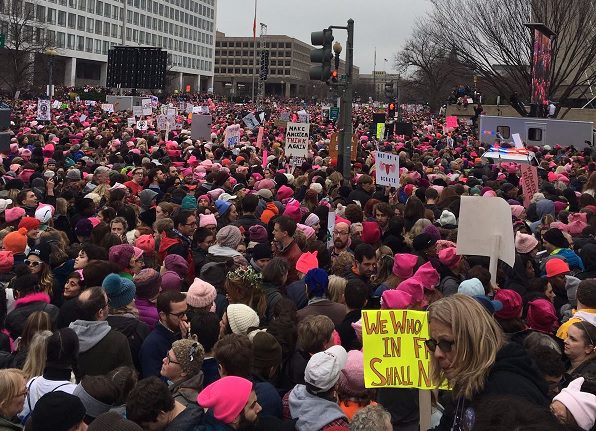 The numbers tell the story: More than 3.3 million people joined more than 500 Women's Marches across the United States, with estimates showing 1 out of every 100 Americans attended. More than 70 sister marches occurred around the world, even in Antarctica. In fact, there were marches on all seven continents. The Women's March on Washington (with lower estimations putting the numbers at 500,000) was nearly three times the size of President Donald Trump's inaugural crowd.
There were zero arrests at the Women's March on Washington versus hundreds of arrests on Inauguration Day.
Suffice to say, this is going down as one of the largest, most historic marches/protests to ever take place in the U.S, with Muslims up front and center in the organizing, speaking and participation in these marches. Many have asked – just what was the purpose of it all? Depending on who you talk to, the answers will vary. I went to the Women's March on Washington D.C. with my 13-year-old daughter, my sister-in-law, her 12-year-old daughter and a group of Maryland Muslim women and activists.
For us it was about showing massive opposition to the new president and to come together in support of various causes and show intersectional coalitions. It was about being unapologetically Muslim, as march co-organizer Linda Sarsour proudly declared on stage.
It was to fire up 3.3 million people to go home and get engaged in every way possible in the political and governing process and in social justice work. And, as Sarsour became the target of a vicious smear campaign the next day by right-wing media outlets, it became a show of love and support for those who have stood for the marginalized and continue to stand.
I put out an open call asking people who went to any one of these marches to write what they felt that day, what struck them and what they took away from the experience. As the days pass and President Trump signs more and more executive orders withdrawing the U.S. from the Trans-Pacific Partnership, pushing forward the Dakota Access Pipeline and placing restrictions on immigrants and refugees from certain Muslim countries, drawing on those feelings from the Women's March is more important than ever to fuel our engagement and resistance.
All photos were taken by me, unless otherwise indicated.
Next: Stay Woke