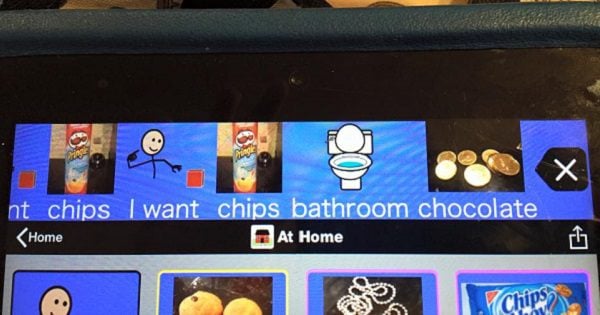 UPDATE: The day I was writing and publishing this piece, Abed Ayoub, legal and policy director of the American-Arab Anti-Discrimination Committee (ADC) in Washington, D.C., contacted me to ask if autistic individuals use iPads to help communicate and mitigate their challenges, and if so, what are the ways in which they use iPads. He was working with a client whose child had autism, and they were getting set to travel when word came of President Trump's new electronics ban on certain airlines in various Muslim-majority countries.
As a matter of fact, I told him, I am working on such an article. Let me tell you all about it.
Ayoub and his team ended up writing a letter that they submitted to the Department of Homeland Security, which referenced this post. I was informed today that the DHS, after receiving the letter, said they hadn't considered how the ban would affect those with autism and subsequently will look into this issue.
I'm so thankful for the dedicated and hard work of Ayoub and the ADC (and other groups) for shedding light on things that, frankly, the Trump Administration should've done due diligence to before implementing the ban. I'm very interested to see what the end result will be. As many commented to me after I published this piece – iPads (or Kindles/laptops) for folks with autism and other disabilities could probably be considered a medical device and therefore be exempt.
Yes – this is what should happen. But, having flown with my eldest autistic son before, if you don't know these things ahead of time — that perhaps you should have a doctor's or educator's note verifying you or your child needs the iPad, it only makes the travel experience more stressful and prone to breakdowns. The electronics ban didn't specify any of this, and as of yet I've not seen anything reported that states otherwise.
It says a lot for the research and thought our current administration puts into the executive orders and bans that they implement. Because, at the end of the day – consider this: By banning my son's iPad if he is flying (on a particular airline), you have effectively taken away his voice.
**********
I want to go do nothing.
I want to eat chips and Pringles.
I want to take a break.
I want to go home.
I want to go to the bathroom.
Our 16-year old son D is autistic, profoundly so. If you have in any way been a reader of this blog, you know plenty about him, about our family and about how important D's iPad is to his and our lives. He is nonverbal, but by no means not non-communicative. As his family, we understand the various ways he communicates as best we can. But for the world at large, D's use of the iPad and the Proloquetogo app on his iPad has been key in breaking the communication silence between him and anyone who doesn't know him.
By no means is it perfect or at all encompassing of the vast number of things we wish he could effectively communicate to us and the world, but it is a form of communication – a vital one.
In the autism circles we travel in, seeing an iPad in a child's hand or hanging from their neck is quite commonplace. These devices and the apps on them are used and relied upon in a variety of way by millions of autistic children, teens and adults – for communication via apps like Proloquetogo or Lamp Words for Life (or via using the keyboard for spelling), for anticipating the events of a day through story board apps, for sensory calming techniques, for diversions like watching videos that can be crucial calming and stabilizing techniques in high-stress situations (like flying on an airplane) and a million other things.
We do not travel without D's iPad – whether to the grocery store, on a road trip or if we fly. To be sure, we rarely fly with D because the whole process is so very difficult for him. But millions of autistic individuals do fly, and having their iPad (or laptop) with them can be critical to the success of their travel.
This is not just my opinion. This is a fact. Just google it, and a plethora of articles on this will come up, from this one discussing how an iPad helps kids with autism, to this one about how an iPad helps nonverbal autistic individuals communicate, to this one about how iPads help those with autism on flights and to this one about what happened when a nonverbal autistic teen was forced to turn her iPad off in a flight.
So, with the latest news on how the U.S. (and now Britain also) is banning passengers traveling from several Muslim-majority countries from bringing iPads, tablets, laptops, Kindles and other portable electronic devices (other than a cell phone) on board with them when they fly has me thinking – what about passengers with autism and other special needs?
The U.S. ban, per the Washington Post, applies to ten airports in eight Muslim-majority countries, which include Jordan, Egypt, Kuwait, Morocco, Qatar, Turkey, Saudi Arabia and the United Arab Emirates. The U.K. ban applies to six Muslim-majority countries. Fliers can still travel with these electronic devices, but they must be packed into their checked baggage on U.S. and U.K-bound flights from airports in these listed countries, including hugely busy transit hubs like Doha (Qatar), Dubai (United Arab Emirates) and Istanbul (Turkey).
The British ban will also include some cellphones and will be applied to all the airports in the six nations on their list. According to the Post:
Senior U.S. administration officials said the rules were prompted by "evaluated intelligence" that terrorists continue to target commercial aviation by "smuggling explosives in portable electronic devices."

"Based on this information, Secretary of Homeland Security John Kelly and Transportation Security Administration acting administrator Huban Gowadia have determined it is necessary to enhance security procedures for passengers at certain last-point-of-departure airports to the United States," officials said late Monday.

Federal officials initially described the ban as indefinite. But a spokesman for the Department of Homeland Security, David Lapan, said the directive runs until Oct. 14 and could be extended for another year "should the evaluation of the threat remain the same."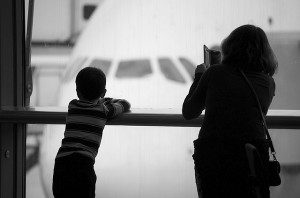 Look, I get the enormous task of keeping flights safe and putting safety measures in place. It is a huge and daunting responsibility for the U.S. and other nations. But here's one of many questions I have: Why on passenger flights from eight Muslim-majority countries? Why are only certain airlines affected? Why doesn't the U.S. (and Britain) place this ban on all international flights coming and going? Also, why are electronic devices not safe in the cabin but safe to have in cargo?
Effective or not, in wake of the shoe bomber, we must remove and scan our shoes on all flights. Not just ones from Muslim-majority countries and their airlines.
(Check out this article for other ideas about why this electronics-on-flights ban have come down, including theories about targeting Qatar Airways, Emirates and Etihad Airways, which have "long been accused by their U.S. competitors of receiving massive effective subsidies from their governments. These airlines have been quietly worried for months that President Trump was going to retaliate. This may be the retaliation.")
Here's the big question for me and millions of others living lives like ours: What about travelers with autism and other special needs? Without knowing at all the inner workings of homeland security and airport and flight security, I know sometimes rules must come down quickly. But there are so many questions left unanswered. How are airports, TSA and flight administrators going to handle and accommodate the autism and disability traveling population? Will special exemptions be made? And if so, how does one go about getting those exemptions, especially in the next few days?
These are crucial and important questions and concerns among many. We need immediate answers.