Hey, How are you!? Life here has been crazy busy these last few months. I can't believe it's been since June since we last talked.
Let's see, in June, Ramadan ended and we had Eid celebrations. We had a really nice weekend and then returned back to real life with work (me, Khaled and Mr. Fox), Summer Gym, Volunteering at the Zoo and Summer Classes at the University. At the end of July, Pea and I went to Band Camp. A few weeks after that, classes were back in session. It seems like summer never really happened.
There have been a few things on my mind lately to chat with you about. A few speedbumps we tackled, and one I'm still working on.
The first one was Band Camp while muslim.
Now, if you've never been to band camp (I wasn't a band member in hs, I had no idea what to expect our first time) I'll tell you that it is HOT and as a chaperone you walk close to 17,000 steps a day. The band kids easily count up to 10,000 more. Now, we have a really nice setup. We sleep in college dorms that are air conditioned and we have suite bathrooms. Our meals are in the university cafeteria and we march on paved streets and level green spaces. I'm telling you all of this because I've heard stories of people going to band camp in sleeping bags. That is not our experience.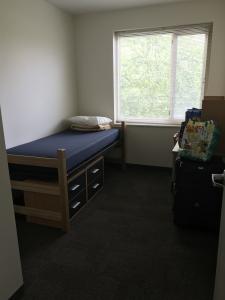 Despite all of the comforts we are provided, it is a grueling week. And it happens during the same week every year.
In preparation for camp, I emailed the director and we discussed dietary restrictions and prayer requirements. For my camper, this was INCREDIBLY embarrassing, but as her parent, it is my job to make sure that she is in an environment where her needs are addressed. This means that she has a place to pray when she needs to pray.
Our first year did not go as smoothly, because I didn't know what to expect, and Pea was scared to talk to the director about her prayer requirements. Once we got there we figured it out. This year, I wanted to make things easier, so we worked it out ahead of time. AND to my daughter's credit, she is much more comfortable with her Muslim identity and isn't worried about people seeing her pray all that much anymore.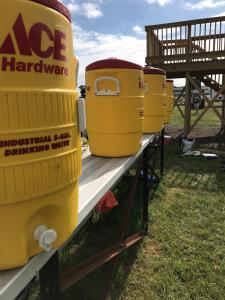 In Pea's string bag, along with her sunblock, bottle of water and inhaler, she carried her prayer hijab and a compass. The kids are not allowed to have their phones outside of the dorms, so every morning she would look to see what times she would need to pray and plot out her location and plan when and where she would pray. Most often she would catch the afternoon prayer at the dorm during quiet time, but the evening prayer would be on the marching field.
While everyone was on a water break, my sweet girl would take her bag and go off for a few minutes to a quiet corner of the field locate the direction of prayer and pray.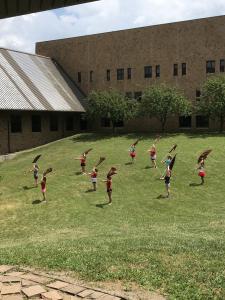 I know this seems like such an idealized, non issue. But I also know that it is a very scary time to be Muslim.
***
The next thing I needed to tackle was Choir.
Kate has been in Choir since 7th grade. She has an amazing choir teacher who is beloved by all the students, and she also teaches in our high school. This teacher chooses music from all over the world, in different languages and often some pop music or something written for a movie.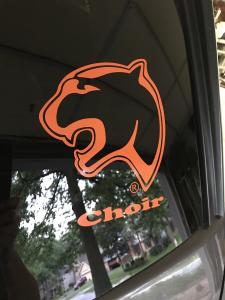 Part of the musical education curriculum includes religious songs. By religious songs, I'm saying that Judeo-Christian songs are discussed in class in terms of their historical significance and techniques. Sometimes they are performed. Last year, during the winter concert, the class sang Ave Maria.
Prior to that concert, I didn't have any problem with the musical selections. After that concert, I had to say something. After consulting several friends about the musical selections for their school concerts, I was convinced that this was highly irregular. Even parochial schools had more secular program than what was performed during that winter concert.
I contacted the principal. He addressed my concerns with the teacher. The concerts for the rest of the year were much more mainstream.
But this year, Kate signed up for the choir, with the same teacher. In highschool, the teachers give out course descriptions as well as contracts for participation and information about performance uniforms. Before we signed Kate's contract and paid for her performance gown, I wanted to make sure that the programming was something we would be okay with Kate performing.
No, religion isn't discussed in class. No, political preferences aren't discussed in class. The music is talked about in terms of skill and technique and historical significance.
But my children are really smart. They listen to music all the time. They get the meanings behind the lyrics. The music they choose isn't just about the melody.
So, I stated my position and asked for a list of the music they would be discussing and performing this year. The teacher was very transparent in her choices and even linked the music to audio recordings that we could screen. Once we had listened to all of the music, we were comfortable in allowing Kate to participate.
When we were going through all of this back and forth, my daughter was upset with me. Why was I making such a big deal? Why do I have to make her different from everyone else? The music doesn't have a deep meaning to her. Even when she understands what the lyrics are saying, it's just a song.
But the fact is that we live in a country saturated with religion, and it is my duty, as the mother of a student who practices a minority religion to question what she is being taught.
***
The third big thing was Special Events.
After we agreed to allow Kate to participate in Choir this year, I went to the task of entering all of her performances into the family calendar. The final one happens on the third day of Ramadan 2019.
Seriously?
Now, I don't know the specific demographics of our city, or our high school, but I can confidently tell you that there is a good 25-35% of the population of our district that are Muslim. Not just 1 or 2 in each school.
Two years ago, Pea could not participate in the big 8th grade trip because it was scheduled during Ramadan.
Last year, Kate could not participate in the big 8th grade trip because it was scheduled during Ramadan.
In the Spring, there was a trip to commemorate the 75th anniversary of D-Day in France. There were members from both of our local high schools going. Kate desperately wanted to go. It overlapped with Ramadan.
In each instance, I approached the people who were in charge of the planning, and each time I was told, "there isn't anything we can do. The schedule is set. We didn't know."
I find this unacceptable. Alienating 25-35% of your student body because you didn't know?
After I noticed the conflict on the choir schedule, I wrote a letter to every one of my children's teachers, as well as the principal and vice principal of our school.
Good Morning,

I hope that you have had a successful first week of school!

I am emailing the 12 of you specifically because your work has direct impact on the lives of my children this year. It would be to the benefit of the entire district that all teachers and administrators were aware of this issue as it has effected Muslim children for several years now, preventing their participation in special events (ex. Washington DC trip.)

This morning I was reviewing dates that have been scheduled for choir concerts, and noticed that one of the events happens at the beginning of Ramadan.

Then I recalled the conversation I had last year with (teacher's name) when we attended the meeting for the trip to Europe, and how she was unaware that the trip was scheduled during Ramadan.

Southview is one of the most diverse schools in the Sylvania Schools District. We have students of many different religious backgrounds and I understand that you cannot avoid conflicts with all of the different holidays. However, Muslim students make up a large number of the SV student body, and it is important that the month of fasting is taken into consideration when planning special events. 

The month of Ramadan, that is observed by fasting from sun-up to sundown, takes place from May 5th – June 4th, 2019. 

I am more than happy to answer any questions and concerns about the observance of this month. If I cannot provide the answers or additional support, I will find the resources for you.

Thank you for all the work you do.
In response, 2 of the teachers asked for more information. One just replied 'thank you.' But one person followed up with an excuse and platitudes. I'm going to continue to follow up with that one and educate them more. They must do better. I have 4 more years in this school system, and I'm going to make sure that they do better now that they know better.
I hope you are having a good September, wherever you are. If you have any suggestions or commiserations, I'd love to hear from you.
Until next time,