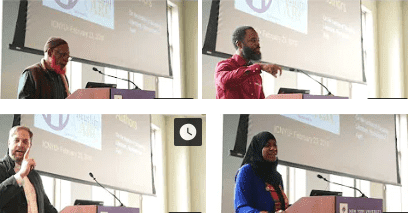 NbA Muslims
The Black Muslim Authors event at New York University was a successful endeavor to develop an appreciation for the dynamic Black Muslim authorship and encourage writers to engage in storytelling to control the narrative about American Muslim culture.
The event included speeches from author Umm Juwayriyah, Imam Al-Amin Latif of the NY Majlis Ashura, writer and producer Khalil Ismail and Sheikh Suhaib Webb of the Islamic Center at NYU.
The speakers complemented each other in talking to attendees about the importance of storytelling in Islam, it's layers and the richness of Black Muslim writers.
Umm Juwayriyah
Imam Al-Amin Latif
Khalil Ismail
Sheikh Suhaib Webb