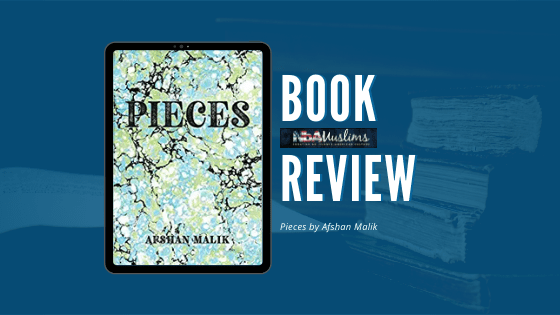 Review by Layla Abdullah-Poulos
PIECES
By Afshan Malik
$19.99, pp. 184, paperback
For many of us, family fills our lives with people who simultaneously infuse us with joy, rage, and straight-up fear.  In Pieces by Afshan Malik, the main character, Hannah experiences a mixture of love and concern for her father Adam, hospitalized with PTSD. She also worries that her fellow high schoolers will find out that dear ole dad is in the psychiatric ward, lying about him and struggling with the guilt. Add constant bickering with her sister, Noreen, and dodging the mean girls at school, and Hannah's life comprises the standard amount of YA teen drama, all good stuff.
Pieces ticks off the usual genre tropes.  Malik does a decent job telling Hannah's story of adolescent insecurity and anxiety layered with some unique challenges many Muslim girls in American society face. She also provides a refreshing divergence from the genre through her depiction of Hannah's parents. While parents usually serve as dysfunctional, clueless props in these types of books, Malik gives the mother and father more depth and complexity. 
Dahlia and Adam's stories kept me riveted and turning the page. Dahlia manages to keep her head above water despite having to run a medical practice, care for her husband, and referee their two daughters.  
The author could have easily left Adam a surface level portrayal of the mentally debilitated father. Instead, she lets readers into his emotional turmoils and strives to get better.  For me, the book is more about them than Hannah and seemed like an adult novel wrapped in a YA book.

Other characters were less compelling than Hannah and her parents. I found Johanna, disturbing. She is one of the few Black characters in the book, and Malik overlays a few racial stereotypes on her. Hannah gets locked out of school by accident when she meets Johanna, who is cutting class. So, Malik criminalizes the Black character and keeps the non-Black character pristine. Johanna is also a runner, feeding stereotypes about Black athleticism.  Malik also uses the sassy, angry Black woman stereotype in a scene when instead of Hannah sticking up for herself against a pack of girls bullying her, Johanna steps in, tells them off, and threatens the group's leader. The character can be all of those things, but when written as a tertiary one by an author not belonging to that race/culture is a bit too reductionist for me. 
I don't want to discourage reading the book, but I feel compelled to point out the problematic portrayal. I appreciate how difficult it can be to write outside of one's cultural identity, but it is important for authors to avoid impressing stereotypes on People of Color characters. Pieces is Malik's first novel, so I am hopeful the author will steer clear of the issue in future works. 
I enjoyed Pieces. There are a few content issues like too much telling and abrupt character shifts, but nothing surprising for a first novel. I made similar errors. Overall, they should not prevent readers from enjoying the story. The tight bond shared by the family and strong parental presence makes Pieces a solid inspirational read. I look forward to more from Malik. 
Click here for a copy of Pieces by Afshan Malik.
Note: I received a free copy for an honest review.
Click here for more book reviews.