Fair Trade as Justice and Equality
This article explains why many feel they can't get what the need. People need meaning and purpose in their lives and they need an income to survive. People up for disappointment when their life purpose depends on the economic system. The economic system is heartless. It doesn't recognize anything but earning money for business owners and investors as its purpose.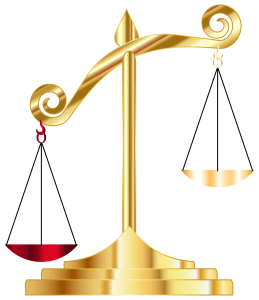 "A false balance is an abomination to the Lord, But a just weight is His delight."
– Proverbs 11:1 (NASB)
The Bible generally regards fair trade as justice and equality
Our economic system is rife with unfair trade practices. Anything to make a buck and it all comes out of our pockets.
"You shall give him his wages on his day [a]before the sun sets, for he is poor and sets his heart on it; so that he will not cry against you to the Lord and it become sin in you." – Deuteronomy 24:15 (NASB)
"Behold, the pay of the laborers who mowed your fields, and which has been withheld by you, cries out against you; and the outcry of those who did the harvesting has reached the ears of the Lord of Sabaoth." – James 5:4 (NASB)
"Now to the one who works, his wage is not credited as a favor, but as what is due." – Romans 4:4 (NASB)
Also see Jeremiah 22:13, 2 Timothy 2:6, James 5:1-4.
Poverty of the soul
As life brings changes our focus and needs change. With more education and experience comes maturity, which changes our perspective on what we need. We might see we need a car seat for a child instead of a video game. Or more education for a job that makes more income.
Changing perspectives make it very difficult to arrange a life at age 20 and follow an exact plan. It's especially difficult if we believe we can't have what we want because of economic factors like where we live and the availability of good jobs.
The abundance of scarcity
The beliefs that there is no one out there for us or that there is no job for us, we can't earn a living, no one cares enough to help us – these are all beliefs based on the abundance of scarcity. We need to believe in abundance of what we need.
"The thief comes only to steal and kill and destroy; I came that they may have life, and have it abundantly." – John 10:10 (NASB)
"And my God will supply [a]all your needs according to His riches in glory in Christ Jesus." – Philippians 4:19
Our society, in its current configuration, just doesn't enable everyone to make a good living at what they love. We have to do other jobs and find piecemeal projects for what we love to do. And sometimes that's better because sometimes pursuing our interests full time is disappointing.
I recently listened to a podcast that reminds people that most entrepreneurs (fewer that 65%) didn't begin with funding. They started their businesses on shoestring budgets out of their basements, bedrooms, and garages. This fits right in with newer generations who don't want to rely on employers that can lay them off on a whim but want to start their own businesses.
There is a match for every one of us and our needs. It may not be exactly what we imagine and set our sights on or satisfy every want, but there is something out there for us. Life is expansive – it makes room for us.
Poverty of the soul means that a person is without purpose and direction. But to me the reason we experience poverty of the soul is because we buy into the notion of scarcity from our economic system. From this belief develops lack of purpose, despair, hopelessness, and bad behavior.
Change I can't to I can
"I can't" is often a lack in our own confidence, born of inexperience. One of our children's favorite phrase was, "I can't." We encouraged her and gave her minimal help. Later she moved to another country on her own. She went through a lot of difficult experiences and learned, "I can." She now has a very responsible job handling many difficult problems.
The Apostle Paul, for all of his wise words, "I know how to get along with humble means, and I also know how to live in prosperity," had his meaning and purpose, and he and the other apostles in their zeal worked to exhaustion so as not to burden others. Paul was content knowing that he was following his life's purpose. He didn't focus on the things he did or didn't have.
"For you recall, brethren, our labor and hardship, how working night and day so as not to be a burden to any of you, we proclaimed to you the gospel of God." – 1 Thessalonians 2:9 (NASB)
It would be irresponsible of me to say that every person will achieve his dream job. I've worked with a lot of actors, artists, musicians, writers, and other people who simply don't get the big break that will make them rich or satisfied. They more often work jobs with poverty wages and get intermittent work, and a few couch surf for ten years. That applies to some with Ph.Ds. in some fields.
As I've said in previous articles, sometimes we can be glad we didn't get the dream job – they are often more of a blight on us than one reveling in happiness.
What I personally have found is that once you get into a position and apply yourself, you eventually develop an interest in it. It may not be your life's work, but you get by.
Take Home Points
We have to avoid the illusion that the economic system is the answer. The economic system is only about making money for those who have money not life satisfaction. Making money can be the pathway to eventually doing what we want but generally it's a rat race with no end.
Sometimes we have to do jobs we don't like to support our families and find other ways to pursue our dreams.  But never give up your dream. Follow your dream step by step, steadily making progress toward what you want.
Next in the series
Next in the series: Feeling like we should be getting the positive things that everyone is getting
___________________
Our answer is God. God's answer is us. Together we make the world better.