The unifying vision of Mt Vernon Church is creating contagious communities of hope. Yesterday I talked about what it means to create. Today I want to talk about community.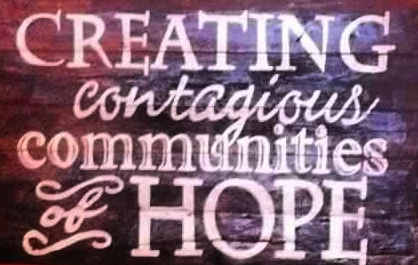 Culture today is overwhelmed with an epidemic of loneliness and isolation. The digital revolution of the past two decades was intended to bring people together in new and exciting ways. Email, Instant Messenger, Text Messaging, Facebook, Twitter, Instagram. In one sense, we are more connected than ever before. And yet, technological connectivity is a poor facade for true community. We were created to do life together. We were wired to live in community. God models that in his own being with the trinity. It's why humans have always been intrinsically drawn together in relationships. It's why the worst form of punishment given out to criminals is solitary confinement. We were created for community.
At Mt Vernon, we're intentional about creating community. Community isn't something that happens when we sit in rows. Simply occupying the same space together for an hour on Sundays isn't enough. True, deep-rooted, face-to-face community happens over time through conversations. Community happens as relationships build equity and trust together. That can't be done sitting in rows. It has to be done sitting in circles. LifeGroups (our moniker for small groups) are the lifeblood of our church. It's the foundation of our community. Small groups of believers, gathering together in rooms and homes, sharing meals together, opening the Word together, doing life together, creating contagious communities of hope.
Community is where church happens. It's where we can be the hands and feet of Jesus. It's where we can practically show Christ's love to those in need. Community isn't flashy; it's more mundane than spectacular, more marathon than sprint. But when life (and church) is lived in community, we fulfill the vision of the New Testament church and bring glory to the One who created us for community.