The battlecry of Mt Vernon Church is creating contagious communities of hope. Over the past two days we've looked at what it means to create and what it means to live in community. Today we're going to talk about what it means to be contagious.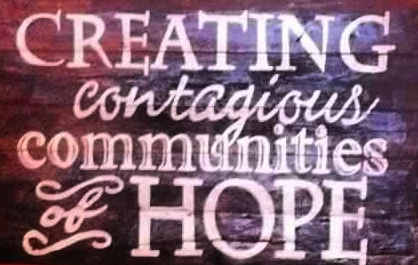 The definition of contagious is: (of an emotion, feeling, or attitude) likely to spread to and affect others. That should be an obvious adjective for the church, but many times it's not. Growing up I was a part of churches that had drawn the circle around a group of people and said in effect, "This is enough; this is all we are going to reach." I've had the heartbreaking experience of seeing friends come to Christ but then be rejected by the church because they didn't fit the 'church mold.' They were good enough for Jesus; they just weren't good enough for the church.
At Mt Vernon, we never want to draw the circle around those in the room and say, "this is enough." We want to be
contagious
. This passion drives the way we present ourselves, the language we use, the songs we sing, and the sermons I preach. We approach church with the mindset every week that God is actively drawing people to himself. He's actively working in our community, and so should we.
So we invite, we bring our friends and loved ones and even those we've just met. We have medically-trained doctors sitting next to recovering alcoholics, and just about everyone in between. We go overboard with our Host Team (guest services) to ensure that everyone knows they're welcome here. You can't walk through our doors without being greeted six times. We're a bunch of saved people that have been transformed by the love of Jesus. It's a love we can't keep to ourselves. We're contagious.