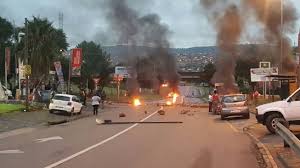 Two days ago we were stopped on the road just outside of Jos, Nigeria.
Jos has been the epicenter of conflict between the Islamic and Christian civilizations in Africa.  Anglican Archbishop Ben Kwashi, revered by Christians and  Muslims alike here, had his church burned a few years ago by Muslims.  Thugs came to kill him but savaged his wife instead, leaving her near dead.
Fear was in the air.  Just two nights before a village nearby had been attacked, leaving 38 people dead.
Traffic was stopped on this main highway leading into Jos.  We had just passed a car on fire, torched by Fulani tribesmen.  Then we passed another car that had been torched, and two burned bodies were lying on the ground.  Hundreds of people in their cars rushed toward a police academy, pleading to get behind its barricaded gates.  They were refused because the police feared that some in the cars might be terrorists.
Archbishop Kwashi heard that we were trapped.  Police and army came and were shooting in the air to frighten the bad guys, who were thought to be lurking nearby.  There were cars stranded ahead of us and behind us.
Somehow we made it to the police academy, but we were refused entrance along with everyone else, all of us trapped in a furious rainstorm with windows fogging in front of terrified faces.
Suddenly the commander of the academy came forward to let our car in.  He was a great admirer of Archbishop Kwashi, who had called him.
Just after we got in, we noticed that people were leading three wounded people into the academy's clinic: a man and a woman with a baby.  All were bleeding.
We followed them into the clinic, and asked if we could pray for them.  The woman's husband had been murdered minutes before in one of the torched cars.  She got out just in time.  The terrorists had slashed her and pummeled her baby's head with stones.  The baby was breathing but silent.  The other man had been slashed on his head and arm, and his ear was hanging by a sliver.
All three were Muslims.  We asked if they wanted healing oil and prayer in the name of Jesus.  They said yes.  The attending doctor encouraged them to receive the prayer.
I anointed each one with oil and prayed for each one in the name of Jesus.  Father Promise, a young Nigerian priest, joined me in prayer for them.
When police finally cleared the road several hours later, we reached the Anglican cathedral in Jos.  Everyone was relieved to see that we were safe.
Christians here complain that the government does not do enough to fight the terrorists, who are divided between Fulani and Boko Haram.  The president of Nigeria is both Muslim and Fulani, so Christians here wonder if that is why the government does nothing.  Many police and army officers, we are told, want to search aggressively for the bad guys but do not get permission from their superiors.
Meanwhile, Christians in Jos (northern Nigeria) pray and pray for God to protect them.  The Anglicans evangelize Muslims even though it is very dangerous.
And they covet our prayers.
If you are reading this, please pass this along to Christians who will pray for the Anglicans in Jos.