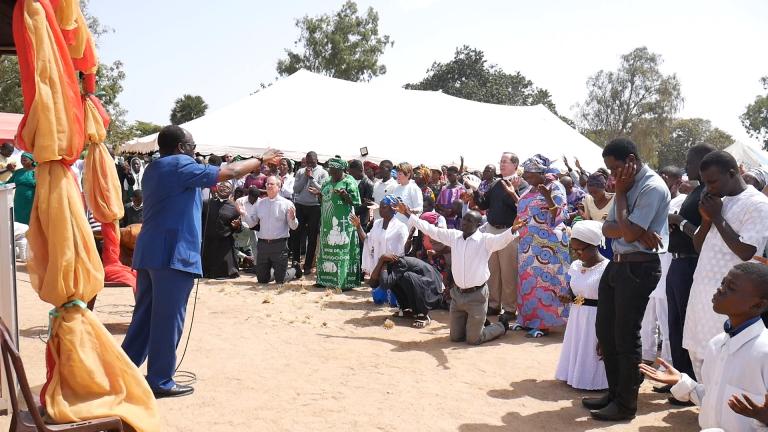 "The Muslim government is trying to drive us Christians out of Jos. This is why it does not lift a finger to stop the killing."
An Anglican priest told me this yesterday, summing up what I have seen and heard from many in the last few days.
The Christians in Jos live in fear.  Last week terrorists targeted several villages just outside Jos.  All were well-known as Christian villages.  The houses were razed, crops destroyed, and people burned alive.  Their charred corpses were heaped in piles of blackened bodies.
Two nights ago the older brother of a Catholic waiter in my hotel sat in the lobby.  He lives in a nearby village but has come into the city and this hotel for protection.  His brother told me he has not slept in three days.  An Anglican priest prayed for him for protection for his family and for sleep.  By God's grace he was able to sleep that night.
Christians here are incensed that the Nigerian president is telling the world that the explanation for this brutality is conflict between Fulani herdsman and farmers.  As a Nigerian headline put it, "Bukhari [the president] says 300 Fulani cows were stolen."  In other words, the Fulani herdsmen retaliated because their cows were stolen.
There are several problems with this explanation.  The Fulani herdsman, who are Muslims, have lived in peace with their Christian neighbors for decades.  Also, they cried out "Allahu akbar [Allah is great]!" as they swooped in upon these villages with death and terror.
The real story, Christians tell me, is that Islamists from other countries (like Niger and possibly Saudi Arabia) have radicalized previously-peaceful Muslim herdsmen.  And the government, which is controlled by a Muslim administration, is taking advantage of this to consolidate its hold on this Middle Belt of Nigeria.  Right now Jos is majority-Christian.  But if the government can use these radicals to drive Christians out, Jos can become a majority-Muslim area.
The world media is reporting this as an "ethnic clash."  Some call it ethnic cleansing.  But it is really religious cleansing.   As Anglican Archbishop Ben Kwashi (seen here preaching) told us yesterday, a mere "clash" does not murder women and children.
Yesterday I was in a meeting of 100 Anglican priests and their wives, plus Archbishop Kwashi.  They decried the army's mass burials of these Christians, and called on one another to exercise courage and go to social media to demand that the government exhume the bodies and permit the Christians to give the victims a dignified Christian burial.
They also prayed—passionately–for God to intervene.  "I lift up my eyes to the mountains—where does my help come from?  My help comes from the LORD, the Maker of heaven and earth" (Ps 121.1-2).
Meanwhile, there have been no arrests.  No investigation has started.  Christians tell me that only international criticism of the Nigerian government can help.
So please spread the word.  Send this post to others.
And pray for the Christians of Jos.  They covet your prayers.