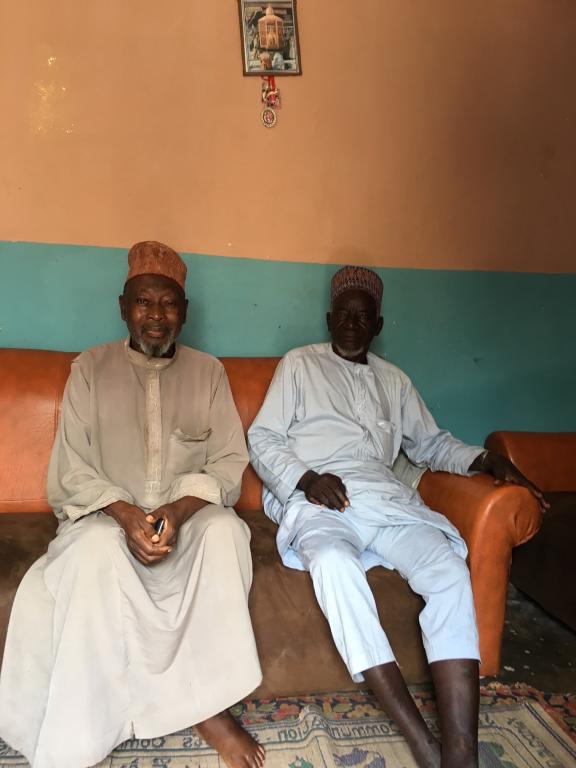 Yesterday Fr. Hassan John brought me into the heart of a Muslim neighborhood in Jos. Because Fr. John has helped Muslim children get an education (most of the poor cannot afford school fees), local Muslim leaders have come to like and admire him.
The women in the neighborhood greeted him excitedly, and bowed to him with respect. A teenaged girl sitting on the ground making meat pastries asked if he could help her find the money to get the application form to apply to the university. The application costs $70, beyond what she can afford. "I'll see what I can do," said Fr. John.
The Anglican priest took me to a house and introduced me to two Muslim men in a poorly-lit sitting room. Both embraced Fr John warmly, full of smiles and joking. I will call the younger of the two Muhammad. He is the leader of the Muslim community in that part of Jos.
Muhammad promised Fr. John several years ago when another outbreak of anti-Christian violence broke out, "We will protect you and your people." He meant the Anglican parish that Fr John led across the street from this Muslim neighborhood. He kept his promise.
After I told Muhammad how much I appreciated the warmth of the people of Jos, I asked him for his perspective on this new round of killing.
"We Muslims are not happy about what the Fulani tribesmen are doing to Christians. Then when Christians retaliate, it is clear that neither Muslims nor Christians are following the teachings of both religions.
"We Muslims and Christians should live together in harmony, as one people separated into various tribes.
"Part of the problem is that Fulani cattle were stolen, and the Fulani don't forgive very well. They overreact.
"But not all the Fulani are bad people. There are good ones and bad ones."
[According to Christian leaders in Jos, no cattle were stolen. They insist that this charge was fabricated as a pretext for the attacks.]
I told Muhammad that I have written several articles about the Jos violence, and that one man from another country got word to me that the Anglicans in Jos are part of the problem.
According to this outside observer who had once lived in Nigeria, "The Anglican church in Jos is notoriously one-sided and [not] irenic!" Archbishop Kwashi has not been "a friend of peaceful relations over the years—there are probably reasons why he gets attacked."
I asked Muhammad and his deputy what he thought of this report about the Jos Anglicans and their Archbishop.
Both he and his deputy laughed. "This man is showing his ignorance."
Muhammad went on. "We know the Archbishop well. He has always been a lover of peace. The Catholics were here before the Anglicans. But it has been the Anglicans who have taken the initiative to start relationships with us. And Archbishop Kwashi has been the leader of these initiatives.
"We have been friends for a long time."