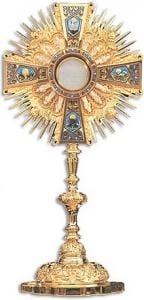 First things first; Happy 2020 everyone! I took a couple of weeks off from writing and blogging to begin the new year and recharge.
I'm back today with a letter I received from a woman I know who is a regular adorer of the Blessed Sacrament. Every week, she does a Holy Hour at Our Lady's Chapel in New Bedford, Massachusetts. She wrote me this letter around the time that I was working on a Faith feature story for Our Sunday Visitor where I profiled several people around the country who told me how their lives have been impacted by time spent before the Blessed Sacrament.
The letter was too long for my OSV story, but I thought it would make for an edifying read in this space. I have followed the spacing, formatting and punctuation that she had in her handwritten letter, with only a few minor changes to correct spelling. I hope you enjoy it as much as I did.
"From the Heart of an Adorer of Our Lord's True Presence In the Holy Eucharist.
When I go to my weekly hour of Adoration, it is like going to a loving home that is always welcoming to me; always open to me knowing that someone who truly loves me, is there!
There I find peace.
There I find strength and comfort.
There I let my guard down, feeling secure in His Presence.
Apart from the receiving of Holy Communion, it is where I find the closest union with God.
I talk to Him looking for comfort.
I talk to Him, remembering with sorrow my sins.
I stay quiet.
I make my petitions with a greater sense that He hears me.
I read His Word to find light in my life.
There is a sense of a greater closeness to Mary when I am in the Presence of the Eucharistic Lord and I ask for her aid.
My prayer seems most clear to me, more sincere having a greater faith. At other times, I am just there with no sense of the Almighty; nevertheless, with a strong desire to stay.
Sometimes, I struggle to stay focused. My worldly experiences, my current issues keep me from that peace I desire. I just persevere. This is a benefit of a committed hour because you don't have the option to run away when in your nature you want to go somewhere else. At the end of your commitment, enduring the desire to leave and overcoming it, you are spiritually stronger to fight the next battle.  "Spiritual Muscle," I call it. I know I am going to need it again. But, almost always, the hour passes so quickly!
I feel so grateful that my God waits for me, always and at any time I desire. There is no need to feel alone when I always know that He's there waiting for my visit, wanting to be with me, whether I am happy, sad, grumpy or indifferent. What kind of friend we have waiting for us in Adoration!
It is a gift being offered to all of us without discrimination, with no thought of our sins or our unworthiness. What love that is; it's beyond our understanding.
We choose to avail ourselves of Him in this magnificent Presence. When we do, we are never disappointed. Never!!
All who come to Our Lord in Adoration do not leave the same as when they arrived. Mother Theresa said that the glory in our faces when we leave Adoration is like the glory that shone on the face of Moses when he came down the mountain after receiving the tablets with the Ten Commandments.
Why has God chosen to be present to us in this humble way? TO LOVE US!
Come avail ourselves of this gift. I want all to share in this gift, insurmountable in its value, beyond our understanding now. We can now, however, experience His friendship with us, a unique friendship unique to each one of us."