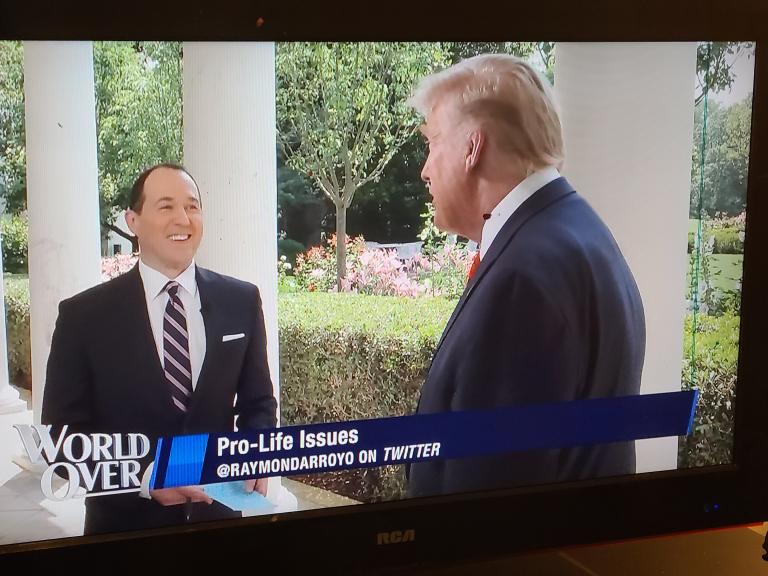 Okay, so it wasn't exactly Peter Jennings sitting down to interview Ronald Reagan.
But did you really expect Walter Cronkite-type reportage from someone who last September tweeted almost verbatim from the White House's own (accidentally-leaked) talking points during the Ukraine phone call scandal?
Raymond Arroyo's interview last week with President Donald Trump on EWTN was not intended to be journalism if we understand that term to mean an objective-critical presentation of facts with context, all intended to educate the viewer and let them come to their own informed conclusions.
No. Arroyo's ten-minute segment with the president outside the White House had all the qualities of a coordinated strategy by the president's reelection campaign to have the POTUS speak directly to the Catholic voters who comprise an important segment of the president's political base.
The big giveaway of that strategy was that in the same week that Arroyo's primetime interview aired on EWTN, an evangelical Christian audience watched a similar interview with President Trump on Pat Robertson's Christian Broadcasting Network. That one-two punch did not go unnoticed by others.
Trump got Fox-style interviews from evangelical CBN and Catholic EWTN.

EWTN's Raymond Arroyo: "I don't know of any politician or stand-up comedian who holds forth for 2 hours with the energy and verve that you brought — including the leather shoe routine, which was classic."

— Daniel Dale (@ddale8) June 23, 2020
The Political Strategy Behind the Interview
The president needs those politically-conservative Catholic and evangelical Christian voters, especially in critical swing states, to turn out to the polls in November if he has any hopes of reelection. In case you haven't noticed, the president's poll numbers are tanking. One survey last week reported a 12-percentage-point drop in the president's approval rating among white Catholics, from 49 percent a year ago to about 37 percent.
That's why in his EWTN interview, the president focused almost entirely, sometimes with a helpful leading question or comment from Arroyo, on the bread-and-butter culture war issues that the president believes will galvanize his political base: abortion, Black Lives Matter, Antifa, toppled statues, police immunity, violence in the streets, law and order.
It was no accident that the very first question Arroyo asked the president was about what his administration could do to prevent statues from being toppled. It just so happened that President Trump had a big announcement about a new executive order he would sign days later to protect public statues and federal monuments.
"We're going to make the cities guard their monuments," the president told Arroyo.
A few minutes later, President Trump boasted about provide federal funding to historically black colleges. Arroyo interjected, "First president to do that." What the EWTN news personality failed to mention was that the president signed a bill that resulted from actual bipartisan negotiations in the House of Representatives and Senate.
Arroyo's introductory remarks before the interview where he mentioned "those who are trying to expand the meaning of pro-life" telegraphed early on that President Trump would be given the opportunity to burnish his administration's anti-abortion bona fides and present himself as the pro-life candidate for serious Catholic voters.
"I'm pro-life, he's not," the president said in reference to his presumptive Democratic opponent, former Vice President Joe Biden, a Catholic who supports legal abortion and is against the death penalty. The president made it clear to Arroyo that he himself supports capital punishment for "heinous crimes."
For the politically-conservative Catholics who watch EWTN, many of whom are no fans of Pope Francis and his leadership style, Arroyo asked the president about the fawning letter he received earlier this month from Archbishop Carlo Maria Vigano, our former nuncio who has taken to conspiracy theories about global masonic cabals looking to abolish true religion and establish a One-World Government.
The former nuncio's letter, posted online by the far-right Catholic news portal LifeSite, described the recent anti-racism protests in the United States – sparked in large part by the police killing of George Floyd – as "an infernal deception" by "the children of darkness" against "the children of light."
"Is that an accurate reading of where we are?" Arroyo asked the POTUS with a straight face.
"It was a tremendous letter of support from the Catholic Church. He's highly respected, as you know. It was beautiful. It was really three pages long. And it was a beautiful letter. And I appreciated it. Yeah, but he's right in what he says," President Trump replied.
A "tremendous letter of support from the Catholic Church." That sent a message to the EWTN viewers at home that President Trump had received some kind of official ecclesiastical seal of approval. In actuality, the letter was the personal expression of a single former Vatican diplomat in self-imposed exile with no official role in the Church.
Where are the follow-ups?
If you were counting on Arroyo to push back and tell the president that Vigano's letter was not really "a letter of support from the Catholic Church," you were going to be disappointed. In fact, you would be left shaking your head at several points throughout the interview where Arroyo, the founding news director and lead anchor for EWTN, let the president make some questionable claims without any follow-up questions:
"I did more for our black population than anybody other than Abraham Lincoln. And nobody's even close."
"I think [allowing mail-in ballots] is going to be the greatest fraud ever. I think it's going to be, uh, a rigged election if they do that, if they're allowed to do it….
"Mail-in ballots, you're going to have foreign countries, you talk about foreign countries, they're going to be printing their own ballots. It will be a rigged election if they do that."
"But you know, and I know Biden is not going to be running things. It's going to be run by other people. Biden's shot. It's one of those things. I hate to say it, but Biden is shot."
Arroyo chuckled as the president took an apparent shot at the presumptive Democratic nominee's mental acuity. That won't surprise anyone who has followed Arroyo's Twitter feed over the last few months or seen his guest appearances on Laura Ingraham's Fox News opinion show, where Biden is often presented as a doddering, clueless figure.
If you watch Arroyo and Ingraham's Fox News appearances, you quickly notice how often they amplify the Trump re-election campaign's talking points, whether it's hydroxychloroquine or "Obama-Gate." They were among the early voices calling for the economy to reopen from the shutdowns caused by the coronavirus pandemic.
In fact, during last week's EWTN interview, Arroyo asked the president what he could do to deal with the states that were "refusing to open up." With no pushback from Arroyo, the president claimed that some Democratic governors were keeping their states closed to hamper their economies in order to hurt the president's reelection chances in November.
You know what the EWTN viewers didn't hear? The coronavirus is surging throughout the country, hitting daily record-highs for positive diagnoses in Florida and Texas, two states led by Republican governors who followed the president's lead in opening up their economies early. Arroyo's viewers also didn't hear from the president about his thoughts as the nation closed in on 125,000 deaths from COVID-19 since February.
Those who watched Arroyo's interview were also left with the impression that the president had enjoyed a successful campaign rally a few days earlier in Tulsa, Oklahoma.
"We had a good crowd," the president said.
"Oh yeah, you did," Arroyo responded. He then complimented the president in a groveling manner that was uncomfortable to watch.
"I don't know any politician or stand-up comedian who holds forth for two hours with the energy and verve you brought, including the leather shoe routine, which was classic," said Arroyo, who notably didn't ask the president about his eye-opening statement during the rally about him wanting to slow down coronavirus testing.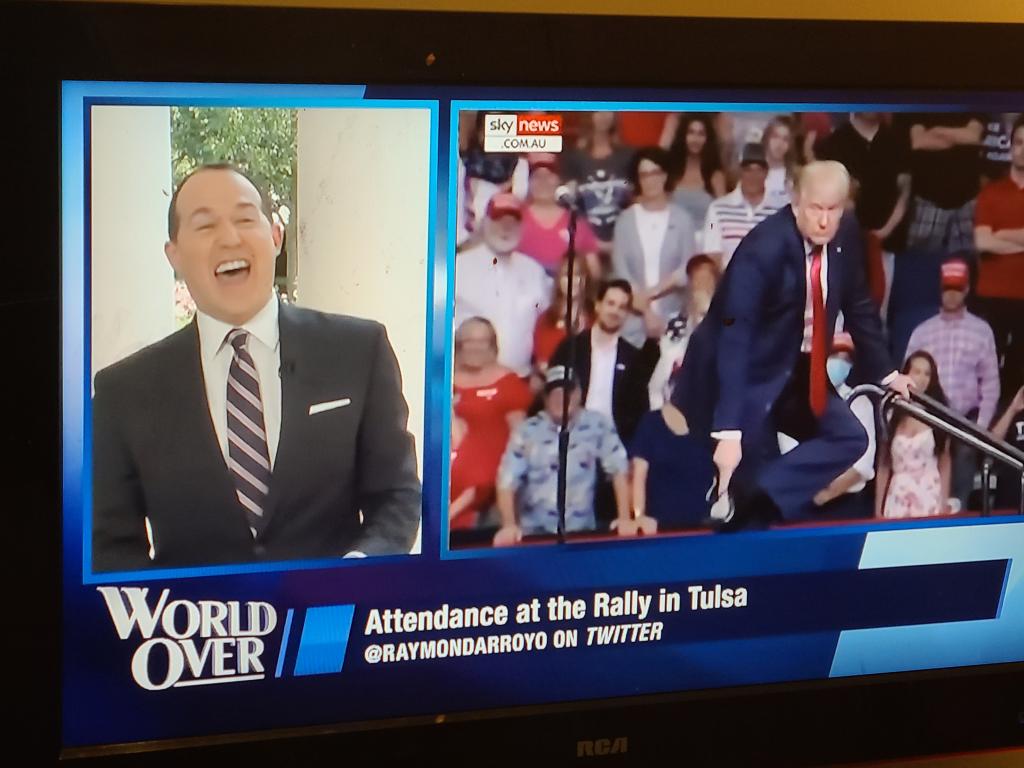 K-Pop Stans and Tik-Tok Teens
In reality, the Tulsa rally was an embarrassment for the Trump campaign, which in the days leading up to the event had boasted about nearly one million people registering online for tickets. There were just under 6,200 people in the 19,000-seat arena. Tik-Tok teens and K-Pop Stans – never heard of them before, by the way – apparently outsmarted the campaign team.
Backstage, the president yelled at aides, the New York Times reported. When he landed back at the White Hours a few hours hours later, a red tie hung around his neck untied, a resigned expression on his face; an image that has since become a "walk of shame" meme.
If Arroyo has any misgivings about the interview, he's done a good job of not showing them as he has promoted the interview several times on social media and in appearances on Fox News. On June 28, he talked up his "exclusive" presidential interview on Fox News' The Next Revolution show.
"The president was right to sign that executive order. He told me that exclusively earlier in the week," Arroyo said. "He made good on it by the end of the week."
That's what you'd expect a campaign surrogate to say. Not Walter Cronkite.