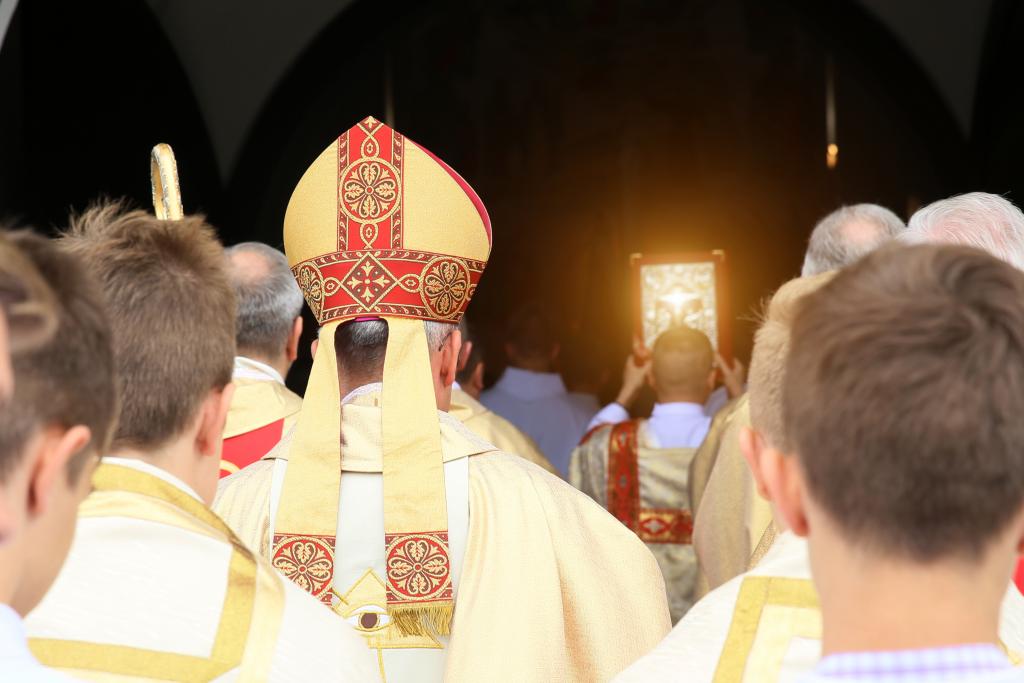 When someone tells you, "I'm sorry if I said or did something to upset you," you can usually be certain of a few things:
They don't think they did anything wrong.
They don't have contrition.
They really think YOU are the problem.
That's the sense I saw from most people who read Bishop Michael Bransfield's public apology letter, which was posted online a couple of weeks ago by the Diocese of Wheeling-Charleston.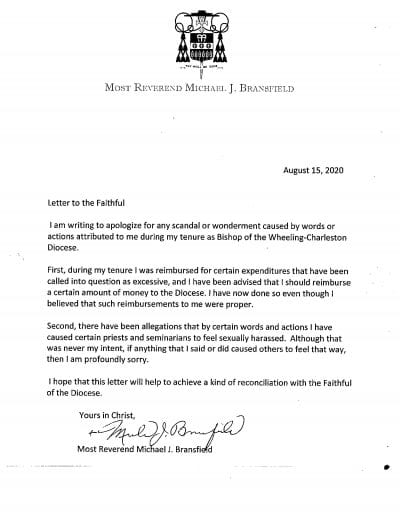 The Vatican's Congregation of Bishops required Bransfield to write that letter to make amends for his alleged financial and personal misconduct. If you find the letter to be insincere, you're not alone. Bransfield's successor in West Virginia, Bishop Mark Brennan, feels the same.
"It's not a true apology. He's not accepting responsibility for his actions. All you can say is that it's a non-apology in the form of an apology, and I'll make that known to Rome," Bishop Brennan told me in an interview with me for a story this week in Our Sunday Visitor.
The Vatican's Congregation of Bishops ordered Bishop Bransfield, 76, to reimburse his former diocese more than $400,000 in Church funds that officials said he used for personal expenses. Also, he will receive a reduced monthly stipend in retirement.
Bishop Brennan also told me in the OSV story:
"I think people expected him to come forth and say, 'I'm genuinely sorry for the scandal I caused the diocese and for the people I've hurt,'" Bishop Brennan said. "He really didn't assume responsibility for his own actions, but that's how I found him all the way through this process. He maintains his complete innocence, and that he's the victim of other people's machinations against him. Well, that doesn't fly with people. They can see through that."
Clericalism
A couple of other people I also interviewed, but whose remarks did not ultimately fit into the OSV story, said they saw through Bransfield.
"Of course, Bransfield, who doesn't think he has done anything wrong, continues to flaunt his title as "Bishop Emeritus" in the media and in personal communications," said Michael Iafrate, the co-coordinator of the Catholic Committee of Appalachia, a lay organization.
"That Bransfield ended up paying a little over $400,000 in restitution to the diocese instead of the almost $800,000 that Brennan proposed seems inadequate, of course, given the several millions of dollars Bransfield misspent," said Iafrate, who thought Bishop Brennan's original plan of amends was too weak to begin with.
The Washington Post, which obtained a copy of the Church's internal investigation of Bishop Bransfield, reported last year that investigators found that he spent more than $2.4 million traveling the world, often in private jets, and that he gave hundreds of thousands of dollars in cash gifts to Church leaders. The money was reported to have come from diocesan accounts.
In their report, investigators detailed an alleged "decades-long campaign of predatory behavior" that began as far back as 1982 when Bishop Bransfield was a priest assigned to the National Shrine of the Immaculate Conception in Washington D.C. He is alleged to have abused alcohol and prescription drugs, which the report said "likely contributed to this harassing and abusive behavior."
"How do you put a price tag on the serious sexual and financial abuse Bransfield committed? You can't do it," said Iafrate, who added that the Vatican's final plan was "obviously disappointing" and smacked of clericalism since the Holy See did not seek to revoke Bishop Bransfield's title as bishop.
"Any secular organization with a leader who was found guilty of the kinds of abuse Bransfield has committed would not hesitate to cut all ties with that individual," Iafrate said.
An investigation overseen by Archbishop William E. Lori of Baltimore last year found that Bishop Bransfield, in his 13 years as head of the Church in West Virginia, spent millions of dollars in diocesan money to pay for a lavish lifestyle that included private jets, jewelry, alcohol, luxury goods and overnight stays in five-star hotels. The investigation also found that the bishop had sexually harassed and coerced priests and seminarians in his diocese.
"As far as the financial side of this, I should also say that much was made of the fact that Bransfield wasted millions and millions of dollars while serving as bishop of a poor state like West Virginia. And rightly so; it is a scandal," Iafrate said. "But it is also a scandal that the Diocese of Wheeling-Charleston spent something to the tune of $1.5 million on a "lay led" investigation whose recommendations were ultimately ignored by the hierarchy in favor of a slap on the wrist. That too is a scandalous waste in a state like West Virginia, and an insult to the people as well."
Accountability
Terrance McKiernan of BishopAccountability.org, a website that tracks clergy sex abuse cases, told me he was also disappointed with the Vatican's plan of amends.
"Bransfield definitely deserved a stronger punishment," McKiernan said. "I think the Vatican could have been much more vigorous in their punishment, and I think he deserved it. This was such a serious situation."
With the Vatican still not having released its much-anticipated report on Theodore McCarrick, the once-powerful cardinal-archbishop of Washington D.C. who was laicized last year for canonical crimes involving sexual abuse, McKiernan saw the lighter-than-expected punishment of Bransfield as a troubling sign of how serious the Vatican, and Pope Francis by extension, really take the issue of clergy sex abuse and bishop accountability.
"Lax punishments send a message that sexual and financial improprieties will really just get a slap on the wrist," McKiernan said. "I almost feel like we're stuck with a form of self-censorship. We expect to so little of the Vatican, and God forbid Pope Francis would issue a statement excoriating Bransfield for his behavior, and making it clear this was absolutely unacceptable."
– 30 –