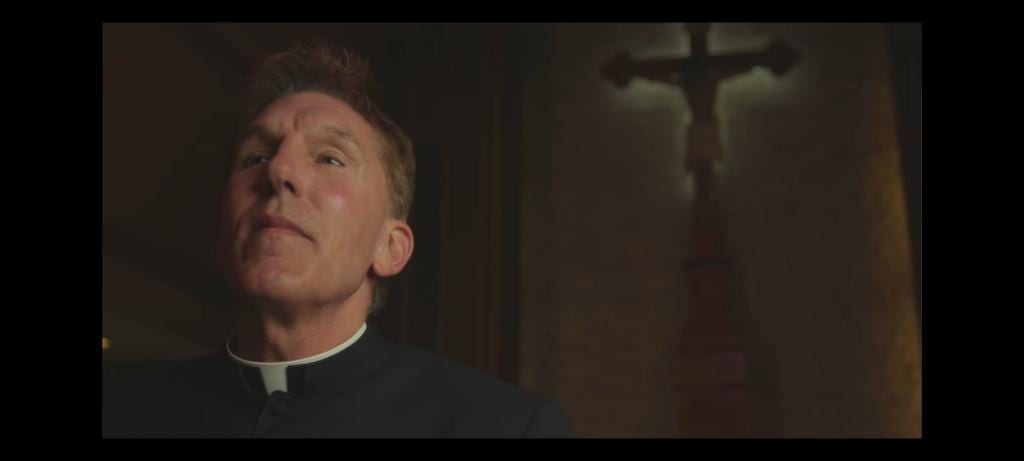 If you didn't know who Father James Altman was before last week, you probably know all about the outspoken culture warrior-priest from La Crosse, Wisconsin, by now.
Father Altman set the Catholic press and blogosphere ablaze with a slickly-produced ten-minute video, set to dramatic music from The Passion of the Christ soundtrack, that definitively declared "You cannot be Catholic & a Democrat. Period"
"Repent of your support of that party and its platform, or face the fires of hell," says Father Altman, the pastor of St. James the Less Church in La Crosse.
Whoah there, Father. Slow your roll.
A few things need to be pointed out. First: Father Altman has about as much authority to damn a registered Democrat to hell as does my preschool-aged daughter, or her pet betta fish for that matter. That is to say, none.
Also, there is no body of Church teaching, dogma, magisterial document, papal edict or episcopal pastoral letter that prohibit Catholics from registering with either of the two major political parties in the United States. As a Catholic, you don't incur an automatic excommunication, latae sententiae, if you check off "Democrat" on a voter registration form.
In fact, Father Altman's confident assertions to the contrary, Catholics who are registered voters in the United States – whether they're Republicans, Democrats or Independents – are not bound by Church doctrine to vote for President Donald Trump, the presumptive pro-life candidate in the 2020 presidential election.
My friend David Mills explains this very well in a couple of recent essays in Our Sunday Visitor, which are linked here and here. The Church's actual guidance is that Catholics may vote for the "pro-choice" candidate IF they are not voting to support legal abortion directly, and IF they discern that there are proportionate reasons to vote against the supposed pro-life candidate. What those "proportionate reasons" could be is up to the individual Catholic's well-formed conscience, which Pope Francis has pointed out is not meant to be "replaced" by the Church.
Well, you wouldn't know that from what hyper-partisan clergy have been putting out recently on YouTube, Facebook and Twitter. Like-minded priests like Father Frank Pavone, who is somewhat of a surrogate for the Trump reelection campaign, are using their ecclesiastical status and authority to bind consciences of the lay faithful who follow them for direction in matters spiritual and temporal.
Thank you, @readDonaldTrump, for the decisive action you took on #Covid19 that saved countless lives… actions that the #Democrats and @JoeBiden derided. They are totally unfit to lead. Totally.https://t.co/vWlcR56Tqx

— Fr. Frank Pavone

It's all rather unseemly and manipulative, not to mention against actual canon law that prohibits clergy from behaving like partisan actors in the political sphere. Politicking is an activity for the laity, not the clergy. After all, one danger of a partisan clergy is the weaponization of the sacraments, as Father Pavone demonstrated when he tweeted recently that he would withhold absolution from someone who confessed to the "sin" of being a registered Democrat.

Fraternal Correction

Thankfully, Father Altman's ordinary, Bishop William Patrick Callahan of La Crosse, seems to understand all that. He put out a statement last week criticizing the "manner of delivery" and the "tone" of the priest's video and saying he hoped a fraternal correction behind closed doors would be sufficient to repair the wounds to the Body of Christ.

"Canonical penalties are not far away if my attempts at fraternal correction do not work," Bishop Callahan wrote. "I pray that Fr. Altman's heart and eyes might be open to the error of his ways and that he might take steps to correct his behavior and heal the wound he has inflicted on the Body of Christ."

Well, judging by Father Altman's appearance late last week on the traditionalist firebrand Taylor Marshall's YouTube show, a private fraternal correction may not do the trick.

Days after saying Catholics can't vote for Democrats – & in the face of his bishop warning "Canonical penalties are not far away if my attempts at fraternal correction do not work" – Fr. Altman is with Taylor Marshall saying "Nancy Pelosi is no more Catholic than the Dalai Lama" pic.twitter.com/kLnesWK4D3

— Christopher White (@cwwhite212) September 11, 2020

In that interview, Father Altman doubled down on his anti-Democrat rhetoric in portraying himself as a champion of faithful Catholics who is being persecuted for speaking truth. In Father Altman's stated view, only unfaithful, evil people pretending to be Catholics are criticizing him. He is a totally innocent victim.

Part of being a well-adjusted, emotionally-mature adult is knowing that we are not infallible, that none of us are above criticism and that it is a good thing when good people – even those with different views than us – admonish us for our behavior, including when we cross the line in the pursuit of something good like ending abortion. Don't forget; Ends never justify means. Consequentalism is a heresy.

"When we approach issues that are contradictory to the Faith and the teachings of Jesus Christ and the Catholic Church, particularly on abortion and other life issues, we should invite dialogue and heart-felt conversion to the truth. Our approach must never seek to divide, isolate and condemn," Bishop Callahan wrote.

It would also be easier for me to have sympathy for Father Altman if he had put out a short statement vowing to respectfully listen to his bishop's concerns and talk it out with him, rather than going on Marshall's show, a platform for conspiracy theories and strident rhetoric where Muslims were once warned to convert or be "wiped off the face of the earth."

It's also telling that Father Altman, early on in the interview, called Marshall a "hero" of his. It's obvious that he and Marshall, a member of the Catholics for Trump Advisory Group, share strong American right wing political views that they seem to conflate with authentic Catholicity.

In his controversial video, Father Altman didn't confine his anti-Democrat statements to criticisms of that party's wholehearted support for legal abortion, which is fair game and a problem that any serious Catholic has to honestly engage before they can vote for someone like Joe Biden in good conscience, if they can. However, Father Altman also defamed DACA recipients as "illegal criminal aliens." He referred to climate change as a "hoax" and called out Archbishop Wilton Gregory three times for having criticized the president's visit to the St. John Paul II National Shrine in early June.

That Father Altman doesn't have enlightened views on racism then shouldn't surprise anyone. A separate, really cringeworthy video – shared approvingly by a Catholic apologist, no less – surfaced last week where Father Altman, in a homily, minimized the racist barbarity of lynchings as "capital punishment" for crimes like rape and murder, which he further downplayed by citing unrelated statistics like Black people who owned slaves and "the 360,000 white men who died to end slavery" in the Civil War.

An Endorsement

Bishop Callahan's efforts to admonish Father Altman will also be complicated by the fact that another member of the American episcopate – Bishop Joseph E. Strickland of Tyler, Texas – gave his unqualified endorsement of Father Altman's "Catholics Can't Be Democrats" video.

As the Bishop of Tyler I endorse Fr Altman's statement in this video. My shame is that it has taken me so long. Thank you Fr Altman for your COURAGE. If you love Jesus & His Church & this nation…pleases HEED THIS MESSAGE https://t.co/D413G0lfQV

— Bishop J. Strickland (@Bishopoftyler) September 5, 2020

Bishop Strickland, a self-described "red-pilled" churchman who signed onto a petition earlier this year that declared the coronavirus a "pretext" for a shadowy cabal of global elites to impose a one-world government, doubled down on his endorsement in a statement he sent to the Catholic New Agency:

"Voting is not an easy task nor one to be taken lightly. On the contrary; it requires research, prayer, and discernment. We must ask ourselves- Do we believe in God. Do we as a nation believe in God?"

"Are we willing to acknowledge our sins and seek repentance and reparation as individuals and as a nation? Are we casting our vote through the lens of Jesus Christ and his Teachings?"

"If my support of Father Altman can prompt meaningful conversations and prayerful discernment about these questions, then I am at least beginning to fulfill my role as a pastor of souls and a disciple of Jesus Christ."

Bishop Strickland's endorsement not only puts his brother bishop in La Crosse in an awkward position, but it also raises Father Altman's status among a segment of Catholics who will decry any action taken by his actual ordinary in Wisconsin. Father Altman will now be seen as a martyr of conscience if canonical penalties are imposed on him.

All that does is sow further division in what is already a polarized time of disunity and discord, in the American Church and the wider society. It also all but guarantees that we will be seeing more divisive rhetoric and manipulative, blatantly false warnings for Catholics to vote a certain way on Nov. 3 under the penalty of mortal sin. You can also count on hearing more about Father Altman between now and Election Day, and beyond.

– 30 –