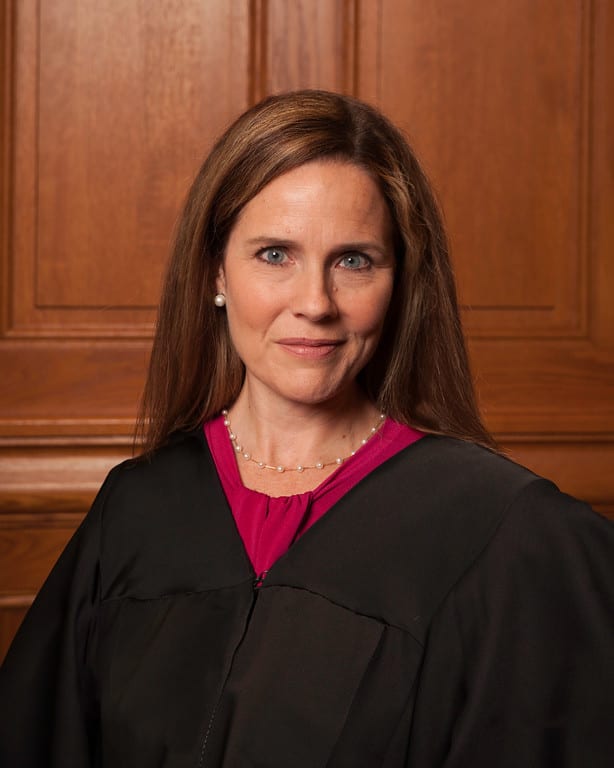 It's been interesting to read the different takes in Catholic and secular media on Judge Amy Coney Barrett as to how she relates to feminism, or doesn't.
Rebecca Bratten Weiss, who happens to be the editor of the Patheos Catholic Channel, writes in the National Catholic Reporter that Barrett, whose confirmation hearing for the U.S. Supreme Court was held this week in the U.S. Senate Week, is no feminist icon.
She has ruled against environmental protections, even though environmental degradation disproportionately affects women, especially those of low income. She has ruled against consumer protection. Her history of legal opinions on health care, sexual assault, and immigration suggests she has no intention of advocating for women in vulnerable situations, but rather will uphold the Trump administration's far-right policies that harm women, especially women from less advantaged demographics.
Weiss goes on to liken Barrett, who currently sits on the 7th Circuit Court of Appeals, to "the women theologians who enjoy a special place at the magisterial Catholic table simply because they dedicate their energy and intellect to supporting the hierarchy."
Weiss further writes:
Barrett has stated, "Supporting poor, single mothers would be the best way to reduce the number of abortions in the U.S." This is a belief that has been reiterated by consistent-life feminists who are against abortion but wary of the outcomes, should Roe be overturned. It might be tempting to view Barrett as an ally of these activists. But her words ring hollow when held against the reality of her judicial record.
What has Barrett done to work to be sure that other women have the security and support — and the choices — she enjoys? Very little.
Like Barrett, I'm a successful professor and a Roman Catholic mother of many (I have six living children). Like Barrett, I see no deep or unresolvable conflict between my professional ambitions and my personal faith and family life. Like Barrett, I do not try to "do it all," but rely on my supportive husband to do more than his fair share of domestic work and child-rearing. Finally, like Barrett, my faith and my fertility have unfortunately been placed front and center in discussions of whether I am the right person for the job.
Frey goes on to write that Barrett's nomination raises a thorny question in our culture:
Why is a highly educated, professionally successful, Catholic mother of a large family so threatening? I think part of the reason is that, according to the prevailing cultural narrative, we are not supposed to exist. Our culture tells women and girls, from a very young age, that patriarchal religion and fertility will only hold them back in life — that the only viable path to happiness is through an embrace of personal autonomy, which the demands of family life threaten. Women who complicate this narrative — not by "having it all" or being perfect, but by embracing their roles as mothers while still having demanding careers — are typically not celebrated, but placed under suspicion.
A devout Catholic, Judge Barrett also provides Christian conservative women one of their own as a new feminist leader for young women.
"For decades now — it's been 40 years — we have heard the discussion as having role models for women on the Supreme Court. We are so eager to now have a role model for our daughters — a woman who is a constitutionalist and a conservative," said Penny Nance, president of Concerned Women for America.
Carrie Severino, chief counsel of the conservative Judicial Crisis Network, said the judge embodies the broad spectrum of American women.
"She is a new role model for women instead of the one size fits all."
The Atlantic's Emma Green, however, sees the conservative casting of Barrett as a new presentation of feminism
with a more critical eye
, suggesting that President Donald Trump and the GOP are using that framing even as their party is becoming increasingly unpopular among a majority of American women:
Republicans are hurting most among women who look like Barrett: people who are professionally ambitious and are likely balancing careers and motherhood. Many American women who fit this description may not think there's a home for them on the right. Now in the national spotlight, less than three weeks before the election, Barrett offers Republicans a conservative model of feminism to point to, one in which women can lead exceptional careers, cultivate large families, remain dedicated to their communities and their faith—and be conservative.
Greeen further adds that a number of high-profile Republican women have argued for a more conservative vision of feminism:
Sarah Huckabee Sanders touts her place in history as the third woman and first mom to serve as the White House press secretary while lamenting attacks from other women, including ones about her appearance. The former U.S. ambassador to the United Nations Nikki Haley is often rumored as a possible 2024 presidential candidate, and she regularly makes stops at "women's empowerment" luncheons where attendees cheer the idea of her serving as America's first woman president. Although these female leaders represent a minority within the Republican Party, they reflect at least some American women: 42 percent of Republican or Republican-leaning women agree that the term feminist describes them, according to the Pew Research Center.