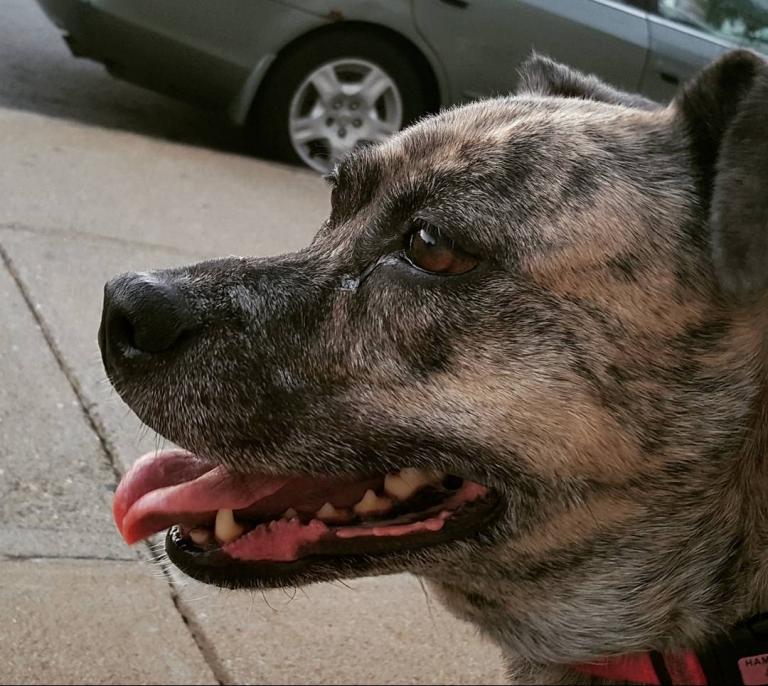 I come home from running a quick errand and, for a second, I expect Zoe to greet me at the door, begging for a treat.
Before retiring for the night, per my routine for the last 12 years, I remind myself to take Zoe out one last time. But then I remember my beloved Terrier mix is no longer with us. Old age caught up with her this month, forcing my wife and I to say a tearful goodbye to our family dog just three days before Christmas.
It took me a good week of working through my grief to be able to memorialize her on social media. Many of my friends, themselves pet owners, offered heartfelt condolences. They know how pets really become part of our families. When they die, they leave furry-sized holes in our hearts that can never be filled.
A friend commented, "So sorry, pal. It's like 2020 needed to get in one last kick to the heart."
In so many ways, 2020 has been a cruel year, not just to me, but millions of Americans and countless more people around the world who have suffered amid the novel coronavirus pandemic.
More than 339,000 people in the United States have died this year from COVID-19. Countless more have suffered from related depression, mental illness, job losses, dashed dreams and broken families.
Among those the pandemic claimed this year was my father-in-law, Anthony Richard Talamo, who died from COVID-related complications on May 28 in El Paso, Texas. He was 72.
Less than four months later, my mother-in-law, Virginia Carmen Talamo, died unexpectedly while staying with my sister-in-law in Lubbock, Texas. She was also 72.
Anthony, a retired U.S. Air Force major, and Virginia, who had just retired after a long career as a public school teacher, were married for more than 48 years. Together they adopted three daughters, and raised their family in El Paso. They were both active in their parish, and were quick and eager to help out the less fortunate in their community. They left behind two granddaughters whom they absolutely adored.
It seems like everyday that I'm reading news stories and social media posts about someone's relatives dying; longtime married couples passing within minutes of each other; young adults still in the prime of life, dying from a virus very few of us knew existed a year ago. Who could have foreseen any of this when the clock struck midnight on Jan. 1, 2020?
As I've gotten older, I've found myself in recent years wondering every New Year's Eve; Who among us celebrating tonight will still be here a year from now? That may sound morbid, but when you start losing grandparents – I've lost all four of my grandparents in the last five years – as well as older aunts, uncles, old teachers and former colleagues every year, you can't help but be reminded of your mortality. You know your turn will one day come.
"Seventy is the sum of our years,
or eighty, if we are strong; Most of them are toil and sorrow; they pass quickly, and we are gone
." – Psalm 90:10
If anything, 2020 has shown how short and delicate life is. One moment we are here, with all our experiences, memories, emotions and tangible impacts on the world around us. But just like that, in the next moment, we're gone and we take the sum parts of all our life experiences with us to the spiritual realm. The physical world continues without us, almost as if we never existed. It's deeply humbling.
Mixed in with the somber reflective emotions that I'm feeling regarding mortality is a healthy dose of anger because so many of these losses really didn't need to happen. If President Donald Trump had taken this pandemic seriously early in the year and been honest and straightforward with the American people, it's safe to say we wouldn't as a nation be accounting for more 20 percent of the world's COVID-19 deaths despite having only about three percent of its population.
In less than a month, Trump will be out of office, but we will continue to cope with the fallout from his incompetence vis a vis COVID-19. It's a familiar pattern for anyone who has followed his business career and read about how his ego essentially bankrupted casinos in Atlantic City. Having caused a mess, Trump walks away and declares victory. Meanwhile, the poor and vulnerable are left behind to cope with lost jobs, a wrecked economy, and a virus that proved to be one obstacle Trump couldn't BS his way through.
COVID-19 vaccines are making their way to the public, and by late spring or early summer, we should start seeing a gradual return to normalcy. Before 2021 is out, there is a good chance that we will once again be able to do things like walk in public without masks, go out to dinner and catch a show, maybe even attend a concert, a ball game, or something simple like attending a big family get-together.
We won't get there without more losses, however. We'll say goodbye to 2020 on this New Year's Eve, but we're still going to read about more heartbreaking losses related to COVID-19 well into 2021. Just as every other past year, 2021 will have its share of tragedies, controversies, and turmoil.
But even in this valley of tears that we are all now crossing, I'm comforted by the truth that Divine Love has been incarnated in this world. The God who became flesh and entered our physical realm on that Christmas night more than 2,000 years ago has left his eternal mark on creation. This earth is marred by sin and death, but it is permeated by Divine Love, which always has the last word.
When the moment of death came for my in-laws, they were each embraced by a God who loved them from before they were ever conceived. Both longtime practicing Catholics, they died in God's friendship and were enveloped in the Love that has redeemed creation and already won the battle against sin and death.
Even in the heartbreaking moment that my dog Zoe's heart stopped beating, she was held tenderly by a God who loves all his creation and will bring it to a full redemption that escapes our powers of imagination. All I know is that in that redeemed world, we are promised that where there will be no more death, tears or suffering.
So I'm hopeful that Anthony and Virginia Talamo, and all the dearly departed, will be there to welcome me home. Even Zoe may run to greet me at St. Peter's gate, looking for a treat as always.