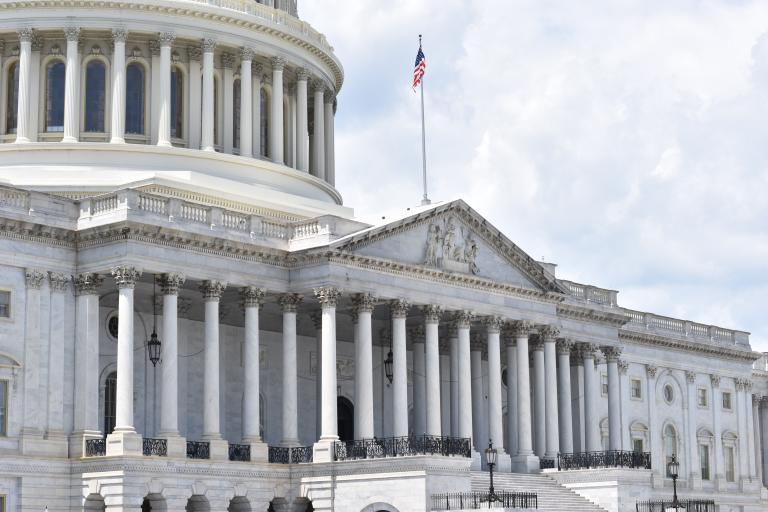 Joe Biden, only the second Catholic to serve as President of the United States, last night addressed a joint session of Congress just shy of his 100th day in office.
Biden, a Democrat, articulated an ambitious governing agenda of sweeping social programs aimed at ensuring equal pay for women, expanding and strengthening the ability of labor unions to organize, bolster voting rights, reform the nation's immigration system, ban so-called assault weapons and reform policing in the wake of the murder of George Floyd and the high-profile police killings of other Black people since last year.
"Think about it, public investment and infrastructure has literally transformed America, our attitudes as well as our opportunities," said Biden, who highlighted the interstate highway system, public schools, the creation of the Internet and the moon landing as accomplishments made possible by government investments.
"These are the investments we made together, as one country, and investments that only the government is in the position to make," Biden said. "Time and again, they propel us into the future."
Biden also drew from his Catholic vocabulary he learned in his working-class Pennsylvania upbringing. At one point in the speech, the president asked, "Can our democracy deliver on its promise that all of us – created equal in the image of God – have a chance to lead lives of dignity, respect, and possibility?"
Catholics who voted for Biden and/or who lean progressive in their politics found much to cheer for in Biden's vision of government having an active role in fostering the common good, which is a principle of Catholic Social Teaching.
Terrific and inspiring agenda… Breathtsking! A CST agenda… Wow! Love @potus's audacity!!

— Stephen Schneck – ταυ (@StephenSchneck) April 29, 2021
We agree with @POTUS— it's time for the Senate to work together to pass the #JusticeinPolicingAct. #JointAddress #BuildAnew https://t.co/3dey6r8A8N

— NETWORK (@NETWORKLobby) April 29, 2021
Excellent job, @POTUS! We are in good hands. #JointSession #StateoftheUnion

— Catholic Democrats (@CatholicDems) April 29, 2021
Meanwhile, Catholics who are politically-conservative and who have different philosophical ideas of what government's role and priorities should be offered their critical takes.
The establishment critique of universal daycare is that it spends too much money.

The better critique is that it's terrible for children, and that a healthy society should make it easier for parents to care for kids. Spend money on parents, not corporate daycare.

— J.D. Vance (@JDVance1) April 29, 2021
EWTN News Nightly interviewed Sen. John Thune, R-South Dakota, for a conservative take on Biden's American Family Plan, which would provide up to 12 weeks of paid family and medical leave.
Lawmakers discuss the American Family Plan. @SenJohnThune says most Americans would trade government assistance for a well paying job, and added that those jobs won't come by increasing corporate taxes to pay for the president's plans. Correspondent, @ErikRosalesNews reports. pic.twitter.com/MJcdOwCfKM

— EWTN News Nightly (@EWTNNewsNightly) April 29, 2021
Also, Michael J. O'Loughlin at America Media does a great job here in annotating Biden's speech with recent statements from Catholic leaders on several priority issues the president articulated in his speech.
I didn't see any immediate reactions from bishops and other senior churchmen, several of whom were quoted in a Associated Press story this week reporting on the possibility that the U.S. Conference of Catholic Bishops may vote to continue looking into the possibility of asking Catholic politicians who, like Biden, support keeping abortion legal, from receiving Holy Communion. For what it's worth, Biden's bishop in Delaware and his current archbishop in Washington D.C. – Cardinal Wilton Gregory – who are the only two bishops with actual authority in this matter, have both said that they do not have any plans to prohibit Biden from the Eucharist.