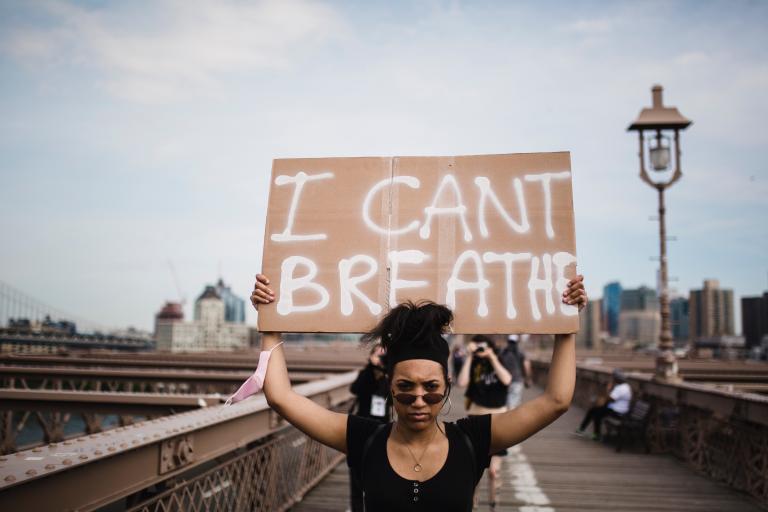 The U.S. Conference of Catholic Bishops, individual bishops, Catholic organizations and agencies were among those who issued statements responding to yesterday's news that a Minneapolis jury convicted former police officer Derek Chauvin of all charges related to the May 2020 murder of George Floyd.
A roundup of statements:
"As we receive this result, we recall that God is the source of all justice, love, and mercy. The death of George Floyd highlighted and amplified the deep need to see the sacredness in all people, but especially those who have been historically oppressed. Whatever the stage of human life, it not only matters, it is sacred.
"The events following George Floyd's death also highlighted the urgent need for racial healing and reconciliation. As we have seen so plainly this past year, social injustices still exist in our country, and the nation remains deeply divided on how to right those wrongs.
"Let us pray that through the revelation of so much pain and sadness, that God strengthens us to cleanse our land of the evil of racism which also manifests in ways that are hardly ever spoken, ways that never reach the headlines. Let us then join in the hard work of peacefully rebuilding what hatred and frustration have torn down. This is the true call of a disciple and the real work of restorative justice. Let us not lose the opportunity to pray that the Holy Spirit falls like a flood on our land again, as at Pentecost, providing us with spiritual, emotional, and physical healing, as well as new ways to teach, preach, and model the Gospel message in how we treat each other."
"Today's verdict of accountability in the tragic killing of George Floyd is an important step in healing the deep wounds of racial tension caused by his senseless killing. The agonizing images of his confrontation with those sworn to protect and serve, and the final moments of life, will forever challenge us and must always compel us to create a more compassionate and just society, where all enjoy equal rights and protections under the law. I implore all who wish to demonstrate to do so peacefully and in ways that lead to greater understanding, dialogue and meaningful change. We pray for the family and community of George Floyd that our loving and compassionate God will ease their pain and provide them comfort."
Statement by Sr. Mary Haddad, RSM, President and Chief Executive Officer
Catholic Health Association of the United States
"Today's verdict in the killing of George Floyd calls us to come together as people of God and renew our commitment to racial and social justice. Mr. Floyd's tragic death stands as a constant reminder to us that we must bridge our divides, seek reconciliation, and embrace Christ's message to love one another.
As a Catholic health care ministry, we firmly believe that racism is a public health crisis. We are committed to addressing health disparities and achieving health equity. We must acknowledge the suffering of those afflicted by racism and recognize their pain so that true healing may begin to occur.
This moment reminds our nation that we must continually strive to seek common ground and understanding, seeing in all people the neighbor we are called to love."
"The verdict in the trial of Derek Chauvin, the former Minneapolis police officer now convicted on all counts as a result of his role in the death of George Floyd last spring, is a sobering moment for our community. The decision by a jury of peers punctuates the grief that has gripped the Twin Cities in these last months and underscores the soul-searching that has taken place in homes, parishes, and workplaces across the country as we together confront the chasm that exists between the brokenness of our world and the harmony and fraternity that our Creator intends for all his children.
We hold up once again the image of the Crucified Christ, whose resurrection gives witness to the healing power of forgiveness, compassion, reconciliation, and peace. It is our shared brotherhood with Jesus that calls us to a deeper respect for all human life. We ask him to bring healing into our communities, comfort to the family of George Floyd and all who mourn, and satisfaction to those who thirst for justice. May the many reminders of the Lord's loving closeness even in challenging times inspire us to treat each other with unfailing respect, to work non-violently for the common good and to be instruments of reconciliation."
Catholic Charities USA (CCUSA) President and CEO Sister Donna Markham, OP, PhD, issued the following statement in response to today's ruling that found Derek Chauvin guilty on all counts of the killing of George Floyd:
"Almost a year ago, we watched in horror as George Floyd took his last breath as he begged for his life. Today, we pray that Mr. Floyd's family finds peace in today's verdict that found the officer guilty on all counts. While there may be a brief sense of relief that justice has been served, we must acknowledge that, as a country, we still have a lot of work to do to eradicate the pervasive racism and continued disregard for human life that continues to play out in communities across the country.
CCUSA remains committed to addressing issues of inequality and discrimination, by leading conversations on race, speaking up for the under-served, and providing resources to remain educated on this systemic issue. We pray for the wisdom, insight and courage to express compassion and respect for all people and the strength to reject hatred and racism.
The anguish, grief, and fear that consumed our country last spring following the tragic and disturbing death of George Floyd was overwhelming. In the immediate aftermath, old wounds were ripped wide open as the mortal sin of racism cut through our communities.
As a people of faith, Catholics believe that every life holds value and should be treated with dignity. In the name of the people of the Archdiocese of Philadelphia, I share in the continued pain and sadness felt by so many.
Almost a year later, former Minneapolis police officer Derek Chauvin's trial has ended. Today's verdict will usher in a wide variety of reactions. I entreat all people to treat each other with respect, charity, and good will as they process the news in their own way.
Regardless of individual points of view, it is imperative to remember that criminal justice is a matter for the courts alone. Ensuring social justice, on the other hand, is a common responsibility that we all share. While the trial has concluded, the struggle to eradicate hatred is ongoing. Our God challenges us to love our neighbors with open hearts and to see Christ's presence in them. May God allow us to be open to more difficult conversations and hard work as we seek to achieve peace and unity. While those goals are challenging, it is not impossible to attain them.
I pray that the Holy Spirit stirs up a desire in our hearts to look for solutions to the problems we encounter. May God watch over us and strengthen our resolve to ensure that our nation remains indivisible with liberty and justice for all.
"Hopefully today's verdict in the Chauvin trial marks the beginning of an era of accountability for the violation of human dignity and the taking of human life by those in power. It is a long overdue result that finally brings justice for a Black victim of a brutal killing by police. This verdict respects both the rule of law and what the whole world watched on video. More importantly it affirms what has been shouted on our streets for nearly a year, George Floyd's life matters, Black lives matter. Let us pray that a precedent has been set that will allow people of color to know that their lives are to be protected by law enforcement and that there will be consequences when they are not. There are many other families who are longing for this kind of justice and recognition of the worth of the lives of their loved ones; we must work to make this verdict the norm rather than the exception." 

~ Bishop John Stowe, OFM Conv., Bishop-President of Pax Christi USA
---
"Thank God for what can and should be a major step toward undoing racism in America. This is about so much more than George Floyd. From Emmett Till to Rodney King, Amadou Diallo, Trayvon Martin, Philando Castile, Michael Brown, Eric Garner, Freddie Gray, Sandra Bland, Walter Scott, Ahmaud Arbery, Breonna Taylor, Daunte Wright, Adam Toledo, and millions of other known and unnamed men and women, boys and girls since the first enslaved Africans were brought to this country in 1619 for whom justice was not served.
"Rev. Al Sharpton said, 'We don't celebrate a man going to jail. We would rather that George Floyd were still alive.' But we do thank the Minnesota attorney general, the prosecutors, and jurors for their work pursuing justice. We also celebrate Darnell's Frazier -the young woman who filmed footage of George Floyd's murder; others who stood by as witnesses; the law enforcement officers, medical experts, and others who had the courage to testify at the trial. Many were castigated, but persisted in getting into 'good trouble.' They set an example for all of us to put our faith into action.
"The verdict sends a strong message — finally — that those law enforcement officers and vigilantes who deny the humanity of African Americans will be held accountable. With a Declaration of Independence that talks about 'life, liberty and the pursuit of happiness'; and a Pledge of Allegiance that ends with 'one nation, under God, with liberty and justice for all,' let's hope and pray that we as a nation can finally begin to live up to those lofty goals."

~ Vicki Lott, Pax Christi USA National Council member and Pax Christi USA Anti-Racism Team member
---
"Over the past almost 10 months, we have watched George Floyd die over and over and over again. Today, he was finally laid to rest. Today we begin to grieve. Not only for George Floyd but also for all those who have died over the past 10 months due to his murder. We grieve for the soul of Derek Chauvin, who has yet to admit the wrong he committed and the extensive harm he has done. We grieve for the police officers that fed into the system of structural racism. We grieve for the police officers who feel that they are no longer supported because they cannot openly profile and harm Black males in particular. We grieve for the people who do not agree with the conviction. We grieve.
"We are now in a holding pattern. Waiting. Waiting for reconciliation. Authentic reconciliation cannot begin until all police departments in this country begin to address structural racism. Reconciliation does not start until we recognize the destruction and death and ongoing oppression of Blacks, Native Americans, and other people of color (BIPOC). There are no winners."

~ Pearlette Springer, Pax Christi USA Anti-Racism Team Chair and former Pax Christi USA National Council Chair
---
"We join with so many others who are working for racial justice and racial equity in this nation in welcoming the jury's decision of guilty on all counts. We are relieved that Derek Chauvin has been held accountable for the murder of George Floyd but we recognize that there is a long way to go until justice is truly served. So many others are still waiting. We offer our prayers to the Floyd family and to all those who have lost loved ones to police violence and are still waiting for accountability and justice."

~ Johnny Zokovitch, Executive Director of Pax Christi USA