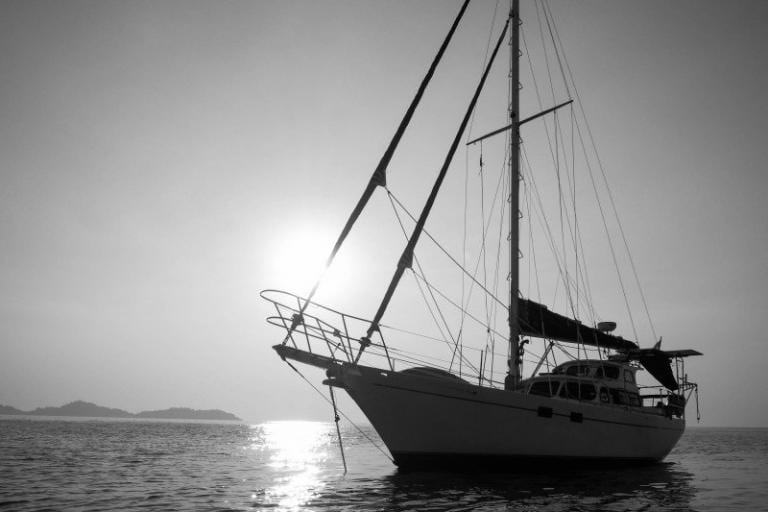 Let God be your anchor not Despair.
An anchor keeps the ship in place, stationary, grounded -stabilized; it prevents it from drifting due to potentially inclement weather.
Despair is paralyzing. It is the point you reach when mind, body and soul have concluded that you have reached the point of no return-sheer hopelessness; it's when we have completely given up. It is the heart shattering moment the reserve tank seems to be out of solutions, ideas, plans, goals, motivation, energy-when we are done and out.
This is the point where we are anchored in the spirit and under the dominion of fear; it is when we've lost our stability and have sunk to the bottom due to the clashing of our spirits against the storms of life.
When we feel submerged in the violence and temperament of personal tempests we can be so preoccupied with anxiety, fear and distress, so emotionally and spiritually shipwrecked and in despair that we don't call out to our lighthouse.
When we are not thinking straight, we don't look ahead and into the merciful eyes of an ever living and ever loving God.
Anxiety has so much to do with control. If we could maintain a Kung Fu grip on the happenings of life, we could filter out and eradicate obstacles, challenges and all the potential hurt and disappointment that come as a result of when life does not turn out the way we expected and planned; no more fear of the unknown, no more looking over our shoulders for the mystery unraveling and emerging from around the corner-the unassuming peripheries.
We also know using our common sense and experience and when thinking clearly, that this is not a realistic nor a healthy perspective on life and its uncertainties.
Putting aside all the obvious and often heard and perhaps overhead arguments and perspectives of how life's challenges, ups, downs and trials are often necessary and beneficial to our personal development and growth as people, a kung fu grip on your life also communicates a lack of faith and trust in God.
An agnostic friend of mine once asked me during a very engaging and philosophical-borderline spiritual discourse with friends a few years ago, if I really believed that Jesus walked on water as the bible professes and depicts (Mark 6:45-53, Matthew 14: 22-34, John 6: 15-21). Taking a moment and a breath, in that very instant, my wedding day, images of my wife, children and flashbacks of various highs and lows throughout my life and up to that very point, flashed right before my very eyes and I stood speechless for enough time for everyone present to ask if I was ok.
Snapping out of my daze, stupor and pensive state and looking directly into the eyes of my dear and close friend of over 30 years, I answered, "Jesus walked on water for me many times."
I'm not sure If I had ever looked at things that way until that point in time but be it the several beers that influenced my thinking or the work of the Holy Spirit or both, it became even clearer in that very moment, how many times God was my lighthouse and brought me to His shores of grace, salvation and providence. And it was equally clear some way and some how, on a spiritual and intuitive level, that he was not done with me either.
And you should never believe that you are not in the same boat as all the rest of us are.
No matter how hard it gets or bad it hurts, no matter fearful you are, your heart belongs to God, it rests firmly in God, is stabilized in his loving hands and is anchored in his grace when we give him the wheel, when we allow him to be the lighthouse in our experiences.
Don't despair; "when the righteous cry for help, the Lord hears, and delivers them out of all their troubles. The Lord is near to the brokenhearted, and saves the crushed in spirit." (Psalms 34: 17-18)
Never be too proud to cry out, never abandon yourself to the falsehood that there is no hope.
"The steadfast love of the Lord never ceases, his mercies never come to an end; they are new every morning; great is thy faithfulness." (Lamentations 3:22-23)
Photo on <a href="https://foter.com/re5/748a76″>Foter.com</a>