M

ornin' breaks over Camp Takatoka, Wagner, Oklahoma on the final full day of CSR, Sesson One, 2013
W
hich means another session of "Ask Abouna" (some snippets can be heard here).
S

ee that handsome seminarian to the left?  His name is George, from St George, Houston.  Here's a pic of me and him at St Michael Church, Latakia – Syria, from a few years back: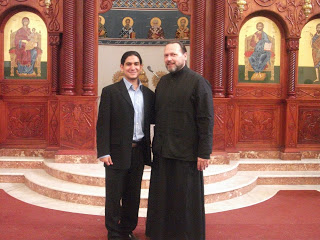 G

ot off campus for the first time all week … treated to Runt's BBQ and — it's always good to eat your veggies — some fried pickles.
A

fancified version of Ring Around the Rosie?
N

ot for these guys!
D

ap Dabke Drummer.
C

oke?  Yes, two please!
A

nd, so … the light fades over Camp …
S

oon the last remaining Angle Ballers will call it a day …
V

ballers, too.
A

nd, there it is.  Another one, come and gone …
OMG!

  How did this one get in here?  Please don't report me!  (These guys are ruthless!)
For an audio snapshot of Camp St Raphael, Session One, 2013 — click the link: