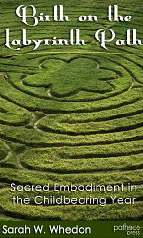 Last week I told you I was on the verge of announcing a project for which I got to do the writing and let other people be the editors.  I'm so excited to announce that my new ebook Birth on the Labyrinth Path: Sacred Embodiment in the Childbearing Year is now available for download!
It's priced at an accessible $2.99.  If you're new to ebooks you can download a free Kindle app for your computer or phone and be reading in minutes.  My partner got lots of my friends and family to pitch in for an iPad for me as a new mom present and I've been loving using the Kindle app to read books on it with one hand while the baby's supported in my other arm.
As you know, it's hard to find thorough resources on Paganism and pregnancy, so I'm really celebrating having convinced the folks at
Patheos Press
to add my book to their list of mostly more mainstream religion topics.  You can show them they made the right choice by downloading your copy.  And let me know what you think!
Sarah Whedon teaches in the Department of Theology and Religious History at Cherry Hill Seminary and is the founding editor of Pagan Families: Resources for Pagan Pregnancy and Birth. Sarah's teaching, research, and advocacy work center around topics of spirituality, feminism, and reproduction. She makes her home in San Francisco with her partner and their children.