By Kira Nuit
The rituals of Catholicism spoke to me in their scents and sounds; the sacred music sang through me as I sang it. But the building felt full of human longing yet empty of Presence, and the institution of the Church displayed too many flaws for me to feel comfortable with it.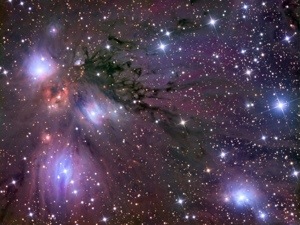 Mary came to me one twilight as I sat in Her rose garden. She showed me the face of the Starry Mother. That Presence, that energy, I followed. Mary was the bridge, leading me out of the church and into the fields. Once there, she let me go, to walk my way through the path laid out in the Charge of the Goddess.
I searched for years, seeking the right flavor of Paganism, the right Coven, the right Gods and Beings. I joined groups, went to festivals, read books, did Work: on the worlds and on my self. In the end, I found everything I sought. The world opened up to me in all its beauty. The self became familiar, its shadows and bright powers known and wielded imperfectly but with increasing skill. The Work goes ever on, but my feet are firmly on the path that suits me.
Kira Nuit is a writer, geek, textile artist, witch and mother. She strives to build a simple and fulfilling life that integrates all her parts — which includes figuring out how to provide excellent care for her toddling daughter while also bathing regularly. She writes about it at Earth Mama Prime.
---
This post is a contribution to
Patheos' Blogger Challenge
, asking writers to explain their religious choices in 200 words or less.
Other responses from the Pagan Channel: Steven T. Abell, Yvonne Aburrow, John Beckett, Aine Llewellyn, Angus McMahan, Jason Mankey, Jen McConnel, Sarah Twichell, Sam Webster, Gus diZerega.