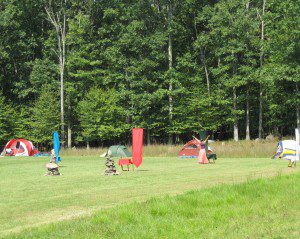 Patheos has a new series called "Why I Am A…" which challenges writers to explain their religious choice in 200 words or less. Here's my entry.
I am a Pagan because the Earth is our Great Mother, both physically and spiritually. I am a Pagan because the Universe is more beautiful, more powerful, more connected and more magical than I could ever imagine. I am a Pagan because I would honor my ancient ancestors and their ways. I am a Pagan because the Divine is expressed in a multiplicity of forms.
Mainly, though, I am a Pagan because I have experienced the old gods and goddesses for myself. I met them in story, in ritual and in practice. I prayed and they answered. I quietened my mind and they spoke. I invoked and they graced me with their presence. I made offerings and they responded. I asked and they gave… and sometimes, they asked for something in return.
In relationship with them I have found peace and purpose. Through them I have found a community filled with friendship, service, learning and growth.
Blessed be Nature. Blessed be the goddesses and gods of old. Blessed be this tribe of Pagans.
more Pagan responses:
Jason Mankey:  http://www.patheos.com/blogs/panmankey/2013/03/why-i-am-a-pagan/
Angus McMahan:  http://www.patheos.com/blogs/askangus/2013/03/askangus-why-i-am-a-pagan-in-exactly-200-words/
Aine Llewellyn:  http://www.patheos.com/blogs/ainellewellyn/2013/03/why-i-am-a-polytheist/
Yvonne Aburrow:  http://www.patheos.com/blogs/sermonsfromthemound/2013/03/why-i-am-a-wiccan/
Gus diZerega:  http://www.patheos.com/blogs/pointedlypagan/2013/04/why-i-am-a-pagan/
Elinor Predota:  http://www.patheos.com/blogs/asenseofplace/2013/04/im-a-pagan-because/
Sarah Twichell:  http://www.patheos.com/blogs/leaningintomystery/2013/04/why-i-am-a-witch/
Jen McConnel:  http://www.patheos.com/blogs/agora/2013/04/the-busy-witch-why-i-am-a-witch/
Sam Webster:  http://www.patheos.com//Pagan/Why-Pagan-Sam-Webster-04-03-2013.html
Steven T. Abell:  http://www.patheos.com/Pagan/Why-Heathen-Steven-Abell-04-04-2013.html
Christine Kraemer:  http://www.patheos.com/blogs/sermonsfromthemound/2013/04/why-i-am-a-pagan/
P. Sufenas Virius Lupus:  http://www.patheos.com//Pagan/Why-I-Am-Sufenas-Virius-Lupus-04-05-2013.html
Porsha Williams:  http://www.patheos.com/blogs/daughtersofeve/2013/04/200-words-patheos-blogger-challenge-by-porsha-williams/
Kathy Nance:  http://www.patheos.com/blogs/agora/2013/04/gateway-goddess-seeking-god-found-by-goddess-why-i-am-pagan/
Here's the main page with all the responses:  http://www.patheos.com/Spirituality/Topics/Why-I-am-a.html