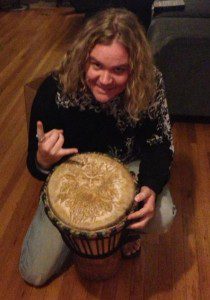 Why I am a Pagan who Practices Wicca
(Patheos is currently running a "blogger challenge" asking their diverse stable of writers to reflect on "Why They are What They Are" in 200 words or less. This is my little contribution.)
1. I'm right and so are you. Paganism is about finding out what works for you. Your religious choice isn't "wrong," it's just not for me. Why limit deity by the belief that there's only one path to the divine?
2. There are no barriers between deity and myself. I'm a Pagan because I believe in the gods, all of them, ancient and modern, and in Paganism there are no obstacles for communion with them. Too many religions have books, laws, institutional structures, and intermediaries who block direct access to deity. Paganism offers me the opportunity to interact with the gods in ways that work for me.
3. I practice Wicca because the rituals work. Wiccan Ritual is not a sit on your hands type of experience, it's an experience full of energy and provides the tools I need to seek the divine. Wiccan ritual is transcendent, it allows me to see things outside of the day to day mundane world.
4. I am a part of the Earth, not apart from it. My holidays and rites are influenced by the turn of the seasons and the sacred is always just outside my front door.
(More responses from Patheos Pagan writers: John Beckett, Angus McMahan, Aine Llewellyn, Yvonne Aburrow, Sarah Twichell, Steven T. Abell, Gus diZerega, Porsha Williams, Kathy Nance, Christine Kraemer, Sam Webster, and Jen McConnel.