Top stories in Paganism and Shinto this week:
Media highlights Shinto influence in Marie Kondo's new series
'Ancient' Scottish stone circle was built in 1990s
Indigenous and Pagan leaders to pray for Lake Okeechobee
Read more below…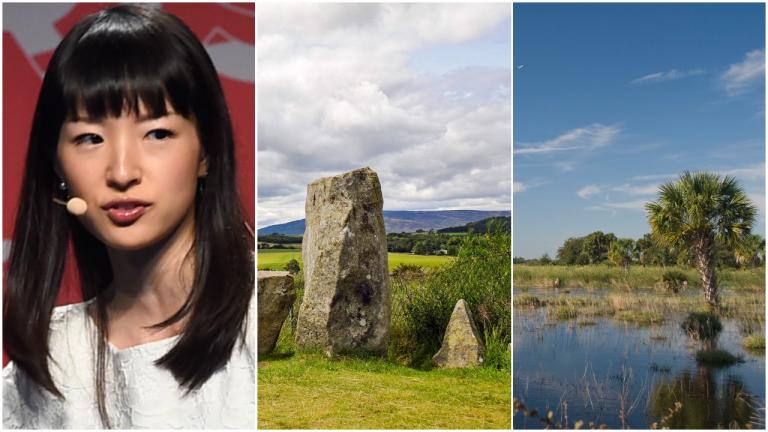 Pagan News
Indigenous and Pagan leaders heal the water
The Wild Hunt
This weekend, a group of about 40 will walk the 110-mile circumference of Lake Okeechobee. Over the seven-day trek they will be stopping at cardinal points and praying for healing…
The Government Shutdown and DC Pagans
The Wild Hunt
As the most recent episode of government dysfunction passes the four-week mark, D.C. area Pagans have been enduring the shutdown in much the same way as everyone else has…
Patheos Pagan on the Road
Patheos Pagan: Through The Grapevine
A lot of us who write here at Patheos Pagan will be on the road at various Pagan festivals and events in February and March…
Etsy shops are cashing in on the "super blood wolf moon"
Quartz
n advance of the celestial phenomenon ginned up by websites (gulp) trying to game search engines for more clicks, Etsy sellers are also promoting merchandise for the occasion…
The legal side of witchcraft
The Charlatan
Avanthika Anand explores the pagan world of witchcraft, and how a law change will help combat years of stigma…
Magic spell brought stolen scooter back, says witch
Kent Online
Witch and psychic medium Deborah Samuels-Stuck has been convinced of its power after two circles of witches joined forces to cast a spell on thieves who stole her scooter…
Hundred of witches, wizards, pagans and druids living in Kent
Kent Online
Earlier this week it was revealed a Medway woman who says she is a witch was convinced witchcraft works after two circles of sorcerers joined forces to cast a spell on thieves who stole her scooter…
Connecticut Wiccans celebrate the super wolf blood moon
i95
Wiccans from across the country welcomed the Super Wolf Blood Moon on January 21…
Women are freaking out that they've got their period on the blood moon claiming they are 'witches'
The Sun
Some women are claiming they must have supernatural powers as their period has coincided with the natural phenomenon…
Celebrating strong Irish women for St. Brigid's Day
Irish Central
Kicking off a celebration of Irish women in history and praising the Matron Saint of Ireland and Celtic goddess in the lead up to Feb 1…
Update on alleged "Wiccan" accused of human trafficking
The Wild Hunt
The Wild Hunt recently reported on the arrest of Amber Michelle Parker, an alleged Wiccan charged with human trafficking. This story provides an update to that case…
Pagan ritual to encourage abundant apple harvest
Gazette Series
The wassailing season – a pagan ritual to encourage an abundant harvest – is upon us…
There is No Virtue in the Judgements of Doreen Virtue
Patheos Pagan: Raise The Horns
When Virtue published a list of "An A-Z List of New Age Practices to Avoid, and Why" I couldn't help but take the bait…
A Rebuttal to Doreen Virtue's Attack On Unicorns
Patheos Pagan: For Puck's Sake
Unicorns are perhaps the best thing ever. Let me remind you of a few of the countless reasons why Unicorns are awesome…
A Day in the Life of a Witch Shop
Patheos Pagan: Witch, Indeed
Come with me as I walk you through a day in the life of a witch shop….
Lack of 'Meaning' Driving Millennial Obsession Toward Witchcraft, says professor
PJ Media
As religion loses its grip on millennials, young people turn to books, magazines, and the internet for new ways to explore what Routledge calls "the human quest for meaning" and their own "religious-like identity."…
The Roman way to the gods: The ancients are back
Italics Magazine
At a time of political and religious crisis, some look back to antiquity…
We've been celebrating pagan holidays a long time
Big Think
In Europe many of these ancient celebrations reflected world views that were displaced by the Christianity spreading across the region after about 200 AD…
Shinto News
How Shinto Influenced Marie Kondo's KonMari Method Of Organizing
Bustle
To help demystify some of the aspects of Kondo's tidying methods, here are a few ways Kondo has integrated Shinto into her tidying process…
Ancient Sparks Of Joy – Archaeology And Marie Kondo's Tidying Up
Forbes
Kondo's approach is informed by Shinto religious beliefs…
You've Tried the KonMari Method, Now Get to Know Marie Kondo With These 9 Facts
World Of Buzz
Marie used to work part-time selling lucky charms at a shrine, and also served as a Miko (Shrine Maiden) in her youth…
The Shinto principles behind Marie Kondo's method of tidying
World Religion News
While some people might believe Kondo is just being eccentric when she greets houses, it is a habit that is borne from growing up in a Shinto household and visiting shrines frequently…
"What White, Western Audiences Don't Understand About Marie Kondo's 'Tidying Up'"
The Huffington Post
Backlash to the Netflix show ignores an essential aspect of the KonMari method: Its Shinto roots…
New Shinto Shrine dedicated to fictional character
Mimusubi
Last week's Jinja Shinpō had an article about the dedication of a new jinja, Tamakazura Jinja, in Nara Prefecture. This is interesting for a couple of reasons…
Japanese university offers traditional coming-of-age ritual
The Japan News
Since 2008, Kokugakuin University in Shibuya Ward, Tokyo, has held an annual Shinto-style coming-of-age ritual known as Seijin Kakanshiki…
Nagasaki Lantern Festival joins forces with 'Kingdom'
The Japan News
The festival celbrates Shunsetsu, the Chinese Lunar New Year, by displaying a large number of colorful Chinese lanterns…
Tokyo shrine that is a weather vane whether it rains or shines
The Asahi Shimbun
The Shinto shrine, since relocated to the capital's Koenji district, is the only known sanctuary in Japan dedicated to weather…
Masked Bringers of Fortune: Japan's Divine Visit Tradition
Nippon.com
The tradition has many variations across Japan, but the visitors all play the role of dispelling bad fortune and appear at turning points of the year…
Masako Miki's colorful sculpture, inspired by Japanese folklore, is at BAMPFA
Berkleyside
These brightly colored, almost childlike, gently playful huge sculptures are based on shape-shifting spirits that arise out of Buddhist and Shinto traditions and early Japanese folklore…
Other News
'Ancient' Scottish stone circle was built in 1990s
The Guardian
A stone circle thought to be thousands of years old has turned out to be a lot more modern after a former farm owner admitted building it in the 1990s…
Missionary investigated over 'entering land of uncontacted tribe'
Survival International
An American missionary is being questioned by Brazilian authorities after he allegedly entered the territory of an uncontacted tribe…
Greece removes 2,330 ancient sites and museums from bailout fund list
Neos Kosmos
The Greek government has removed 2,330 archaeological sites, museums, monuments and castles from a development fund of properties up for private development under the country's bailout terms…
6,000-calorie sushi roll created for Setsubun
SoraNews24
You could think of Setsubun as the "sushi roll-eating festival," because the more delicious part of the holiday is when you stuff yourself with ehomaki, luxury sushi rolls, while facing whichever direction of the compass divinators have determined to be the "lucky" one for the year…
Abdication in Japan
The Statesman
Abe's interaction with the media on New Year's day is a customary event for Prime Ministers after they pay a visit to Ise shrine, which is regarded as "the soul of Japan"…
In Japan, a debate about swastikas takes on new urgency
The Outline
A proposal to limit the symbol's public prominence ahead of the 2020 Olympics clashes against centuries of cultural history…
Hidden women of history: the priestess Pythia at the Delphic Oracle, who spoke truth to power
The Conversation
In a time and place that offered few career opportunities for women, the job of the priestess of Apollo at Delphi stands out…
"A Discovery of Witches": vampires, witches and academics in love
The Wild Hunt
Based on the All Souls trilogy by Deborah Harkness, A Discovery of Witches is a new television series is about "daemons," vampires, and witches that co-inhabit the world alongside ordinary humans…
Kenya: Brutal mob killing exposes plight of suspected witches in Vihiga
Daily Nation
A family in Vihiga is struggling to find answers after a relative was beaten to death in a vicious attack by a mob on suspicion of being a witch…
Kenya: Three people to serve 30 years for killing couple over witchcraft claims
Standard Digital
Three people convicted of the killing of a couple they accused of bewitching their neighbour's son have been jailed for 30 years…
Kenya: Kakamega police save man suspected of witchcraft from public's wrath
NTV
A 36-year-old man from Kakoyi village, Malava constituency in Kakamega County, is nursing serious injuries after he was attacked by villagers who accused him of sorcery…
India: Tribal woman branded witch, axed to death

Orissa Post
In a gruesome incident, a tribal woman was allegedly axed to death by her neighbour on the suspicion that she was practicing witchcraft at Khuria under Morada police limits in Mayurbhanj district late Wednesday night…
Malawi: Villagers nabbed for attempting to murder three people accused of witchcraft
Malawi24
Armed Dedza police officers yesterday raided two villages and arrested 6 people who attempted to kill a woman and her two children after accusing them of practising witchcraft…