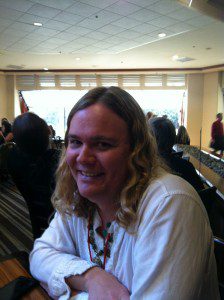 February is one of the busiest months of the year on the Raise the Horns calendar. That doesn't mean any extra posts here, just the opposite, but I do get to do some travelling and speaking, things I actually enjoy more than churning out words on my computer. Next week is PantheaCon (or Pcon) in San Jose, and then with one day between festivals, I fly out to Detroit Michigan for ConVocation (which is often abbreviated "Con" but since there are so many cons that's a bit presumptive, we'll abbreviate it "ConVo"). It'll be eleven whirl-wind days that I'm super excited about, but also dreading, as I expect to lose my voice sometime Saturday night at ConVo.
PantheaCon is the largest Pagan gathering in North America, with at least 2000 attendees, and as many as 2500 on the high end. It's a huge festival, and brings in speakers and festival goers from all over North America. (It's always easier to visit a far away festival when you don't have to camp. The only downside to an indoor festival is the cost, hotel rooms are about a 100 bucks a night.) I was going to list a lot of the big name speakers with links, but there are so many and it was taking far too long. In no particular order this year's Pcon features all sorts of people; Starhawk, Lon Milo Duquette, Orion Foxwood, Christopher Penczak, T. Thorn Coyle, Margot Adler, Selena Fox, Jason Pitzl-Waters, Teo Bishop, and Amber K. You can look at the whole schedule here and see all the other names I missed. It's an amazing and impressive line-up, and also features yours truly four times.
This will be the ninth year in a row I've been to Pcon, and the eighth year (not consecutive) I've been a presenter. 2013 is shaping up to be one of the busiest years I've ever spent there, with something going on nearly every day of the festival. It kicks off Friday at 3:30 pm with a Patheos Pagan panel on Pagan Intrafaith. Besides me, the panel will also feature Crystal Blanton, Eric Scott, P. Sufenas Virius Lupus, and Sarah Twichell. Our own Christine Hoff Kraemer will be acting as moderator. I've done panels before, but never so exclusively focused on one topic. Sadly for me, this will probably not be the place for what I do best at Pagan Festivals (dick jokes), but as I won't have to speak a whole lot I'll probably show up with a generous pour of fine scotch.
Not on the on-line schedule quite yet, but now officially happening anyway (it was originally put on the waiting list) is my Magick and the Occult in America: 1820-1952 workshop. Usually I spend six to seven months preparing what I think will be a popular workshop, and this was the one I had pegged for "attendance of 150 people in a super-prime spot Saturday afternoon." That didn't happen, but it was picked up for Saturday night at 9:00 pm. Since it's a Saturday night workshop I think I'll need to adjust it (when I finish writing it) to be less lecture-like and more high-energy. I was kind of crushed when it wasn't originally picked up, so I got a bit behind on putting it together. This afternoon will be another crazy drinking Redbull session to bang out the notes and Power Point presentation.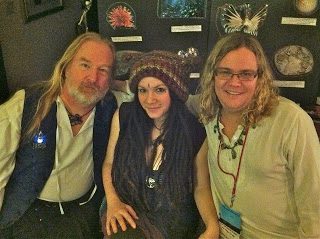 Sunday is my super-busy Pcon day with two workshops in four hours. Because they never have enough "God" programming I'll be pontificating about Pan at 11:00 am. Talking about Pan is what I do best, weaving together personal experiences and the history of his worship alongside copious amounts of dick jokes. I'll be up against T. Thorn Coyle, Jason Pitzl-Waters, and a combination of Selena Fox, Patrick McCollum, and Margot Adler. So yeah, I expect about five people to show up, in a room that holds about 200.
Sunday afternoon ends with a talk about the history of Modern Paganism at 3:30 pm with my good friend Kenny Klein. When we toured together last year people told us that our conversations and arguments were far more interesting than any of the workshops either of us presented, so we thought it would be fun to bicker in a public forum. Contemporary Pagan History is one of my favorite subjects and I'm always happy to spout off about it. I'm hoping people come to the workshop with questions, because if they don't Kenny and I will probably just stare at each blankly for an hour. (Not that most of my friends will see this workshop, most of them are going to my wife's workshop, Devotional Dance to Aphrodite.) My dear wife has seen all of my workshops numerous times (or just doesn't care about some of them) but she wanted to see this one with Kenny. Oh well, she can listen to us argue in the bar during the NBA All-Star game.
Despite my fears of no one showing up for the Pan workshop, I've always done well at Pcon. Due to the enormousness of it, it's probably my favorite place to lecture/present workshops. If you want to hear me ramble on a bit more about Pcon I did an interview for the Bay Area Pagan Newswire about it. Since I tend to focus on my own presentations so much I don't get to see a whole lot of other presenters, but the one I refuse to miss is Angus McMahan, his Pagan Humor stuff makes me laugh so much I cry.
Pcon ends on Monday, which gives me just enough time to do a load or two of laundry on Tuesday before heading out to Detroit and ConVocation on Wednesday. ConVo is obviously smaller than Pcon, with maybe 800 or so folks last year, but that's not a number to sneeze at. Though smaller, the programming is just as terrific as it is at Pcon, with Christopher Penczak, Raven Kaldera, and M. Macha Nightmare among the bigger names this year, and to see all the people I missed you can look at their schedule here. It also has a much different vibe, with karaoke nights and a masquerade ball on Saturday night. Unrelated to ConVo officially, but one of the reasons I love to go there, are the guys from the Scotchcast podshow, and their room full of tasty whiskies.
I've been going to ConVo for a very long time, though I've missed a few over the years. The last few years have seen tremendous growth for the festival, and it's well deserved. ConVo is the most organized festival on the planet, and the folks there have been extremely good to me over the years. Since it's a bit smaller I've gotten to know the principals there better, and they put on a hell of a show. They do good things for Midwest Paganism, and I'm not sure that a lot of folks in Michigan/Ohio/Illinois/Indiana/insert other places know how good they've got it sometimes.
ConVocation usually keeps me pretty busy, but things start slowly for me this year, with very little to do on Thursday or Friday. It will be kind of nice to just "make the rounds" for a night, but it will also feel a bit strange to be idle. My official festival experience starts on Friday afternoon when I get to talk about Pan (again!) for 90 minutes. My only worry is that Pan might not be real happy with the 2:00 pm start time, he's a pretty serious napper and doesn't like to be disturbed in the early afternoon. Since I'm pretty convinced he lives somewhere near the Pacific Coast Highway just outside of San Francisco maybe he'll stay on Pacific Time so it won't be a problem.
Saturday is my super-busy day, perhaps the busiest day I'll ever spend at a festival (I tried to break things up, but to no avail). Late in the morning (or 8:30 Pacific Time) I'll be doing the Magick and the Occult in America workshop. Despite my concerns over the time, it does mean I'll get to catch Young Justice before my talk and hopefully get caught up on what's going on with AquaLad. I expect a good crowd for that workshop at Pcon, but a much smaller (though passionate) turnout at ConVo. What works on the West Coast doesn't work as well in the Midwest sometimes. Festivals are kind of weird like that. (What worked everywhere last year was the Drawing Down the Moon workshop, speaking of that I should finish parts three and four for this blog.)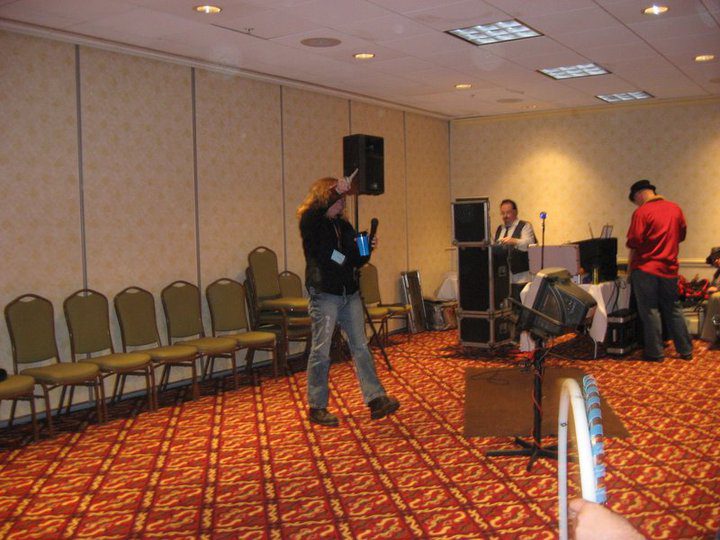 After talking about Pow-Wows and Jack Parsons I'll be doing a solo version of my talk with Kenny Klein. That's at 4:00 pm, plenty of time for Pan to get in his nap on Saturday. This might be the workshop I'm most looking forward to out of all elven eleven (that typo was so good I had to keep it) days of rambling. No notes, no agenda, just a chat about Gerald Gardner, the word witch, Margaret Murray, Victor and Cora Anderson, and a whatever else anyone wants to talk about.
The cherry on top is Saturday night at 8:00 (about about when I expect to lose my voice) when I present the 1899 Ritual in public for the first time. To say I'm nervous is a bit of an understatement, and I'll be working with two high priestesses I've never worked with before. I certainly like to set myself up for crash and burn. I'm actually pretty confident in the ritual, and I've tweaked it quite a bit since first posting it on RtH. I've had really good luck at ConVo with rituals, and have done Saturday night ritual for them a number of times. I expect a big, lively crowd, and I'm excited to be doing something that no one else has ever tried to do at a Pagan Festival before.
I talk a lot about my own workshops, but my favorite parts of PantheaCon and ConVocation are usually outside the lecture rooms. I love seeing my friends from across the country (and Canada!) and getting caught up with people. The best parts of festival are always the random discussions about anything and everything. Over the years ConVo and Pcon have kind of reversed themselves. San Jose used to be the exotic trip in February when I lived in Michigan, and now that I live out here in California, Michigan is the big trip very far from my back yard. (I can't bring myself to say Detroit is exotic in February, but you have no idea how much I'm looking forward to Detroit-style Coney Island hotdogs, seriously.)
So now that you know where I'll be the next few weeks (I'm taking applications for stalkers that look like Allison Brie) you'll forgive me if the posting slows down a little bit. If you do happen to make it to either festival, be sure and say hi.